Best Lighting: Anzfer Farms
---
We may see flotsam and jetsam, but SF designers Joseph Ferriso and Jonathan Anzalone see works of art in the ocean-tumbled beach woods that wash up on the shores of San Francisco. "We see beaches as places that replenish creativity," says Ferriso. The low-watt globe bulbs—a fragile counterpoint to the resilient, raw-edge timber—that adorn the duo's Branch floor lights and Fragment table lights provide a romantic, candlelike glow that beautifies any space or face.
Best Coffee Table Book: Handcrafted Modern: At Home With Mid-Century Designers
For the record, Leslie Williamson, photographer and author of Rizzoli's latest bestselling design volume, Handcrafted Modern: At Home With Mid-Century Designers, isn't keen on using the term "voyeuristic" to describe the book's tell-tale vignettes, captured within the private domiciles of legendary mid-20th-century designers. "I prefer 'curious,'" says the Diamond Heights resident. Either way, her unique photographic insights satisfy our inner peeper. On designer Ray Eames' bedside table? Bobby pins. Architect Albert Frey's lavatory luxury? A pink telephone. And just wait until you see Bauhaus founder Walter Gropius' monogrammed bath towels.
Best DIY Time Warp: The How-To Homestead Tour
Yearning for days of yore? The How-To Homestead Tour, helmed by USF urban agriculture professor Melinda Stone, is bringing daylong, back-to-the-land-themed events to 11 different community centers in San Francisco throughout 2011. So far, the interactive workshops and documentary-style short films have taught pioneer hopefuls how to mend their holey jeans, brew whey-fermented soda, keep a chicken coop, and make seed bombs (ready-to-detonate balls of future wild flowers). Throw in a potluck, live music, and folk dancing at each stop, and the $5 suggested donation (free if you bring a potluck dish) seems a small price to pay to get your DIY on.
Best Vintage Source: Midcentury Modern Finds and Mid century Møbler
Let's face it: The price of mid-century furniture has spiked in proportion to its increased popularity (thanks, Mad Men). Enter San Francisco's newest pop-up shops: Midcentury Modern Finds and Mid century Møbler. The two vintage-furniture peddlers set up appointment-only showrooms in garages and storage units. No brick-and-mortar overhead means that you can acquire like-new original pieces (Milo Baughman rocker, anyone?) at a fraction of market value.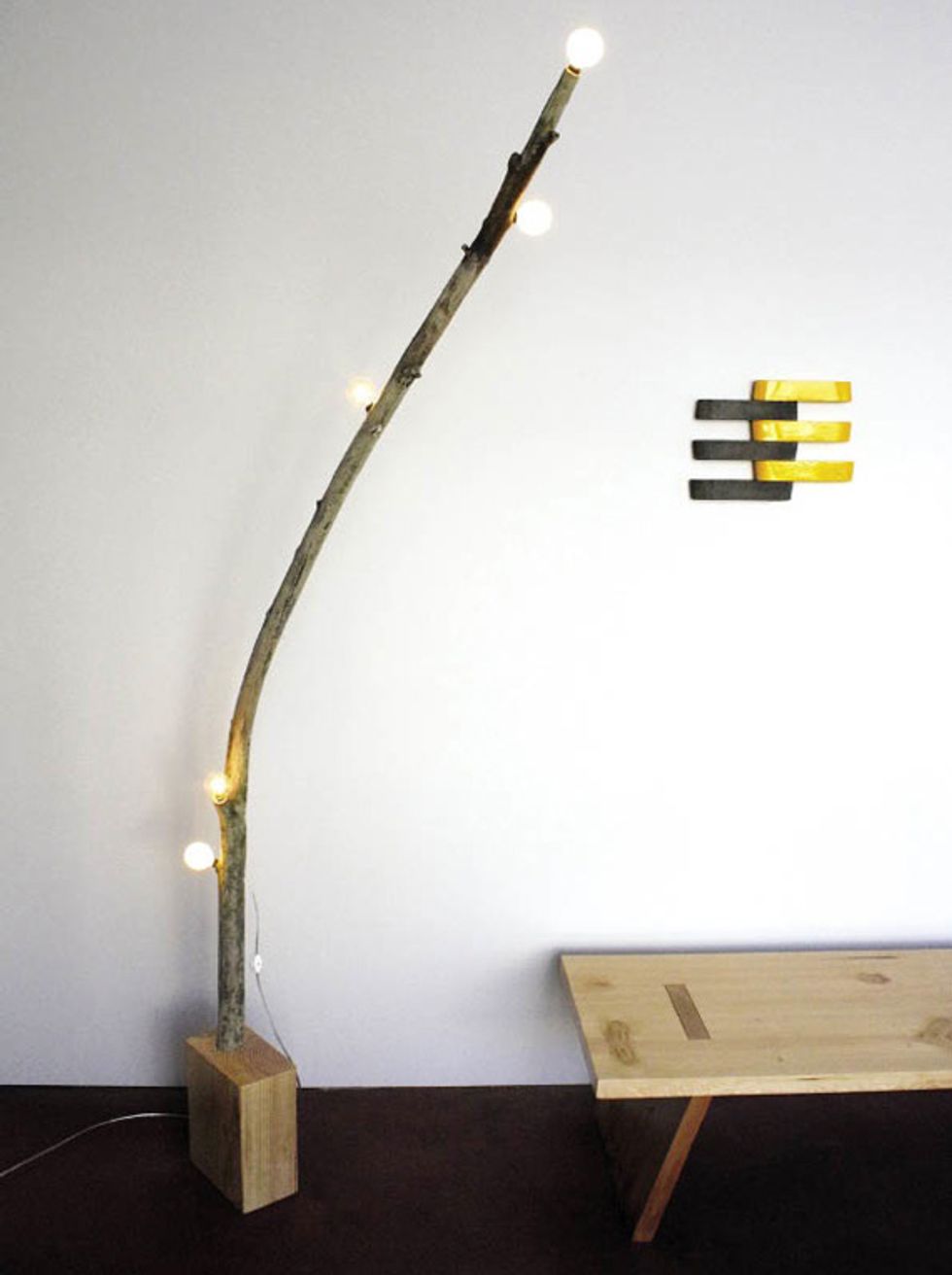 Best Second Chance: Peace Industry
Thanks a lot, U.S. government sanctions against Iran, for nearly shuttering beloved Hayes Valley boutique Peace Industry last October. After all, for the past decade, its Iranian felt rugs—apparently high on the blacklist—have been handcrafted in Tehran by artisans using techniques that date back to the Neolithic Age. Luckily, in the 11th hour, owners Dodd and Melina Raissnia relocated the rug workshop to Turkey—a stroke of genius that not only keeps their store alive but also helps preserve the ancient Central Asian felting craft through the handiwork of skillful Turkish makers. Next on the horizon: a Peace Industry showroom coming soon to Barcelona. How do you like them apples?
Best Design for a Cause: Handmade for Japan
In the name of the artists who lost their lives in the earthquake and tsunami in Japan—a catastrophic one-two punch if ever there were one—a small coterie of Bay Area artists and ceramists donated their handcrafted wares to the Handmade for Japan project, a three-day eBay auction event in March that raised more than $75,000 for relief efforts. "Japan holds its potters in very high regard," says Diana Fayt, who bequeathed a hand-etched porcelain bowl to the cause. "My survival as a potter depends on theirs."
Best Subscription Service: Alula Editions
Following in the footsteps of the acclaimed monthly art-subscription service from the Compound Gallery in Oakland, entrepreneurs Helena Keeffe and Amber Cady created Alula Editions, which launched with a swanky release party at the Museum of Craft and Folk Art last September. Fabric fiends pony up $200 for four limited-edition textiles, designed by artists who have demonstrated wicked pattern behavior in their work. So far, tie-and-handkerchief sets emblazoned with a funky forest motif by Jason Jägel and plein air drawing kits wrapped in a botanical print inspired by the landscape surrounding the Headlands Center for the Arts have been delivered to subscribers. Sure beats getting bills in the mail.
Best Art on Wheels: Triple Base Gallery
You could think of SF artist Jay Nelson's plywood campers as the kind of ad hoc, nomadic shelter we'd cook up in the wake of the apocalypse. "I really like the idea of 'making do,'" says Nelson, who is represented by Triple Base Gallery in the Mission. Car Camper was built on top of a junked Honda Civic, the Honda Spree Study in Temporary Autonomy is a customized moped with canvas privacy shades, and The Golden Gate 1 is an electric car equipped with a water tank, stove, fold-down table, and convertible bed. Of course, if the requisite surfboard storage atop each camper proves anything, it's that minimalism is subjective.
Best Brand Makeover: Restoration Hardware
Inside Restoration Hardware's new gallery within the San Francisco Design District, you'll find none of the offbeat, Sharper Image-type household items (World's Greatest Flashlight, German goggles, or Oxydol detergent, anyone?) that once contributed to its pre-recession malaise. Chairperson and co-CEO Gary Friedman—the wizard behind the meteoric rise of Williams-Sonoma and Pottery Barn—devised a daring reboot of the brand that now features limited-edition, neoclassical furniture reproductions, lovingly handcrafted in sophisticated timeworn leather, unfinished wood, and textured linen upholstery. Say hello to the new generation of heirlooms. 188 Henry Adams St., 415-865-0407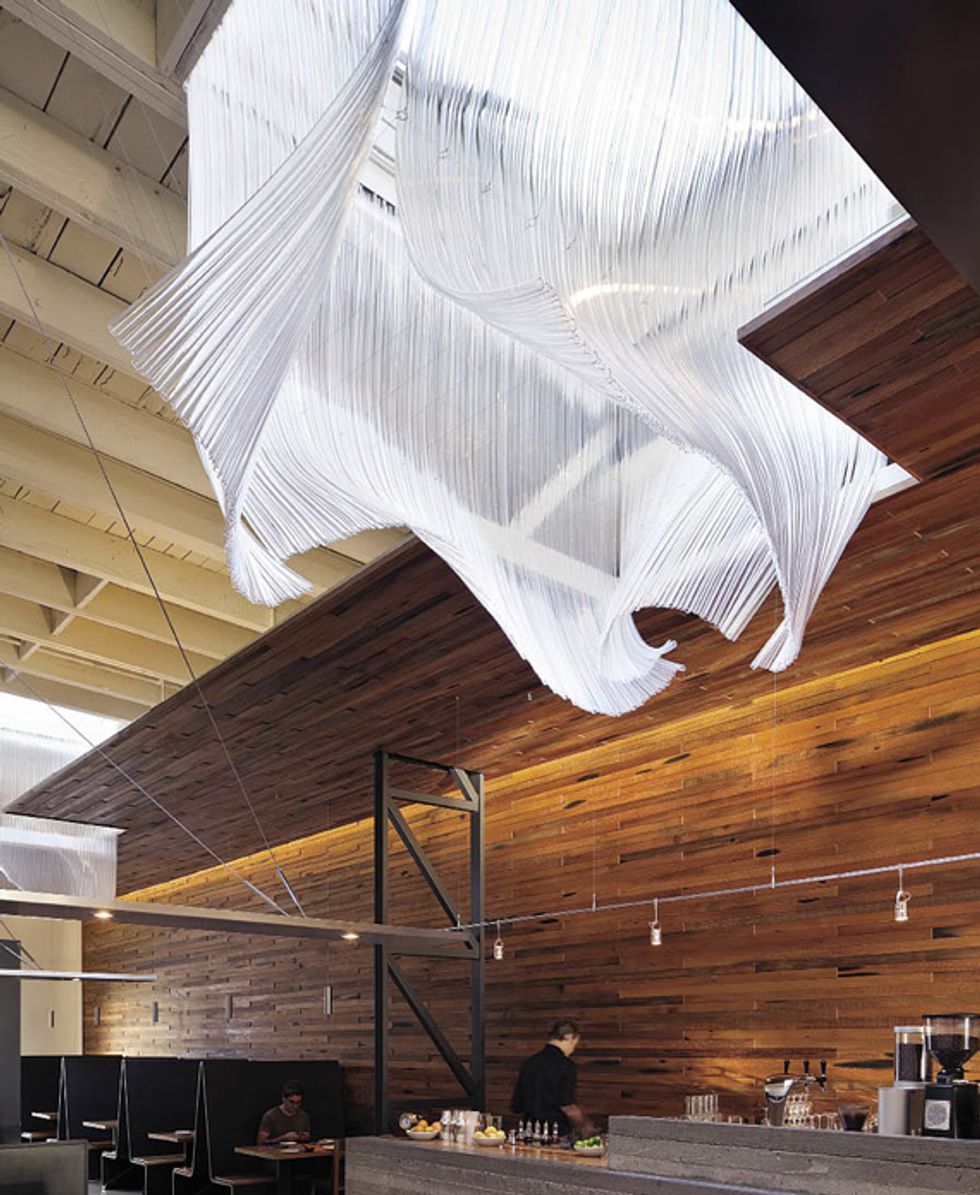 Best Restaurant Sculpture: Bar Agricole
It's hard to believe, but those billowing sheets of fabric that appear to be rippling from the three skylights above SoMa's Bar Agricole are made of cold, hard glass. Artist Nikolas Weinstein modeled the construction of his glass triptych on his projects in the Shanghai InterContinental Hotel, creating the ribbon-like panels using 1,362 glass tubes shaped in a one-of-a-kind kiln. Fear not, earthquake-phobes: The sculpture is seismically secured with steel restraining cables designed to withstand more than one G force. 355 11th St., 415-355-9400
Best Guilty Pleasure: Target
Come fall of 2012 (OK, we're impatient), car-less urbanites in need of window cleaner, storage bins, toilet paper, yoga DVDs, and cheap designer duds need only make their way to the second floor of the Metreon, where America's favorite one-stop shop, Target, is opening its first San Francisco store. Disclaimer: If said urbanites become afflicted with that mysterious, unnamed condition in which Target shoppers suddenly drain their bank accounts for items they hadn't intended to buy (who doesn't need an electric potpourri pot?), some four-wheel mode of transportation may need to be called into action just to haul away the spontaneous cargo. Or this may turn out to be the first Target in the U.S. where the average shopper spends less than $200.
Best Urban Outfitter: Stuff
You're starting from scratch due to a breakup, cross-country move, midlife crisis, or some other act of god. And you're seeking to appoint your new digs with, say, a Norman Bel Geddes Skyscraper cocktail set, Ruba Rombic art deco glass, 1920s Gladding, McBean & Co. planters, anything whatsoever by Vladimir Kagan, a freestanding driftwood bar, Mies van der Rohe Barcelona chairs, and, of course, a bronze angel statue to watch over your new endeavors. Fill your tall order at Stuff, an 8,200-square-foot, antique-and-modern furniture collective in the Mission that's brimming with decorative objets from more than 25 dealers. What Alameda Flea Market? No more driving over the bridge at 7 a.m. on Sunday for the good stuff. 150 Valencia St., 415-864-2988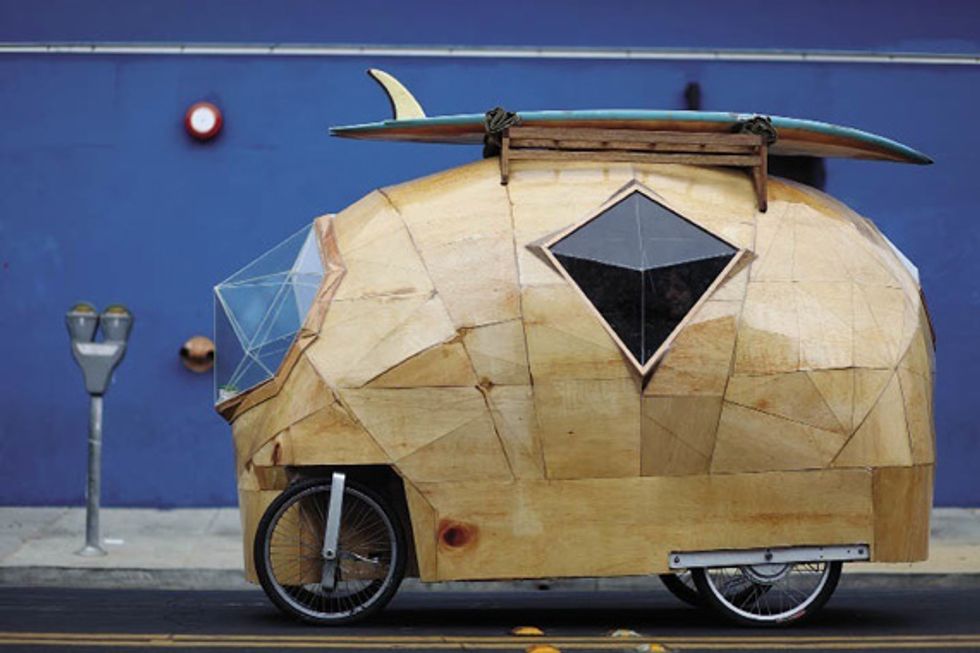 Best Tech Redesign: iPad
It's like the iPad took a cue from Jennifer Hudson and went on a diet, only to emerge sleeker and more powerful. The much-anticipated iPad 2 has less junk in its aluminum-and-glass trunk, which means it's 33 percent thinner and up to 15 percent lighter. Stronger processing muscle comes in the form of a dual-core A5 chip, and there are two cameras this time around, instead of zero. While snapping up the nifty tablet for $499 seems only natural, the question remains: Who's holding out for the third generation?
Best Pop-Up Marketplace: Envelope A+D
For those who find the trek to the Ferry Building Marketplace nothing short of a long haul (can we get a witness, Outer Sunset?), welcome Proxy in Hayes Valley, a more centralized, albeit temporary (it's merely a stand-in for a housing and retail project still in development) gourmet ghetto designed by Oakland architecture firm, Envelope A+D. Re-skinned, 180-square-foot shipping containers—easy to install and dismantle—house pop-up shops for 4505 Meats, Ritual Coffee Roasters, and Smitten Ice Cream, while parking spots for food carts and food trucks only add to the smorgasbord. And to cap off that gastronomic coma? Any frosty brew on tap at the new Suppenküche biergarten, of course. Hayes Street and Octavia Boulevard