Green juice. Modern homes. Hipsters. That's not the Oakland that Blindspotting co-stars and writers Daveed Diggs and Rafael Casal grew up in. Police shootings. Guns. Fights. These are themes more familiar to the longtime friends.
Some things never change. Some things do, for better and for worse. Push, pull. And while locals will appreciate the homage to Oakland that this much-anticipated film delivers, it's the universal theme of change that guarantees anyone can relate.
---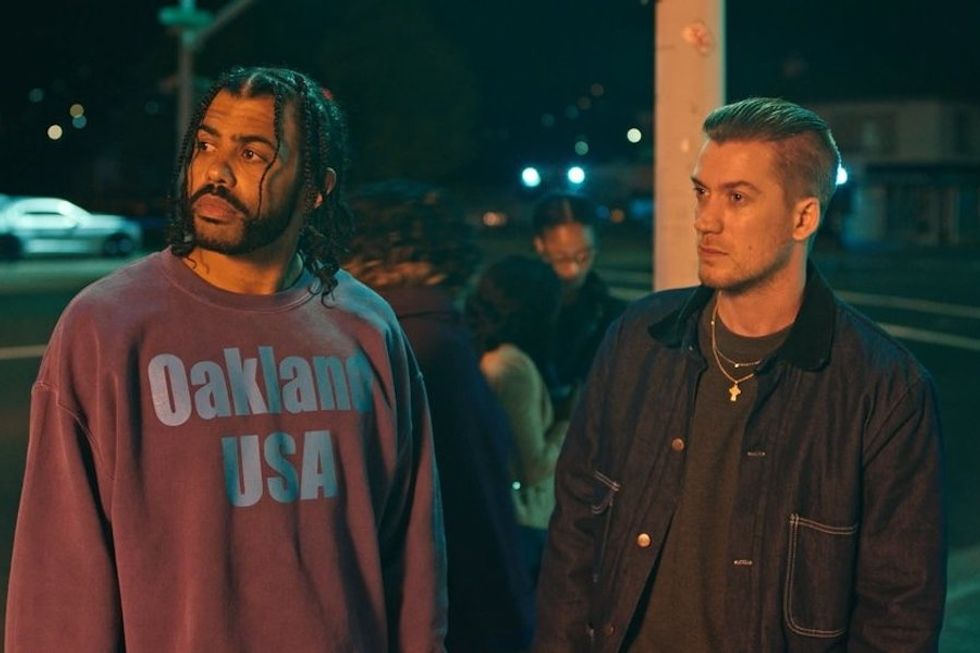 Daveed Diggs (left) and Rafael Casal costar in 'Blindspotting.' (Ariel Nava)
The directorial debut from Mexico City native Carlos López Estrada, Blindspotting is shot honestly and in your face. Scene one: Our orange-jumpsuited hero Collin, stoically played by Diggs, hears the extensive rules of his year-long probation. Is he remorseful or pissed, you wonder. Cut to the inside of a tricked-out Night Rider car, where we meet his best friend, Casal's grill-grinning Miles. The actor, of Def Poetry fame, is overzealous, but he charms with his gift of gab as he finds a gun in the car, and then two guns, then three. Collin wants out of the car. Miles buys a gun from the driver, who gets an Uber call. It's funny.

But the movie ticks between humor and drama, action and intimacy, following Collin during his last three days of probation (for a felony that involved a Scorpion Bowl and a hipster at The Alley on Oakland's Grand Avenue). We tag along with him and Miles whose work at a moving company incidentally reveals Oakland's changing landscape through the people who live there: a local artist; a preppy woman with plans of gutting an old house; a Prius driver whose blocking the way while unloading his Whole Foods groceries. And there it is: the struggle between authenticity and gentrification; the old ways of doing things, and the new. Bay Areans know the story. And like many Oaklanders, Collin and Miles feel the line drawing between them.
Impulsive and sometimes dangerous, Miles is constantly hustling to make more money for his girlfriend and their young son, selling everything from curling irons to a salvaged sailboat. And you can imagine his rage at finding that a transplant who works at Pandora shares his same NorCal tattoo. Collin, meanwhile, is trying to start fresh and, despite the pair's brotherly love and freestyling rapport, they are going in different directions.
In a city infamous for its crime, you won't be shocked at moments of terror and violence here, as when Miles' son gets hold of a loaded gun (I held my breath) and when Collin witnesses a white police officer shooting a black man. The moment keeps him on edge, culminating in freaky visions during his morning runs through a cemetery—an eerie yet beautiful backdrop—and placing racial tension, alongside gentrification, at the forefront of the film. Collin eventually has a chance to retaliate against the cop. This is where the Hamilton actor's award-winning talent shines, and it's when we learn where Collin's character stands.
As an Oakland native and a human being, I was moved by Blindspotting's fresh storytelling and insiders' look at the themes of racism and gentrification here. It hit home.
"It's always exciting to have people excited about the place that I come from," Diggs told us. "I wish it were based on the culture that was already there, with what was always great about Oakland." Whether it's a park you played in as a kid, a Chinese restaurant your family frequented, or the corner store, a changing landscape means the fading of memories. Your community isn't as familiar. Your new neighbors are different, and you're not sure it's a good thing.
Casal elaborates: "The push and pull is that I'm happy there are new places to eat and hang out, and areas are getting safer—I just wish it was for us"—the natives, rather than just the transplants who now see Oakland as a cool place to live.
I can relate. I grew up having to defend Oakland to out-of-state people (and, ahem, San Francisco people), explaining that it's eclectic and friendly, and not all ghettos and gangs. I haven't had to defend it in recent years. Oakland became an alt city. It became The Town.
// Blindspotting opens in select cities July 20th and nationwide July 27; blindspotting.movie.