It's no secret that two of our greatest loves here in San Francisco are alcohol and food, whether it's sipping on a glass of Pinot Noir, throwing back a shot of Fernet Branca, or enjoying a cup of salted caramel ice cream from Bi-Rite. But what about mixing the two together, such as boozy ice cream? What a novelty, right? Well that's exactly what you'll find at the new The Neapolitan at The Cosmopolitan of Las Vegas.

The location of Neapolitan Bar is a no-brainer, situated in the far corner of the Cosmopolitan's Boulevard Pool, overlooking the Vegas Strip. Those scorching 100-degree summer afternoons in Vegas all of a sudden got a lot more manageable, when you can step out of the pool and into Neapolitan Bar for a watermelon margarita popsicle. That's right a margarita in popsicle form. Or if you're feeling spicy, a peach and Maker's Mark spiked popsicle dipped in brown sugar, known at Neapolitan as Pour Some Sugar On Me.

But wait, there's more! I've barely mentioned the boozy milkshakes and ice cream; or rather, shall we call it, alcohol-infused with the help of liquid nitrogen. Maybe you've heard of W.W.J.D., but have you heard of W.W.E.D? That is, what would Elvis do? This chocolate Makers 46 milkshake comes topped with peanut butter, banana, and walnut liqueur swirls sprinkled with bits of maple bacon. Do we have you drooling yet? Other ice cream and sorbets feature a Brandy Alexander root beer float and the Black and Tan This, a liquid nitrogen-charged sorbet which features Guinness and Bass topped with caramel drizzle, chocolate shavings, and pretzel bits. Many of Neapolitan's toppings can be added to any milkshake, ice cream, or sorbet for a little extra.




---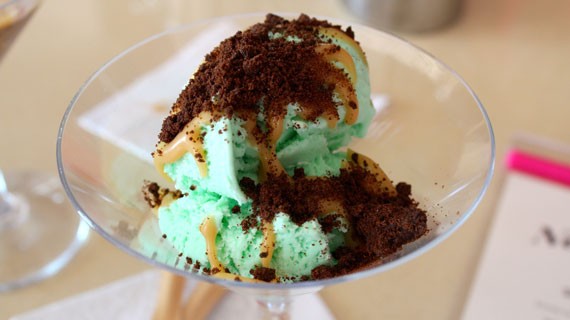 Neapolitan Bar is the first of its kind in Vegas, serving as a boozy ice cream shop. The bar's mixologists don bikinis and lab coats, only adding to its unique ambiance. Booze, ice cream, and a pool overlooking the Vegas strip – it's a match made in heaven.