From trucks to pop-ups to restaurants, the city is full of new flavors. Three cooks talk about the food they grew up with and how they've made it their own kind of authentic.
---
Restaurant: Bun Mee
Owner: Denise Tran (pictured above) 
Hails from: New Orleans, Louisiana and Vietnam
Dish: Sloppy Bun with fried egg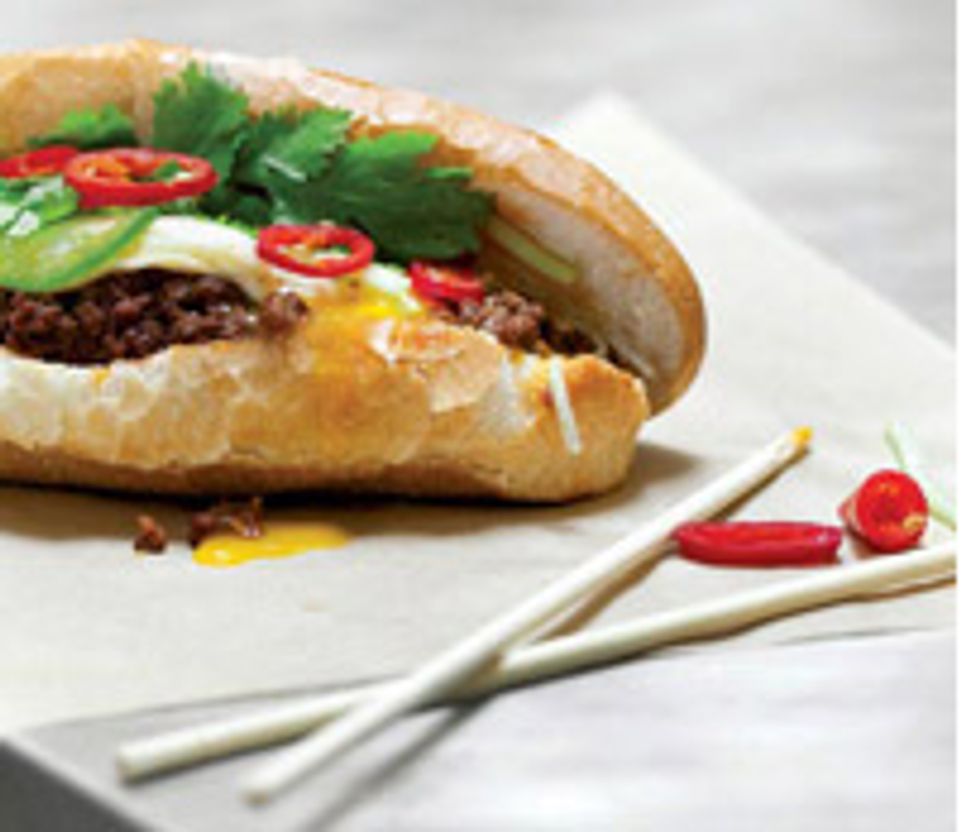 Denise Tran's Pacific Heights shop, Bun Mee, is named for the phonetic pronunciation of the Vietnamese banh mi sandwich. Her family immigrated from Vietnam when she was 2. Bun Mee's recipes are based on more than 100 variations she experimented with at home.
I opened this shop to create sandwiches inspired by banh mi—not to do what every mom-and-pop Vietnamese deli is doing. I grew up eating my mother's home cooking but also loving everything American. I went to a Catholic girls' school, and Sloppy Joes would always be on the menu on Tuesdays. There are certain things kids love, and Sloppies did it for me. 
The Sloppy Bun is a mishmash of what I love to eat. It's a reflection of my heritage. We sauté ground beef with minced garlic and lemongrass and then add coconut milk and our house-made red curry. We spread garlic aioli on a baguette and add the beef curry topped with Thai basil and sliced chilies. I recommend it with a fried egg because the runny yolk mixes in with the meat. 
We get a lot of heat for not being authentic, but I think food is fun and should be about expression. There are so many great ingredients out there that there's no reason to confine yourself to a box. Banh mi is a fusion of Vietnamese and French anyway, so really, I'm just doing what the Vietnamese did 100 years ago. A lot of people come in and say they've never had a banh mi, but now, maybe they'll go try them in the Tenderloin. That's rewarding.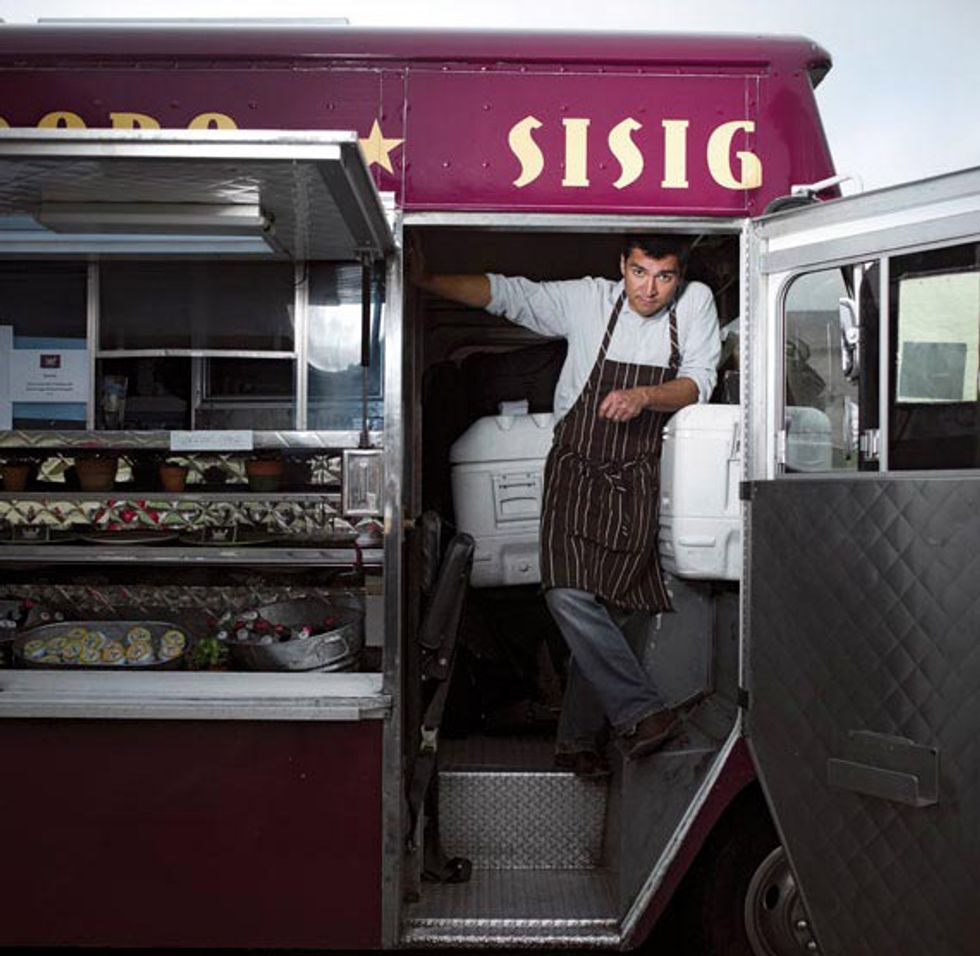 Truck: Hapa SF
Owner: William Pilz
Hails from: New Milford, Connecticut and Queens, New York 
Dish: Chicken Adobo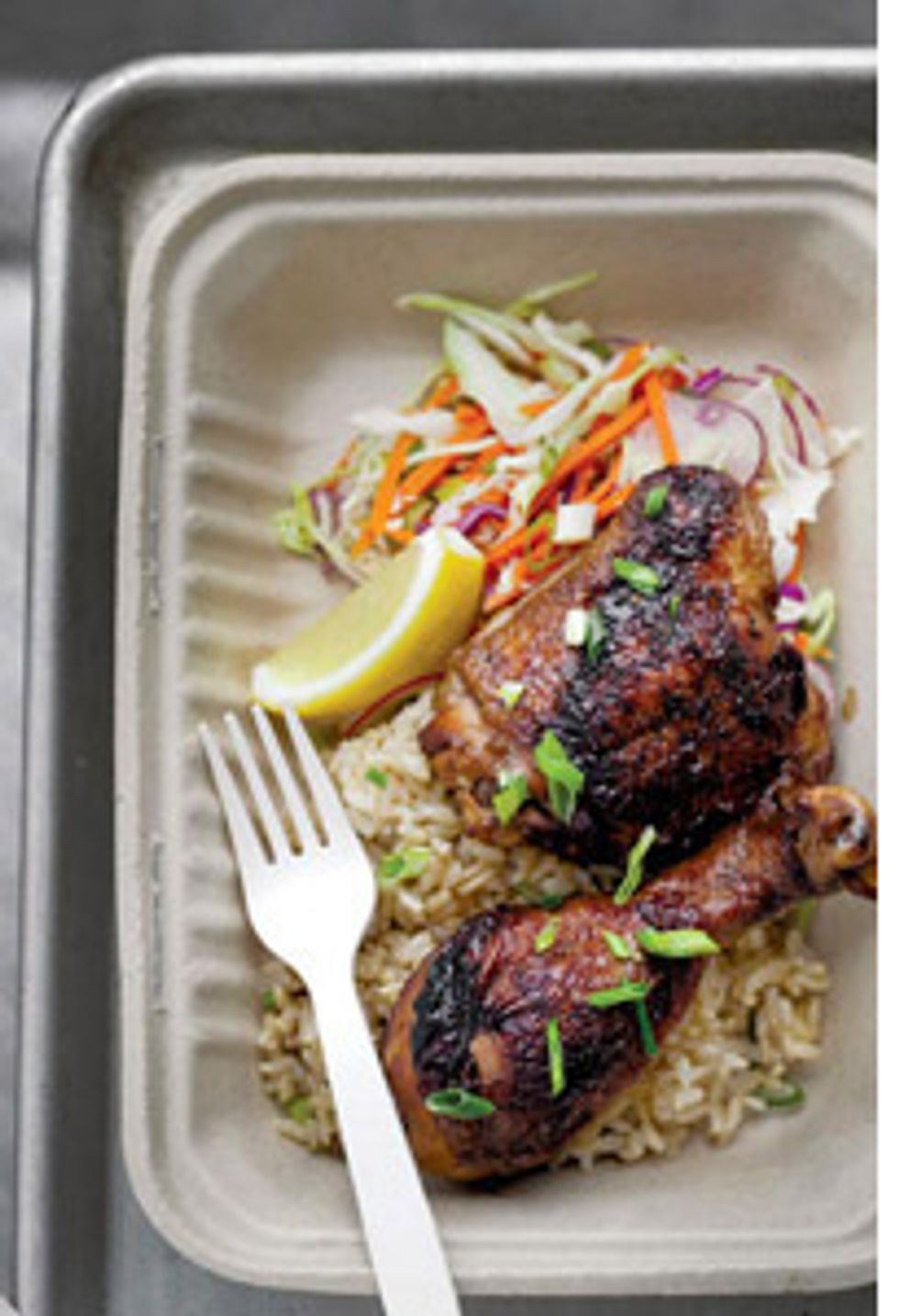 Formerly of Citizen Cake, Manresa, and Fifth Floor, William Pilz named Hapa SF after the Hawaiian term for a person of mixed heritage, since he considers his food half Philippine and half Californian.
Adobo, lumpia, and pancit were ubiquitous in our youth. If there was ever a school event, these dishes would always seem to just appear. They're the roast chicken and potatoes of Philippine culture. I've seen more ways of cooking adobo than ratatouille, but at its root, adobo is a blend of soy sauce, bay leaf, black pepper, and some kind of vinegar. I liked it, but there was always something missing for me. I wanted to smooth out all of the salt and acidity and give it some depth. Also, marinating in all that vinegar seemed to dry out the meat, almost like a ceviche. So instead, we make a brine out of soy sauce, sugar, ginger, garlic, lemongrass, black pepper, bay leaf, lemon zest, and water. The next day, we pan-sear the chicken and then roast it until it's slightly undercooked. We make the sauce with chicken stock, vinegar, some of the brine and extra seasonings. To serve it, we drop the chicken into the sauce to finish cooking. We're essentially taking a simple one-pot dish and turning it into a complicated three-day process. But I think we still stay true to its roots. Older Filipinos don't really recognize it as adobo, but the younger generation is definitely into it. It's got lots of layers and is infused with the flavors of the Philippines. My mom likes how pretty it is. Her running joke about my food is it's delicious—it's just not Philippine.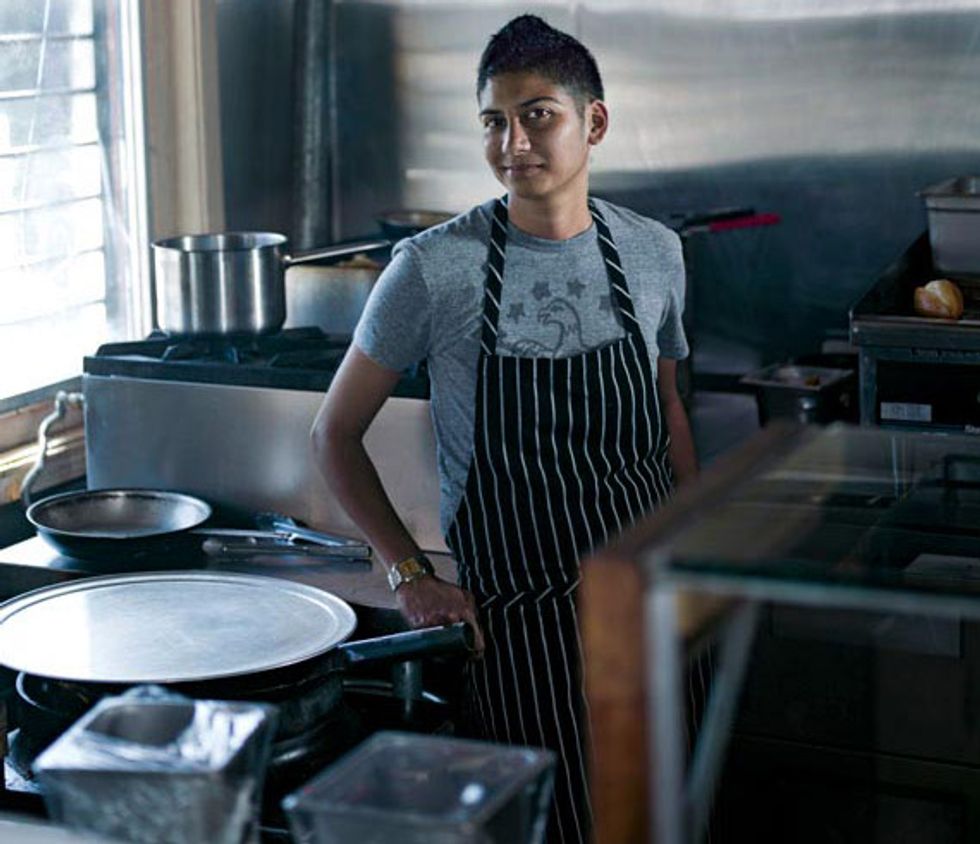 Pop-up: Juhu Beach Club
Owner: Preeti Mistry
Hails from: London and Toledo, Ohio
Dish: Shoulda, Coulda, Vada Chaat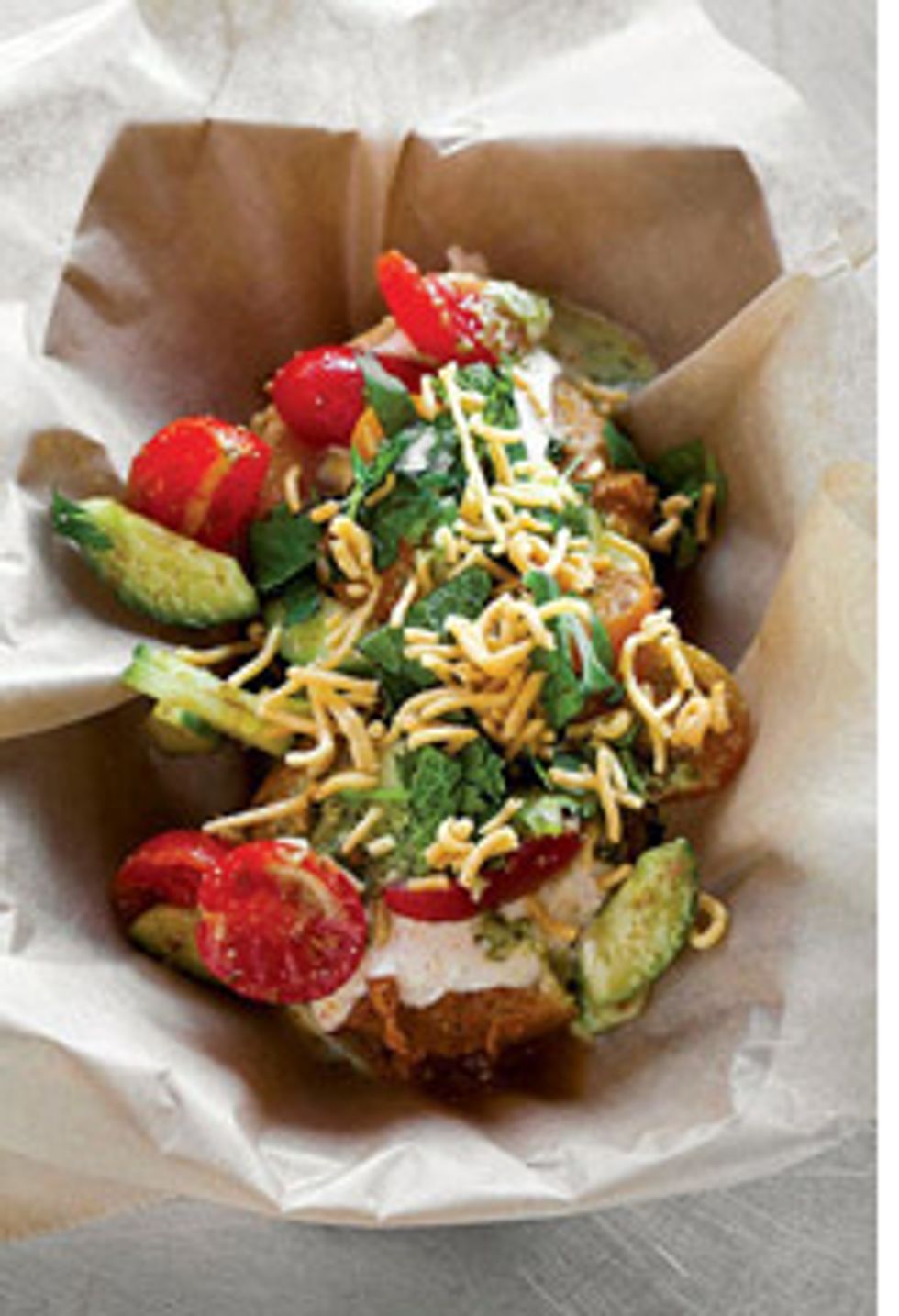 Preeti Mistry recently visited her parents' homeland, India, for the first time since she was 14. But at her SoMa pop-up restaurant, Juhu Beach Club, the former Top Chef contestant melds the flavors of India with the California sensibility she gained as a chef at Acme Chophouse and at the cafeterias of the de Young Museum and the Google campus. 
More people are familiar with lentil vada, but the vada I grew up with were spiced mashed potato balls battered in chickpea flour and fried. My mom would make vada chaat for special dinner parties, maybe with a chutney. Like a lot of Indians, my mother mixes up her v's and her w's and pronounces this dish "wuda," so the name pays homage to her. 
On the street, chaat is usually served with all kinds of fixings: tamarind-date chutney, cilantro chutney, yogurt, chopped raw onion, and maybe chopped tomato. In my version, I add a seasonal vegetable relish, such as one with Toy Box tomatoes and Persian cucumbers. Instead of mashing the potato, I use a ricer. I season the potato mixture with black salt, turmeric, hot Indian chili powder, and toasted cumin. I also add baking soda and double-fry the vada for the best texture. 
The dish is usually served with a crunchy topping called sev, which is made from a chickpea flour batter, using a really cool kitchen tool called a sev sancha. It looks something like a hand-crank playdough machine, which you use to drop the dough into the fryer. Most Indian restaurants just buy sev, so you don't normally taste sev this fresh. It adds another level of artisanship to the dish.