The otherworldly feel of ancient ruins and deep jungles at Siem Reap. The burgeoning arts and culture scene in Phnom Penh. Miles of pristine coastline in Kep. This is Cambodia today. Ravaged in the 1970s by the violence of the Khmer Rouge, the country has reemerged as a destination of dreams in a testament to the resilience of its people. Whether you seek traditional Cambodia or an experience off the beaten path, AFAR magazine's Jen Murphy has your itinerary all planned out. One thing's certain: There is plenty still to uncover.
---
CLASSIC
The huddle of awe-inspiring 12th-century temples known as Angkor Wat, in the Angkor region of the Siem Reap province, remains the No. 1 destination on most Cambodian itineraries and is Siem Reap's main attraction. Wake early to see the sun rise over the intricately carved towers, and avoid the morning crowds by entering through the back on the eastern side (passes are issued at the western gates). This puts you by one of Angkor Wat's most interesting bas-relief carvings, Churning of the Ocean of Milk, which depicts a myth from Hindu scripture.

When you've had your fill of ancient history, cross the moat to Chez Sophea for a sophisticated meal among the cheaper food stalls surrounding the great temple. Here the duck pâté and confit are as good as any in France, but, be warned. The French chef, Matthieu Ravaux, is known to be prickly and opinionated.
Travelers pay a hefty price to stay at Amansara (from $850), but it's worth every penny. 
The 24-suite hotel, enclosed in a garden of reflecting pools on the outskirts of town, was built in the 1960s as a villa for Cambodia's King Norodom Sihanouk. The property still delivers the royal treatment, including private tuk-tuk drivers and spa therapists who specialize in deep tissue Khmer therapies.
Stone carving and silk weaving are among the 
region's traditional crafts. Stop at Artisans D'Angkor for an array of souvenirs made by young Cambodians.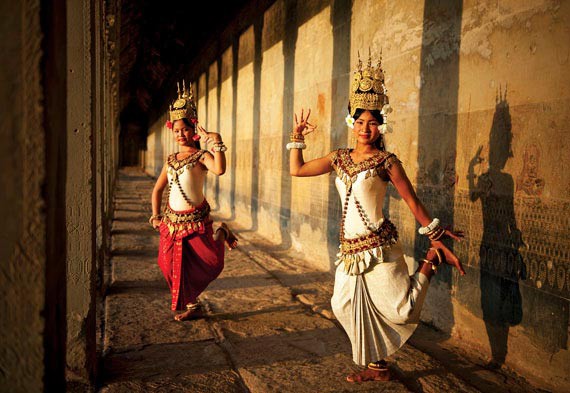 WHAT'S NEW
Adventure travelers looking to get their Indiana Jones on will relish getting tangled in the tree roots and climbing through crumbling corridors at Beng Mealea, the 12th-century sandstone ruins that just recently opened to visitors and thus is still largely under the radar. Beng Mealea lies in the jungle an hour's drive from Siem Reap. Take a tour with local guide Ratanak Eath, who sometimes includes lunch at his family's home nearby.



Playing Indie is dirty work, and you're going to need a bath. You'll find one at the affordable Hotel De La Paix (from $149). In the Phlauv Sivatha area of Siem Reap, the hotel was designed by architect Bill Bensley to be evocative of Angkor Wat but with Art Deco lines. Expect a fire-lit courtyard, fountains and ponds, corridors that echo as you amble through the inn, and rotating art installations. The hotel will close in June for a two-month-long renovation and will then debut its new look under the Park Hyatt umbrella.
At mealtime, dine on daybed-like swings that double as outdoor tables at the hotel's restaurant Meric, or head to Cuisine Wat Damnak for a taste of Khmer cuisine—similar to Thai and Vietnamese but less spicy. The culinary style was nearly wiped out during the reign of the Khmer Rouge. Today, French chef Joannès Rivière emphasizes local ingredients in menus featuring puffer fish from nearby Tonle Sap Lake and straw mushrooms foraged around the temples.
Pick up Cambodian crafts with a modern twist at Theam's House, opened by the former artistic director of Artisans d'Angkor two years ago. Watch as local artisans hand-paint clay elephants, emblematic of the sacred animal, with fuchsia and turquoise lacquer.
This is Part 1 of a three-part series on Cambodia that was published in 7x7's May issue. Click here to subscribe.