A handful of stories you may have missed this week.
Downward Dog With Cats: Feline Yoga Session Stretches the Boundaries, SF Chronicle
You've done power yoga, Bikram yoga, and maybe even goat yoga, but nowadays the thing to do is your set of sun salutations in the company of cats. SFSPCA is offering yoga classes with kitties to prove that these furry friends are capable of so much more than just eating your food and destroying your sofa. Read more.
---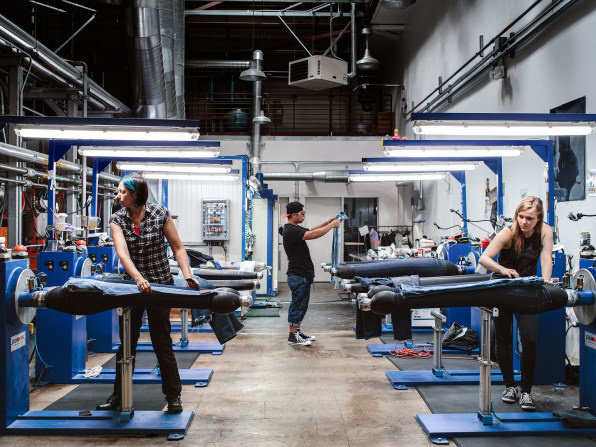 Inside a Levi's factory. (Courtesy of Levi's)
Levi's Invented A Laser-Wielding Robot That Makes Ethical Jeans, Fast Company
Good for the planet and for efficiency, Levi's new tech creates faded finishes and tears for your favorite ripped and worn-in jeans in 90 seconds flat. Read more.
So many people are leaving the Bay Area, a U-Haul shortage is jacking up prices, SF Gate
So many Bay Areans have had it with the cost of living in the city (which is increasingly dirty AF) that they're moving out in droves...and the price of getting a truck to haul their stuff is skyrocketing. Read more.
Macy's puts iconic Union Square I. Magnin building up for sale, SF Business Times
With talks of redevelopment since 2015, Macy's is taking the plunge and selling, freeing up 240,000 square feet of space in San Francisco's central shopping district. This could mean new stores, or perhaps even office spaces. Read more.
California Scraps Safety Driver Rules for Self-Driving Cars, NY Times
As of this week, the DMV is doing away with a requirement for autonomous vehicles to have a person in the driver's seat; you know, in case something goes wrong. Taking effect on April 2nd, California has already provided 50 companies with licenses to test self-driving cars. Read more.