For over a decade now — yes, time flies even for insomniacs — Adult Swim has been a green-light-happy home to "alternative comedy," whatever that means (our guess: the jokes involve long hair and abstract guitar play). The cult followings of shows such as Aqua Teen Hunger Force, Sealab 2021 and The Venture Bros. have paved a road for countless successful and not-so-successful live action and animated sitcoms to follow. Judging from the talent in the room last night at the Marines' Memorial Theater, the network's future is in good hands with the casts of Childrens Hospital and the acronym-happy NTSF:SD:SUV. Childrens Hospital, which is currently in the midst of its second season. It's a frequently recommended DVR candidate for Thursday nights, and a why-didn't-I-think-of-that idea for anyone who has ever suffered through the oppressive melodrama of a Grey's Anatomy episode (sorry girlfriends of the world, we really do hate it).
---
Few knew what to expect from a night involving a hodgepodge of actors and a producer from the shows, billed simply as "An Evening with Childrens Hospital and NTSF:SD:SUV". Would there be improv? Characters from the show? Full nudity? Live medical malpractice?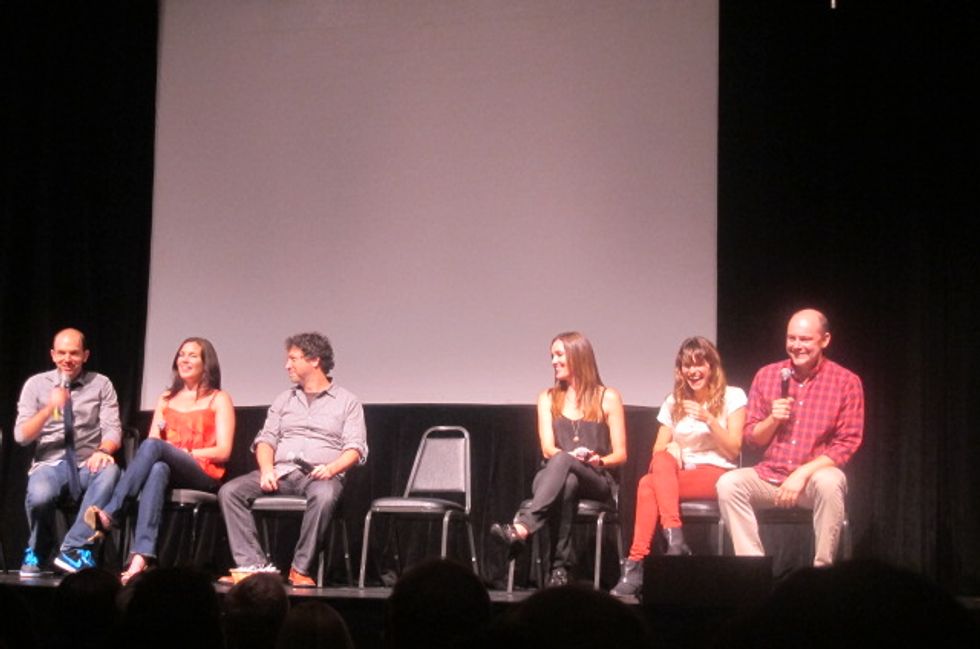 NTSF creator/star Paul Scheer (Human Giant, The League) came out first in homeless veteran attire as a faux emcee for the night, but encountered some relentless badgering from "the crowd." "Is Blue Man Group gonna be here?" asked rogue Childrens Hospital castmembers. "When is Blue Man Group gonna come on?"; "Is your penis blue?"; "How about 'Stomp,' are they here?"
Childrens Hospital creator Rob Corddry (Daily Show, Hot Tub Time Machine) followed Scheer (who won the wit award for the night) and introduced a never-before-seen episode of his show, in which he also stars as a clown-faced — and presumably clown-raced — doctor. After the 15-minute episode, he took a clever poke at the show: "Yeah, I would totally watch that show! I love jokes and I hate story or character development!"
Corddry promised a night of live dragons, that his pants would come off and that we'd hear from sidewalk reporter Danny the Pedophile, so it was clear that nothing was to be taken at face value.
After the world premiere screening of NTSF — somewhat in the same vein as Childrens Hospital, but replace the spoofed subject with crime dramas like CSI — the evening turned into a sinister variety/improv show. Brave audience members endured torment from the actors, Rob Huebel "injected" himself into a man's body in the spirit of modern science and Corddry treated us to a powerpoint presentation of failed Adult Swim show pitches, including a show called "Date Rape Detectives," which would do well as an satire-antidote after Jersey Shore.
The evening finished with a thoroughly entertaining Q&A session, which started with a Frequently Asked Questions segment that doubled as a roast of Corddry. A more-than-game audience also asked questions ranging from uber-fanboy-informed to revelatory, when we learned what type of clown Corddry really is.