The messenger bag may have been invented for busy professional cyclists, but its reach has expanded far beyond the bicycle courier. Messengers can now be seen adorning the shoulders of a wide swath of San Franciscans, from busy commuters transporting their laptops to art-school students lugging supplies. How does a devoted messenger-bag user stand out in a sea of similarity?
---
SF-based Chrome is offering a unique solution: Go custom. While most of the company's bags are manufactured at its main factory in Chico, the SOMA flagship store is offering an enticing new opportunity: Hand-sewn bags, pieced together in the colors of your choice by a full-time professional working right in Chrome's front window.
Michael Pablo, Chrome's custom guru, took us through the process of assembling a bag. An Australian native, he lost his accent in a teenage move to California, but gained design experience studying at FIDM. After a few years at Levi's, where he estimates he repaired and embroidered over 5,000 pairs of jeans, he moved to the smaller, more laid-back environs of Chrome.
Chrome offers two bags for customization, each featuring its signature seatbelt-buckle design: customers can choose from the Mini Metro ($150) and the Citizen ($170). Each custom bag has a $30 upcharge over its retail price, but Pablo says the extra cost can be worth it, especially for southpaws: "The colors and styles of bags we make for left-handed people are much more limited, so the custom program allows them to get exactly what they want."
Freedom of choice doesn't begin to describe it: custom shoppers are allowed to select the shade of their outer shell, logoed contrast strip, inner zip pocket, inner liner, Velcro, tape trim, and hardware. The sheer number of options can seem overwhelming, but Pablo is an encouraging guide, happily swapping out swaths of different colors so shoppers can get a vision of the finished product. There are also some tempting salvage options, including bag pieces made out of a sparkly vinyl that would be at home on the seat of a vintage Schwinn, and old-school patches (a 50's-era Giants one caught our eye).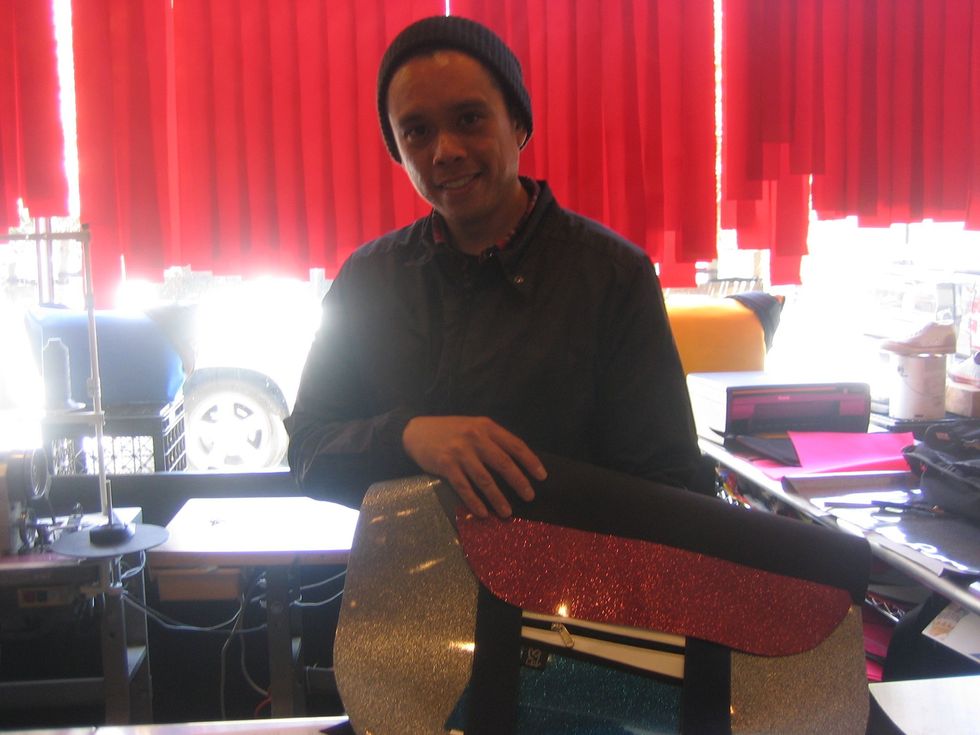 Once the work of selecting is done, Pablo hand-sews the bag, a process that he estimates at about two and a half hours per item. Bags are usually ready within a few days, and if you reside within the city limits, Chrome offers complimentary bike-messenger delivery. Best of all, the bags come with a lifetime guarantee-- in fact, when he's not sewing up new creations, Pablo provides free repairs on well-loved Chrome messengers, some of which have been in heavy use for a decade or more.
Ready to go custom? Pablo is in-house at Chrome from Wednesday through Saturday (10 am-7 pm; the store closes at 6 pm on the weekend). His sewing booth is right in front-- just drop by and say hello.
Chrome, 580 4th St. (at Brannan), SOMA. Phone: (415) 820-5070.