Looking to clear your head with a lovely hike? Look no further than the Sierra Vista Open Space in the eastern foothills of Santa Clara County.
---
At about six miles, this hike is best accessed from San Jose's Alum Rock Park, and offers up about 1,800 feet of climbing and outstanding views of the Santa Clara Valley and downtown San Jose. We've also included an alternate route (blue dot on the map below) for those wishing to avoid the lung-busting 20% incline section of the Boccardo Loop.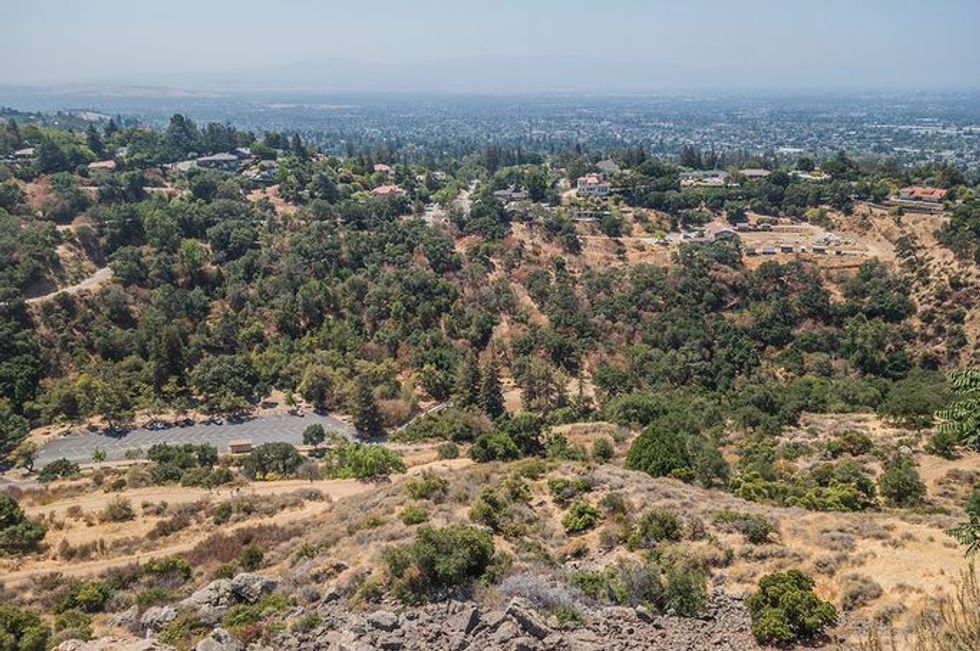 How to Get There
1. Take the Berryessa Rd. exit from Hwy. 680 and head east.
2. Turn right onto N. Capitol Expressway
3. Make a left onto Penitencia Creek Rd. and drive for 3.7 miles to the parking area. Parking is $6.00.
The Hike
Take the N. Rim Trail from the parking lot. (0.5 miles)
Make a right onto the Weather trail (0 .1)
Continue straight on the Todd Quick Trail as it climbs up (0.4)
Soon you'll encounter the Open Space Authority Boccardo Trail Loop. Those opting for a less strenuous hike can go straight here, (jump to step 11).
After about 300 yards (and 100 feet of vertical) you'll come to a fork. Either direction will get you to the top—While the left trail is steeper, many find it easier to negotiate this part of the trail climbing rather than descending.
At the fork, continue up to the overlook (1.1)
Here the views are breathtaking (hopefully you're still breathing). Lush Portencia Canyon is to your left, with Arroyo Aguague behind it. On a clear day downtown San Jose will sparkle in front of you with the Santa Cruz Mountains as a dramatic backdrop.
When you've had your fill, backtrack down to the fork and make a right, and a few steps later you'll intersect with the Sierra Vista Trail.
Continue down the remainder of the Boccardo Loop on the switchbacks (1.6)
Turn left to get back to the Todd Quick Trail. (0.15)
At the TQT, head right back down to the N. Rim Trail (0.5)
Turn right on the N. Rim Trail (0.25)
Bear right onto the Eagle Rock Trail to the overlook (0.25). Here more outstanding views are to be had.
Reverse direction and head back out the N. Rim Trail to return to the parking area (1.1).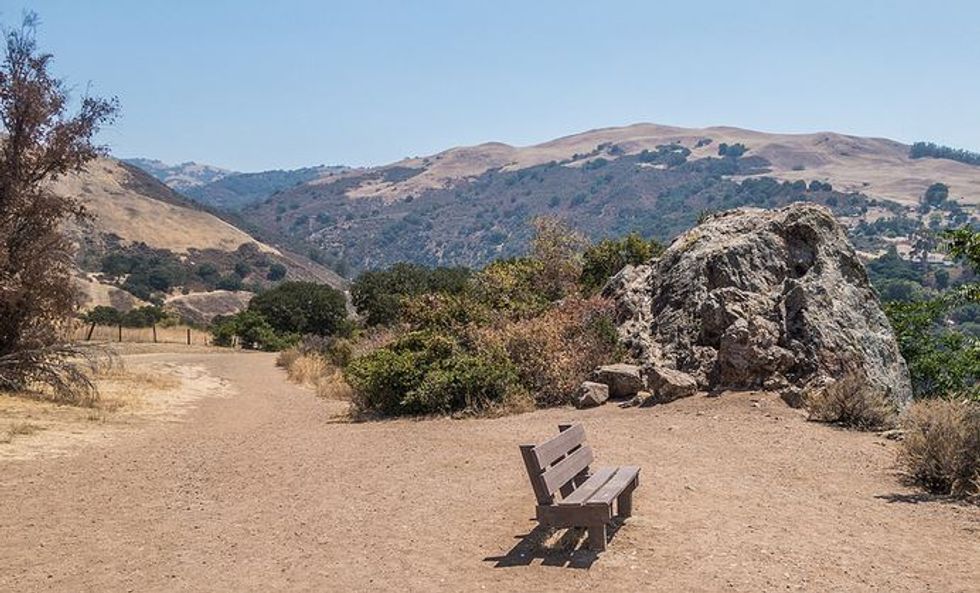 Other Things to Do
Alum Park is a great spot for a picnic on warm sunny days. For info on Alum Rock park, visit the City of San Jose website.
Alternate Access
Should you prefer to get the views without the exertion, you can access the open space from above by going to the end of Sierra Rd. Parking is free, but there is no water or restrooms available here. More info can be found at the Santa Clara County Open Space Authority website.