In our pre-coronavirus world, 7x7 had grand plans to bring our Big Drink—a list of San Francisco's most iconic cocktails—to life, in a special three-night event that was scheduled for this week. Our lineup was stellar, with bar stars from the likes of True Laurel, Che Fico, and Slanted Door set to join us; and our venue, Alameda's Hangar 1 Distillery, was guaranteed to be epic.
In light of event cancellations to help stop the spread of COVID-19, The Big Drink IRL is postponed (don't you worry, we'll bring it to you as soon as possible), but thanks to a couple of our fabulous bar partners, you can now get a taste of our Big Drink at home. Shake up Spruce's eponymous Spruce Goose, or The Saratoga's Green Goblin for your next virtual happy hour with friends.
---
The Saratoga's Green Goblin
(Courtesy of The Saratoga)
Ingredients
Basil
1 heaping teaspoon sugar
1 ¼ ounce Square One Botanical Vodka
½ ounce Green Chartreuse
¼ ounce Maurin Quina
¾ ounce lime juice
In a mixing glass, gently muddle 6-8 basil leaves and sugar. Add remaining ingredients, fill with ice, and shake vigorously. Double strain into a chilled coupe glass. Garnish with Luxardo cherries.
// The Saratoga restaurant is temporarily closed during shelter in place; 1000 Larkin St. (TenderNob), thesaratogasf.com.
Spruce's Spruce Goose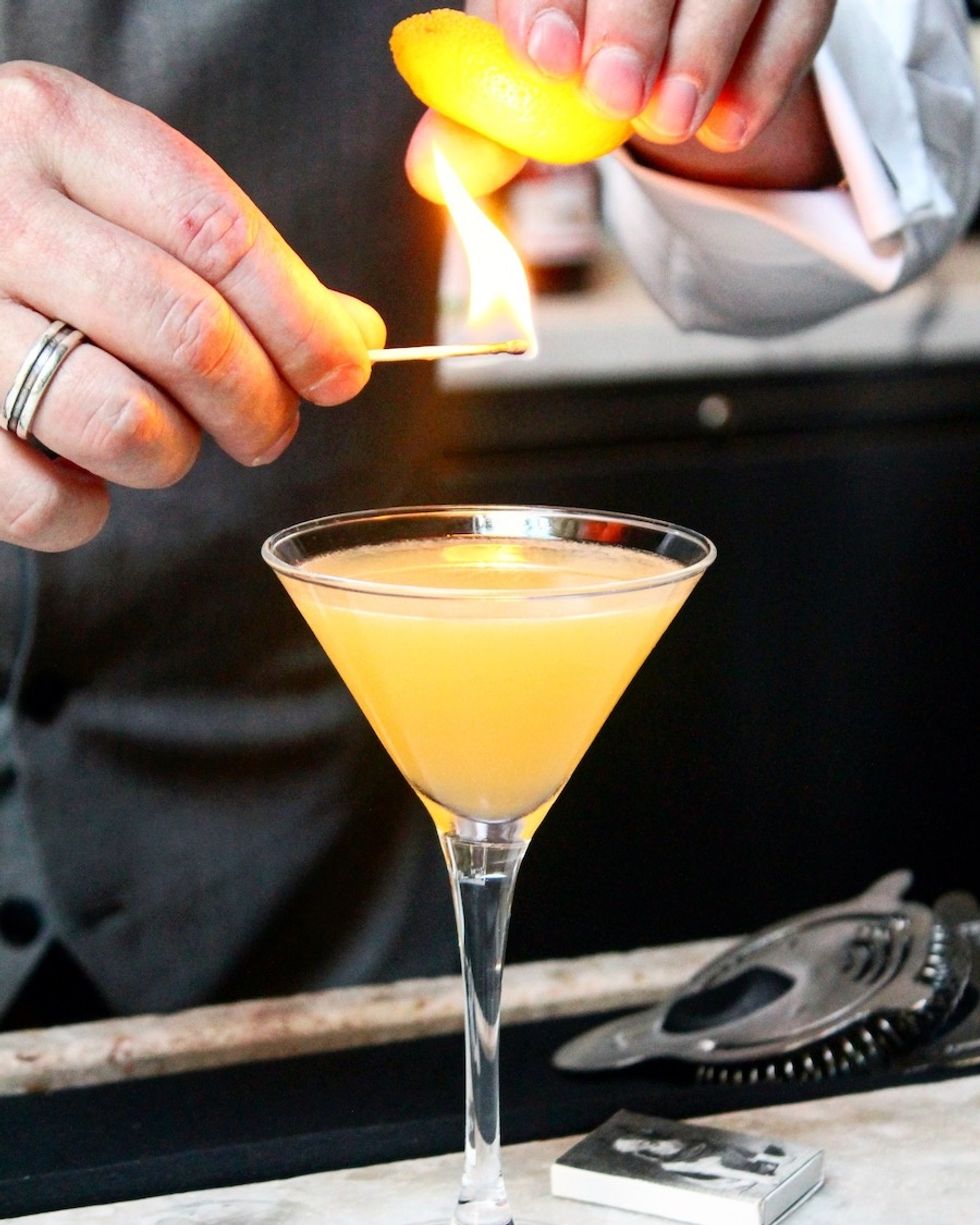 (Courtesy of Spruce)
Ingredients
1 ¼ ounce vodka
⅓ ounce Clear Creek Douglas Fir Eau de Vie
½ ounce Calvados
2/3 ounces lemon juice
Splash of orange juice
½ ounce maple syrup
Bitter Truth lemon bitters
In a mixing glass, combine all ingredients. Fill with ice and shake vigorously. Double strain into a chilled cocktail glass. Garnish with a flamed lemon peel.
// During shelter in place, Spruce is open for dinner takeout daily from 4pm to 8pm daily (phone orders taken from 11am); call 415-931-5100 or order in person at the adjacent cafe; 3640 Sacramento St., (Presidio Heights), sprucesf.com.
Prefer to let the pros handling the mixing and shaking? Check out our curated list of some favorite San Francisco and Oakland restaurants that are offering cocktails go go—including two more from 7x7's Big Drink: Wildhawk's Breakfast Negroni (available at Balboa Cafe), and True Laurel's Mai o Mai.
Happy drinking.