It was So You Think You Can Dance in an Indie Band? night at the Great American Music Hall on Monday, brought to us by brooding synth pop trio Cold Cave and atmospheric New Age revivalists Austra.
---
Let's meet the competitors.
In Cold Cave's corner, Ian Dominick Fernow, formerly known as the one-man act Prurient, hails from Wisconsin but has made a name for himself in the New York City experimental noise electro scene. But nevermind his musical credentials, dude can dance (we even suspect that's why Cold Cave bandleader/songwriter Wesley Eisold brought him aboard in the first place). Fernow spent much of the set barely tethered to his synthesizer, power-stepping to and fro, playing the occasional synth chord while the rest of his body moved like a daddy longlegs spider on crank.
Of course, this is what Eisold's music is designed to do. Cold Cave's tempo is always accelerating. Alex Garcia-Rivera was as busy on the drums as Fernow was channeling '90s fly girls. All of it an honest ruse to cue the crowd.
Live, the dance thrust serves as a prescribed antidote to Eisold's brooding diaries and the band's black hole-dark aesthetic. Cold Cave started its set with "Icons of Summer," with Eisold singing lyrics like "I don't wanna die until a little light inside is found / Every time I lift my eyes the sun is going down." They followed that up with "Youth and Lust," continuing the emotionally ravaged narrative: "I had hoped my love alone could outlive my past / I had hoped to thread the black hole / With no strings attached." You can almost hear the black eyeliner.

Perhaps it's too easy to place Cold Cave in the long lineage of The Cure and Joy Division/New Order, but it's a necessary reference point to explain Eisold's vocal approach. He, like New Wave pioneers Robert Smith and Ian Curtis, sounds haunted and ridiculously masculine; he could just as easily be reading Edgar Allan Poe to children on Halloween.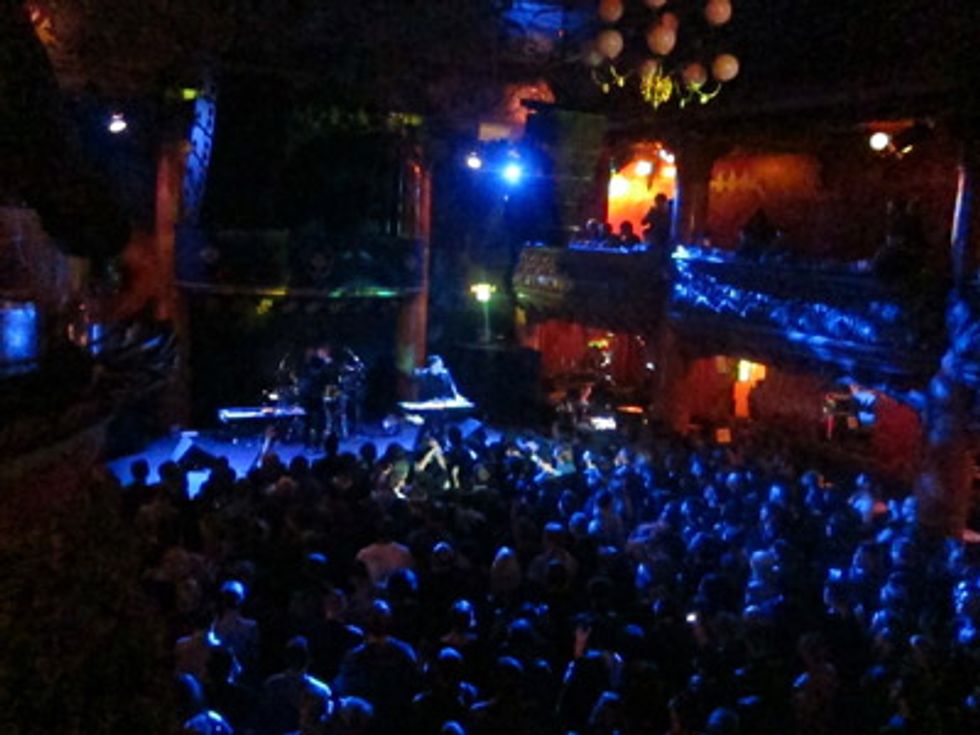 Most of the set list was drawn from the band's recent release Cherish the Light Years, including "Confetti" — and its loaded refrain "You look so good on the outside" — and the set highlight "Villains of the Moon," an affirming anthem written in blood, celebrated at GAMH with heads down and fists up.
They pulled a few tunes from 2009's Love Comes Close, such as the eerie and subversive "The Laurels of Erotomania." But conspicuously missing from that album was perhaps the band's strongest single to date, "Life Magazine," a triumph in guilty-pleasure electro-pop songwriting. It was the unfortunate byproduct of former bandmember Caralee McElroy's departure, and the absence of any other female vocalist. Another unfulfilled wish-lister was "The Great Pan is Dead," the strongest track from Cherish the Light Years, for my money.

But wait, what of our dance-off?
Opener Austra is an experiment in spiritual dance pop, but also in spazzy interpretive dance. Three female Haight-Ashburian vocalists front backing keys, steady drums and throttling bass, to winning effect. They clearly have a devoted following — the GAMH pit was losing it after each song, nabbing ovations that rivaled Cold Cave's. The Toronto six-piece revolves around the vocal force of Katie Stelmanis, who lived a former life in the world of Canadian Opera. It shows; her range is surreal and her effect haunting, perhaps conjuring phantoms of her past. Whatever it was, it possessed her flanking backup vocalists, and I couldn't help but snicker.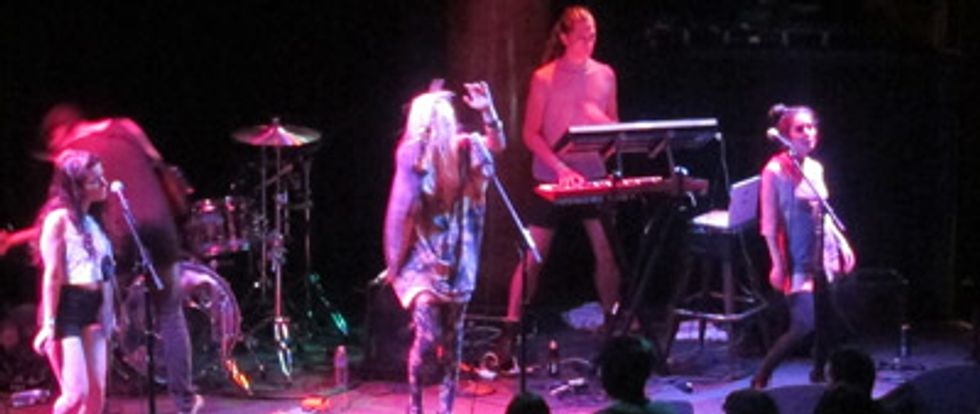 Winner, by decision: Fernow.