I was on vacation in Mexico last week. We were in Tulum (I was there in March too—can't get enough of it), mostly cooking in the kitchen of the beautiful house we rented on the beach or filling up on the most perfect panuchos at a little placed called El Rincón Chiapaneco located in the heart of the sleepy town. Which means that I haven't been doing as much eating here.
---
However, this is not to say that I didn't finish polishing a gut bomb of a bowl of bibimbap with spare ribs moments ago. 7x7 just moved our offices to the chic Chronicle Books building (we're all owned by McEvoy Group) which is located down in SoMa by the ballpark. I have to admit that while our office space is incredibly nice, I'm going through a little Union Square withdrawal. No more excuses to run to H&M. And very few options for lunch. Where are the Asian diners? The gourmet sandwich shops? The falafel joints? Let me know if you have any tips in the Second and Brannan area.
One suggestion that came my way via Kelly, one of our ad-sales folks, was HRD Coffee Shop, an Asian diner which apparently used to be a pure dive but two and a half years ago was given an overhaul and is now a quirky-cool, Korean-esque spot, complete with orange-plastic covered stools and a Wired magazine crowd whose offices are right across the street. They're famous for their kimchee burritos, but I had what you see pictured above. It was satisfying in the way that hangover food feeds the soul. Refined? Not so much. Regardless, the line of people waiting for the food here is testament to the fact that HRD is answering a call.
Before I left for vacation, I did some dining of a very different kind. I got myself to Parallel 37, which is the reincarnation of the former Ritz-Carlton Dining Room. If the Dining Room used to be a stodgy lady-who-lunches spot, it's now been reborn as a restaurant aimed at a much sleeker crowd who appreciate artisanal cocktails, a flat-screen TV in the bar, and a dining room that, while sophisticated, is still hip. Well, hip for The Ritz-Carlton. There aren't any chicken feeder lamps, reclaimed wood walls, or Mason jars with hipsters drinking out of them. And I'm not saying this is a bad thing.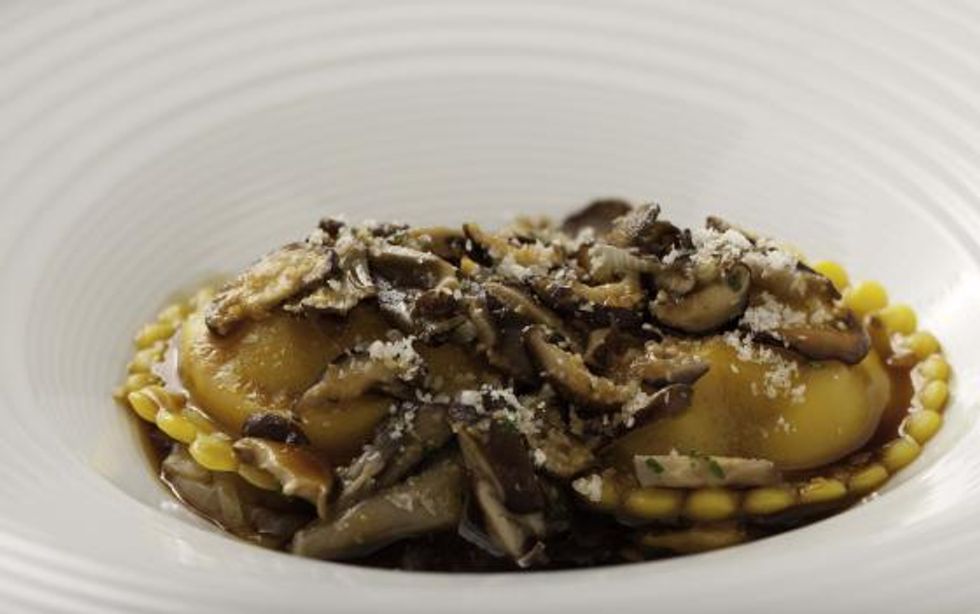 Chef Ron Siegel, who's been at the helm of kitchens from the former Charles Nob Hill, to Masa's, to the Ritz, is still the man here. The food is polished to the sheen that one expects from an institution like the Ritz, yet now it's plated on modern black ceramic plates of different undulating shapes. We started with an unusual but surprisingly tasty cocktail drummed up by bartender Camber Lay. It's called the Bar Fly and is made up of bourbon, Benedictine, poblano pepper, and vanilla. The vegetative taste and slight heat of the pepper seemed like a curve-ball ingredient, but it actually hit the spot.
Dinner went on to start with well-executed, super tasty ravioli—though ours was filled with carrots, it was similar to the above picture of Parallel 37's ravioli stuffed with shortrib—and a salad of Dungeness crab and persimmon, tarragon and frisée. I had the duck with salsify for my main course and it reminded me how much I love duck. Duck, the new red meat. Slow-cooked pork came with butter beans and braised greens. Though it's a dish made of country flavors, the presentation was very urban.
With the new design, the back wall now has a pretty mural of sorts made of a field of California oak trees, a pastoral scene that will resonate with anyone who's from here and a good choice for a restaurant that's looking to reclaim its place in a city that celebrates all things local.
Another big plus? Valet parking for Parallel 37 goers is only $10: Ritz Carlton service at a non-tourist price. If that's not a reason to go, I don't know what is. It's affordable enough to just stop in for a drink and a bite, maybe even take a little bit of the big football game tomorrow.