While wineries have always been the biggest attraction in Napa, cycling in the valley and the surrounding mountains has gained traction as a choice destination activity in its own right. Whether it be a day trip for locals cyclists or a week-long organized tour, here's how to cycle the winery circuit. 
---
What's In Store
This ride gives you a little bit of everything: vineyards, sweeping valley views, challenging climbs, and the opportunity to reward yourself with post-ride indulgences. The loop over the Vaca Mountain is around 42 miles long, involving 2,700 feet of climbing. Tip: an early start, especially on weekends, is recommended; Napa gets hot in the summer and the first part of the ride, located on Highway 121, gets busier later in the day.
How to Get There
Start off wherever you find decent parking off the Silverado Trail, which runs along the eastern side of Napa Valley. I usually park along Loma Vista Road, about a mile up Soda Canyon Road. Drive time from San Francisco is about one hour and twenty minutes via Highways 101, 121, 12 and 29. From the East Bay, take I-80 to 37, then north on 29. Turn right (east) on Trancas Street, then north on Silverado Trail as Trancas becomes Monticello Rd.
Turn by Turn
1. Once you're saddled up, point your bike south on Silverado Trail to intersect with Monticello for the climb east up Hwy. 121. You can avoid traffic on Trancas by cutting east on Hardman and Atlas Peak roads to reach Monticello (check the map below for this detour). The 3.5 mile climb up Monticello will bag you about 1,200 feet of vertical ascent, with a couple of points along the way taxing you via double digit gradients. Brace yourself. 
2. As you skirt the southern edge of the Mt. George, Hwy. 121 veers north for a fast couple of miles (at -5%) before you encounter another short, but steep, climb.
3. That leads to another fast, run down to the Capell Valley Rd. (Hwy. 128) at the 15-mile mark. Here, go left for a gradual six-mile climb back over Vaca mountains.  If hunger or thirst creeps up, simply look for the Turtle Rock Bar and Cafe on the right, and stop in for an egg roll (advertised in neon) or just groove on their dollar bill-plastered ceiling.
4. At this point you're close to Lake Berryessa, so if you want some extra miles or a closer look, take the Knoxville-Berryessa Road just past the Turtle (a right turn). 
5. At this point, Capell Valley Road becomes Sage Canyon Road (but remains Hwy. 128) as you head into the last climb of the ride, a mere 300 feet before you loop back to Napa Valley.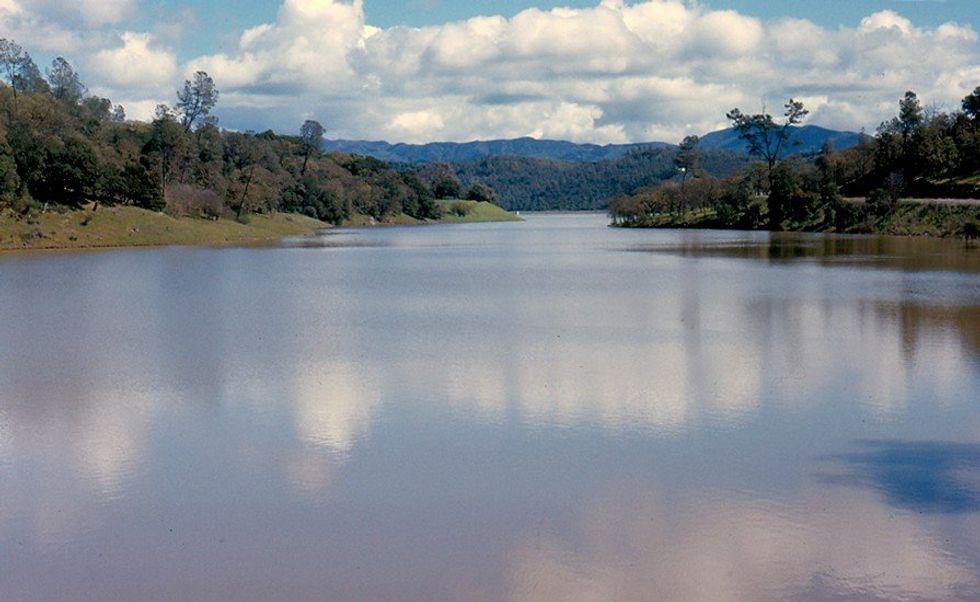 Photo via Panoramio; copyright by owner: Patt Roche - Lake Hennessey


6. Another rapid downhill brings you to the stunning Lake Hennessy (at 26 miles).
7. Soon thereafter, turn left to rejoin the Silverado Trail for the 12-mile return segment of your ride. The wide shoulder on the trail provides an opportunity to take in the visual charms the valley has to offer. Makes it an ideal ride for cyclists who prefer their ride flat and comfy.
Autumn is an especially nice time to ride the valley, as the temps are mild and the leaves golden.
One last note: Highways 121 and 128 have no shoulder — you're sharing the road with vehicles, so you be sure it's within your comfort zone. If it's not, just do a north-south on Silverado Trail, whose wide shoulder is perfect for a relaxed 24 miles out and back.
Other Things to Do
As previously mentioned, an early start gives you the rest of the day to play.  Strong riders can do this loop in two and half hours. A more leisurely pace and a stop at the Turtle Rock can push it to four. Lunch options in Napa are plentiful, ranging from casual taco stands to renowned Michelin star dining.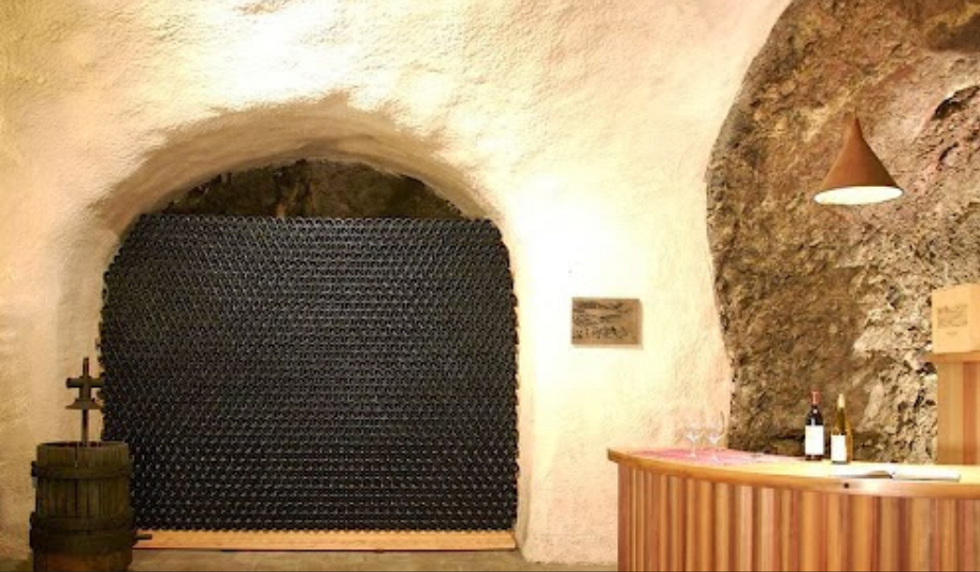 The inviting (especially after a hot day of riding) limestone cave tasting room at White Rock Vineyards. Photo courtesy of White Rock Vineyards

Make sure to include a visit to the marvelous White Rock Vineyards (another good reason to park on Loma Vista). This delightful family-owned winery turns out some remarkable wines. Plus. they were recently singled out in Napa's Finest Wineries Off the Beaten Path. Another alternative is taking a wine tour, and local operator Platypus Napa Wine Tours offers both private and join-in tours for smaller, hidden-gem wineries. Check out their list of over 75 Napa wineries for other tasting destinations in the valley.