If you're ever walking the streets of North Beach on a weekend and see women in flapper dresses and men dressed up as gangsters, there's a good chance they are heading to The Speakeasy.
After you give a mysterious man in a trench coat a secret password, you head down a dimly lit staircase, step through a grandfather clock, and escape to another time—the roaring 1920s to be exact. Jazz music is in full swing, sequins and pearls drape the fringe-laced flappers, and everywhere you turn a new storyline is unfolding. It's a bit disorientating at first, but the feeling quickly subsides as the magic of the evening takes hold.
---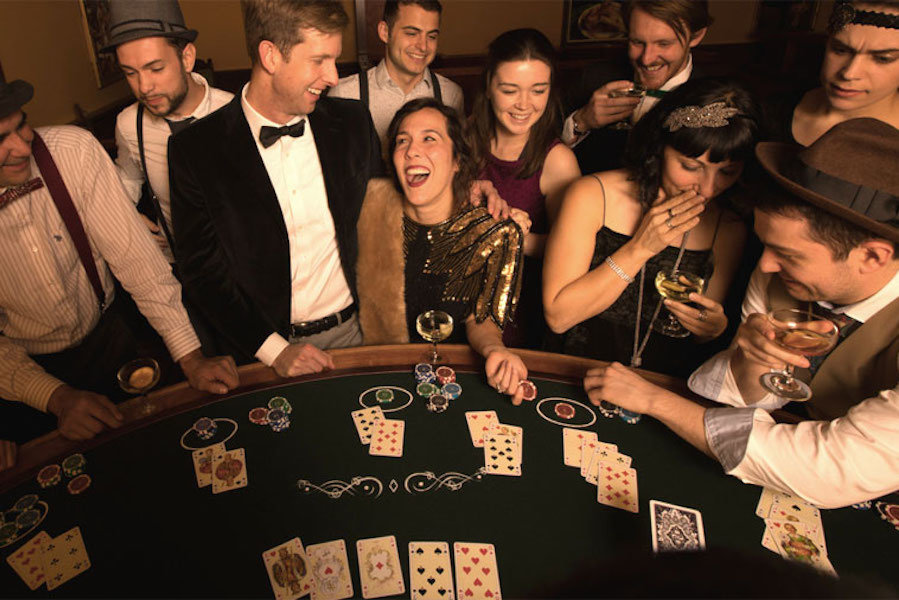 (Courtesy of The Speakeasy)
It's called immersive theatre, and it's more popular than ever now. Luckily for us, we have the world's best in our city. The Speakeasy is a choose-your-own-adventure experience featuring 35 actors. Patrons are welcome to follow different characters around the extravagantly decorated club. You may encounter bootleggers, con men, flappers or floozies, and even get pulled into a storyline or two! Other patrons are perfectly content sipping handcrafted cocktails in one of their two bars. Just be careful, the drinks are strong and delicious. There is a cabaret with glamorous chorus girls performing and a casino full of gaming tables (for entertainment only of course). The highlight of the evening though, is the two-way mirror in the dressing room. Watching the backstage drama unfold is voyeurism at it's finest. There are secret doorways and hidden passageways throughout the club. It feels like being in an adult funhouse made just for you.

Last month the show celebrated its 200th performance; right alongside Beach Blanket Babylon, The Speakeasy has quickly become a staple of the San Francisco nightlife scene. With the rise of popularity of VR, with devices like Oculus Rift, or VR experiences like The Void, not to mention other immersive experiences like Sleep No More in New York and Secret Cinema in London, it's no wonder why The Speakeasy has become such a beloved attraction. Dressing up and fantasizing that you're someone else for an evening is every San Franciscan's dream.
But it's not just immersive theatre lovers who are attending the show. The show makes a strong case for being the best date night in San Francisco. Whether it's a first date or 20th wedding anniversary, romance is definitely in the air. Everywhere you turn, couples are noodling in a cabaret booth or stealing a kiss in some nook or cranny. It's also a great place for group to celebrate. Birthdays, bachelorette parties or just groups of friends having a night on the town make the atmosphere lively and social. And the dance party in the cabaret is worth the price of admission alone.
The Speakeasy is one of those "You gotta see it to believe it" experiences, and tickets go fast. The Speakeasy runs through the fall.
// As a special summer promotion, 7x7 readers can receive 20 percent off premium and general tickets from now through July 14th using code "7x7" at checkout. For tickets, go to thespeakeasysf.com.