As much as I like to think of myself as a tireless advocate for all the filthy, thrashing rock n' roll that comes out of this city–after all, it is the best music to drink to–my ears get tired of the grit and grime. Sometimes, I just want music that glides through my brain, not something that barges its way in, fists flying, snarling, and tiring me out. Not to mention, when it's been as gloomy a summer as this, I need music that can bring me out of any major funk. Dominant Legs' sleek, 80s-tinged pop saved me this year.
---
Not long ago, the band was just one person: Ryan Lynch (formerly of Magic Bullets and Girls), who's still the principal brain behind the music. It's since swelled to include synth mistress Hannah Hunt, guitarist Garett Godard (also formerly of Girls), bassist Andrew Connors and drummer Rene Solomon. Last year, they released an EP, Still Young At Love and Life, that earned the attention of music blogs and even NPR for their gorgeous twee harmonies and sleek marriage of Nile Rogers guitar and keyboards. It was just a slice that left listeners panting for more until their excellent debut, Invitation (Lefse), dropped last week.
It's rife with catchy earworms–a collection of songs whose warm, tumbling melodies belie the rollercoaster of emotions running throughout the album. Lynch's unique vocal style (the guy actually sings!) is low and peppered with quick vibrato, and sometimes charmingly out of key–but in that way, it's brilliantly juxtaposed with the super polished guitar and keyboards. It pushes the music beyond just a copy of its mega-glossy 80s prototypes. It sounds real–like you're inside Lynch's brain as he hatches his grandiose pop ideas and strums them for the first time. Lynch says he prefers that decade to current electronic music because people were focused more on writing pop songs, "rather than it be one-hundred percent electronic music that will only appeal to a dance-club crowd."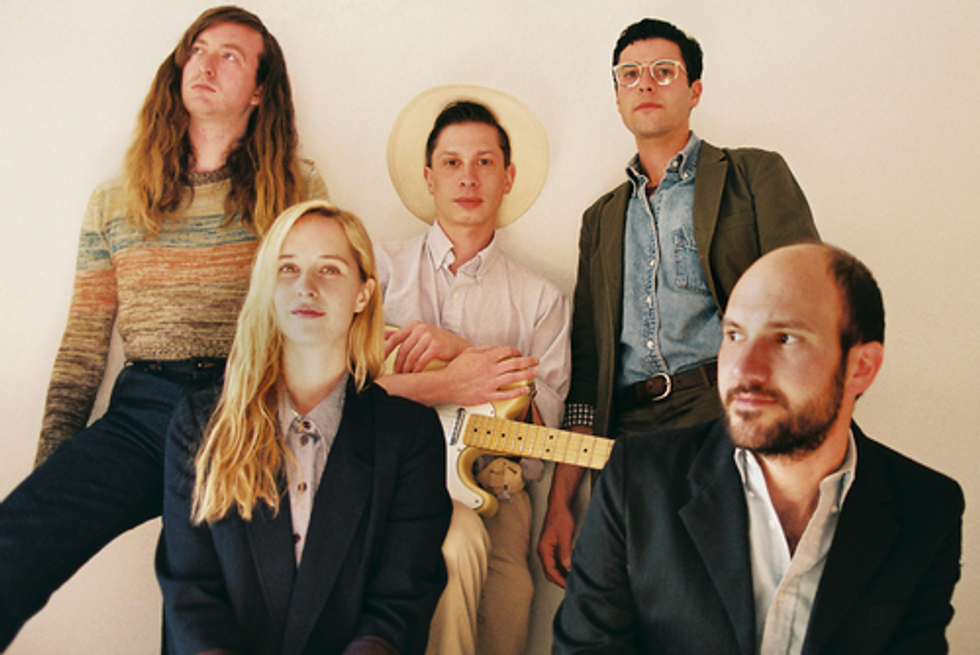 But they can't be pigeonholed as an 80s band, because there's a lot more going on behind the sheen of the synths. Yeah, there are moments when Kraftwerk jumps out, like on the breakdown of "Lady Is Sleek and So Petite," and Prince's cascading guitars can be heard on "Take A Bow." But, Belle & Sebastian also springs to mind on one of my favorite why-do-I-always-choose-the-wrong-people-to-fall-for track "Darling Girls," while the mid-tempo "Make Time For The Boy" manifests a slow-burning intimacy and a beautiful saxophone solo which evince Van Morrison's Astral Weeks era. "The One That You're With" almost sounds punk; it's the most angry song on the album. Yet it's all held together by the band's sense of hope and optimism: "I normally don't like to make aggressive music [like "The One That You're With"]," says Lynch. "I wanted the prevailing mood to be uplifting and euphoric."
That's why Invitation sounds so good taking over your speakers on any day–because in the vein of a band like Girls, Dominant Legs aren't afraid of wearing their hearts on their sleeves (whether in lyrics or the music itself), and that kind of honesty can never get old. Take a listen below: