For two months this fall, art leaps outside the confines of gallery walls. SFMOMA commissioned its latest winners of its prestigious Society for the Encouragement of Contemporary Art (SECA) award to exhibit fresh work in unlikely locations around the Bay Area.
---
The four local artists, Zarouhie Abdalian, Josh Faught, Jonn Herschend, and David Wilson, were honored at the end of 2012 and subsequently got the rare chance to choose their preferred locales to display their creativity.
In Downtown Oakland, Abdalian created a sound installation of hidden brass bells, each programmed to ring at designated times from rooftops in and around Frank H. Ogawa Plaza. Herschend filmed a behind-the-scenes depiction of the temporary closure and relocation of SFMOMA that will premiere on the museum's website. Wilson fashioned a transitory project of six hand-drawn, self-guided journeys, each beginning at a trailhead (the main entrance of SFMOMA) and ending at six different outdoor sites (one being a eucalyptus grove in the Presidio, where intrepid visitors will encounter the artists' 16-foot-high ink drawing). Faught's first solo exhibition in the Bay Area involves hand-woven fiber-based sculptures at the only nondenominational cemetery in the city, a repository for cremation urns in the Inner Richmond.
The offsite retrospectives are a first for SFMOMA in its history of the biennial SECA award, an accolade established 46 years ago to recognize the exceptional talents of local Bay Area artists. Free to the public, runs September 14 through November 17. Click here for more details.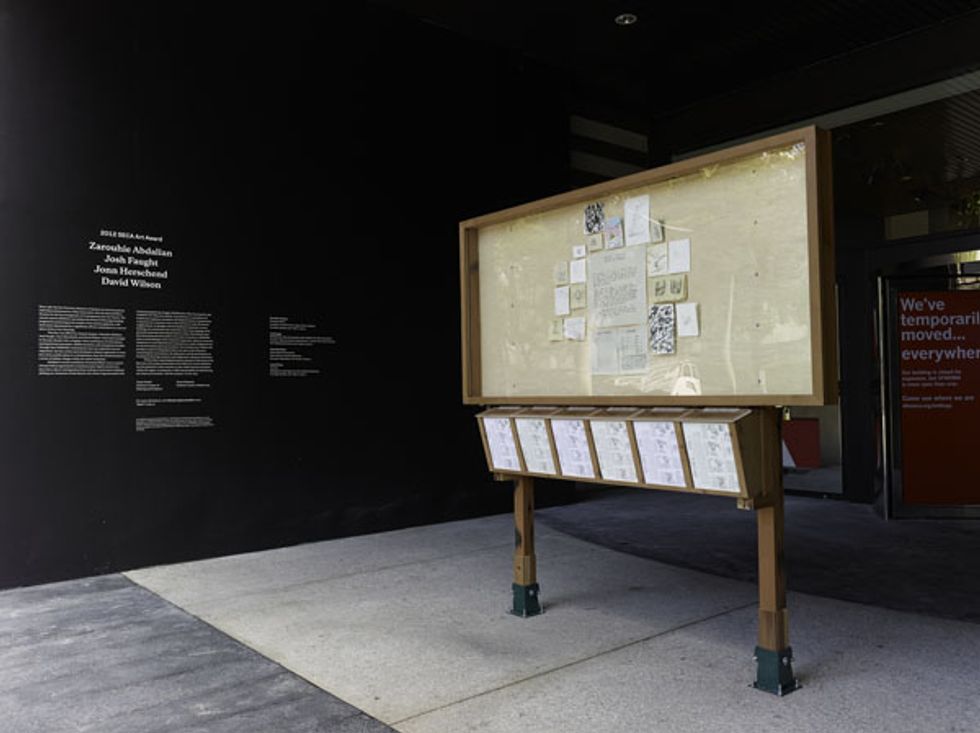 David Wilson, Searching Notes (preparatory drawings related to Arrivals), 2013; ink on folded paper; dimensions variable; commissioned by SFMOMA; © David Wilson; photo: courtesy the artist