You can't walk far in North Beach without running into a pizzeria or an Italian deli, but locals, especially the multi-generational Italian families who've lived here for decades, remember the many lost bread bakeries of yore.
For the past two years, famed neighborhood pizzaiolo Tony Gemignani has been working on his own bakery concept with the hope of returning European baking traditions to North Beach. Now open, his Toscano Brothers bakery is serving throwback vibes and classic breads.
---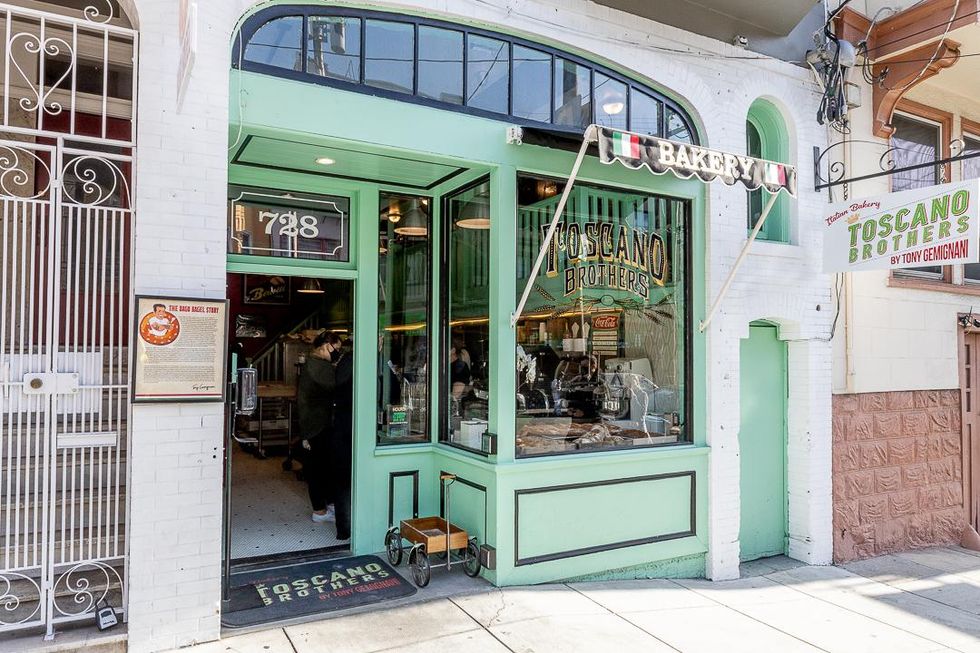 Tony Gemignani's Toscano Brothers Italian bakery in North Beach.(Sarah Chorey)
Designed by Gemignani himself (the chef designs all his restaurants), the Vallejo Street bakery announces itself with a bright, mint green facade, gilded lettering, and Italian flags.

"We wanted to be that old school bakery that feels like it's been here for 60 or 70 years," says Gemignani, who's been using his pizza kitchens as testing grounds this past year for perfecting his bagels and specialty loaves.
Let's talk bagels first.
To get the recipe right, Gemignani worked closely with his pal Adam Sachs—a Tony's Pizza team member who competed in the World Pizza Championships in Parma in 2019 and also specializes in breads—to achieve the just-right chewy, shiny, classic bagel boiled in liquid malt and water, seasoned on one side, and then baked on pine and burlap boards.
"Our bagels are very true New York: low hydrated, high-gluten protein flour, hand-twisted and rolled," he says. "I really wanted to do a bagel that wasn't fully yeast or super sweet."
After you wait in the socially distanced line, you'll have your choice of everything, poppy seed, Maldon salt, and plain bagels with or without cream cheese. According to Gemignani, early taste-testers from New York say the bagels pass the test, even transporting one back to his childhood. "Anytime you can do that with food, bring somebody back...those are the special times," he says.
At Toscano Brothers, Tony Gemignani makes his bagels the old fashioned way: boiled in liquid malt and then laid out on pine and burlap boards to be seasoned.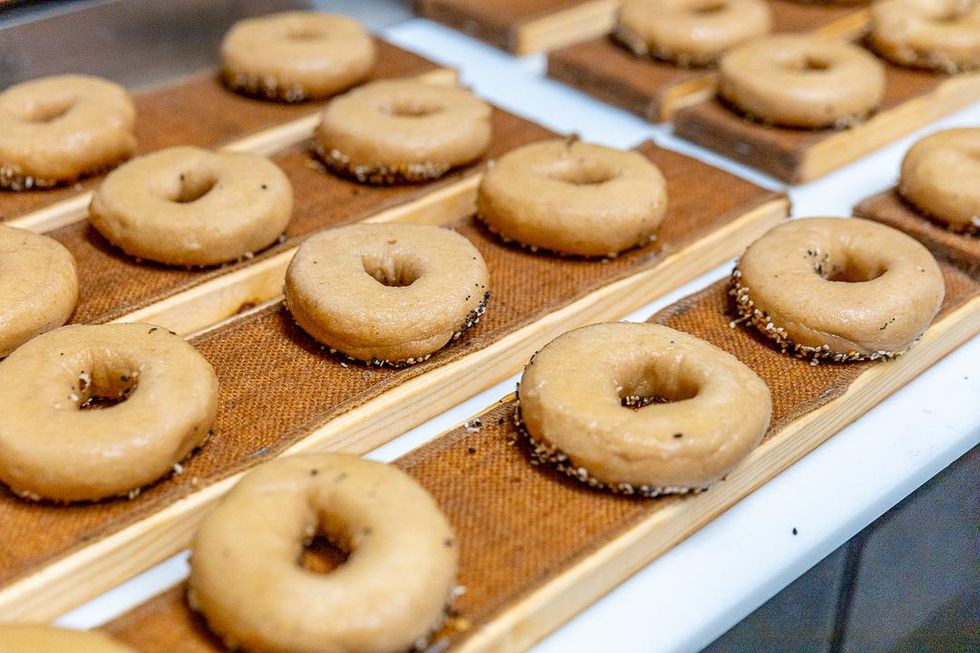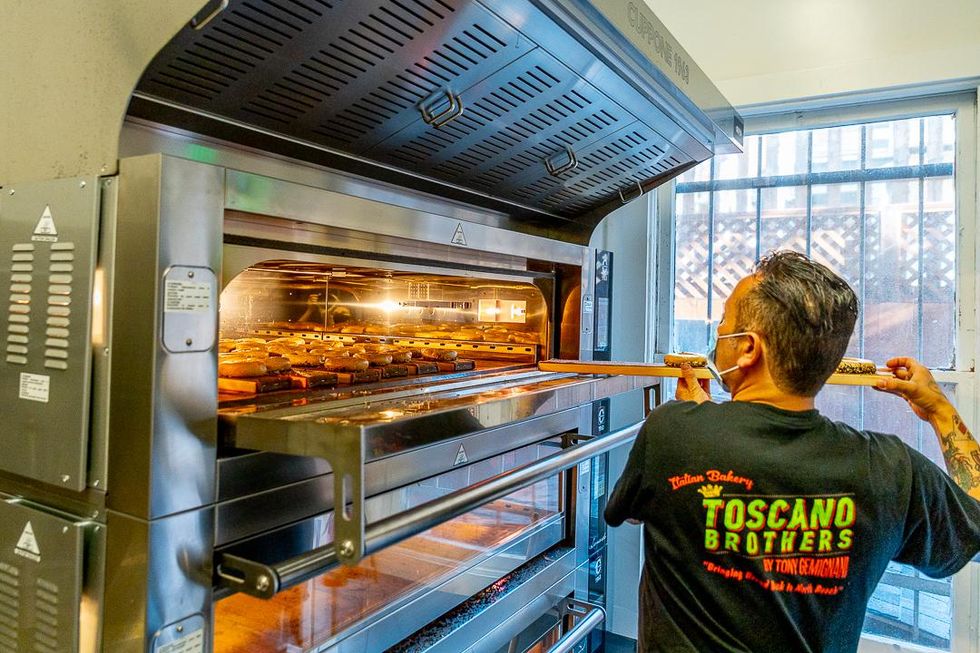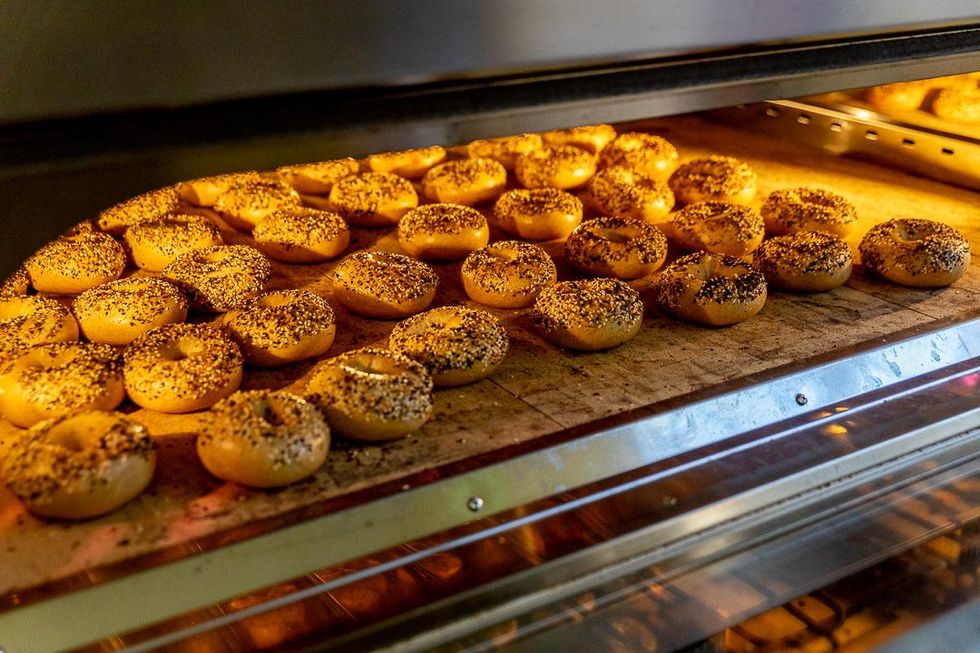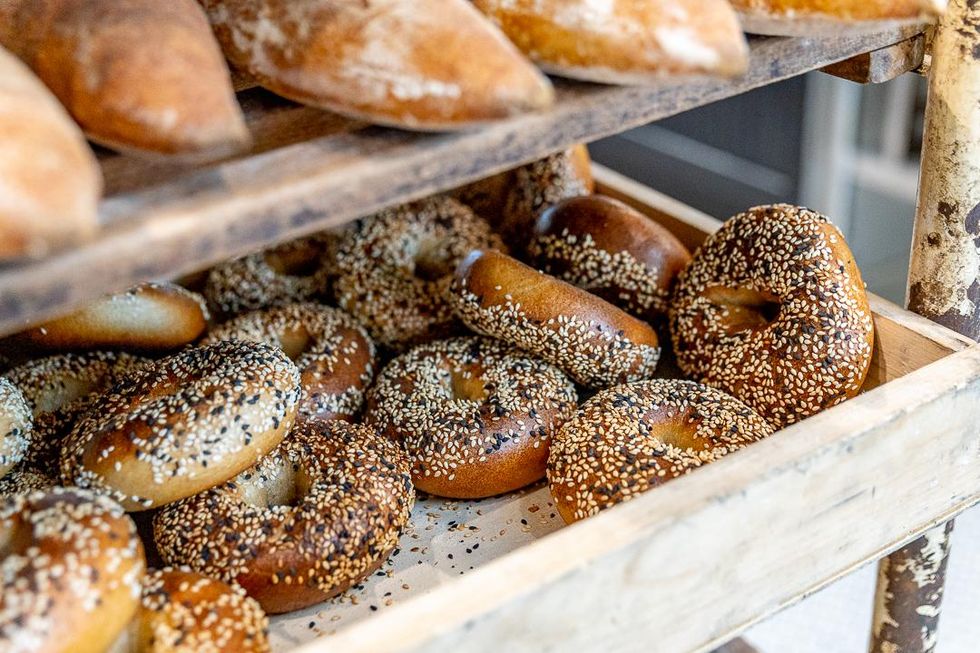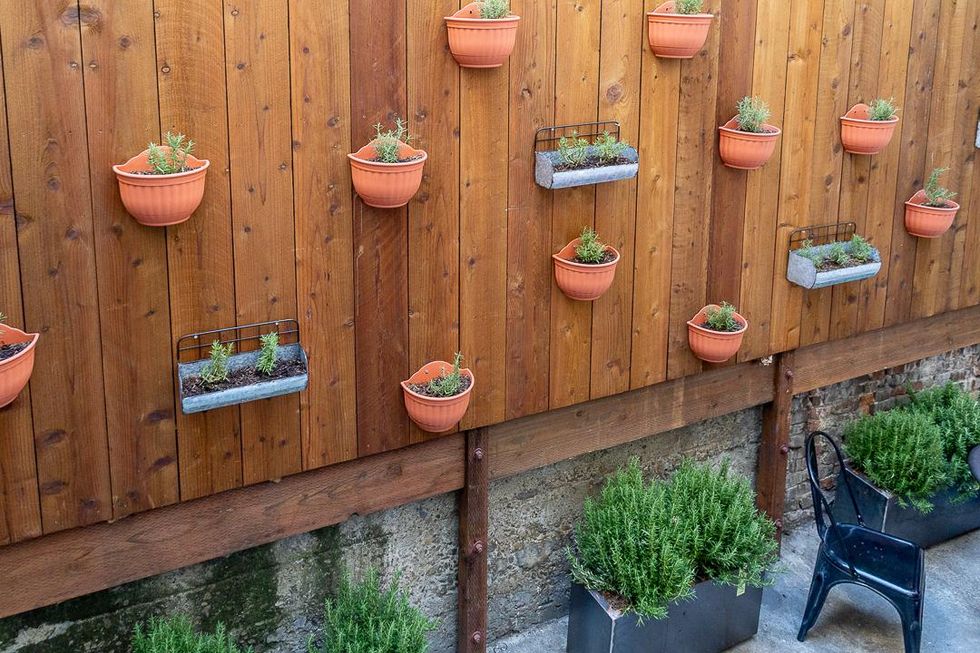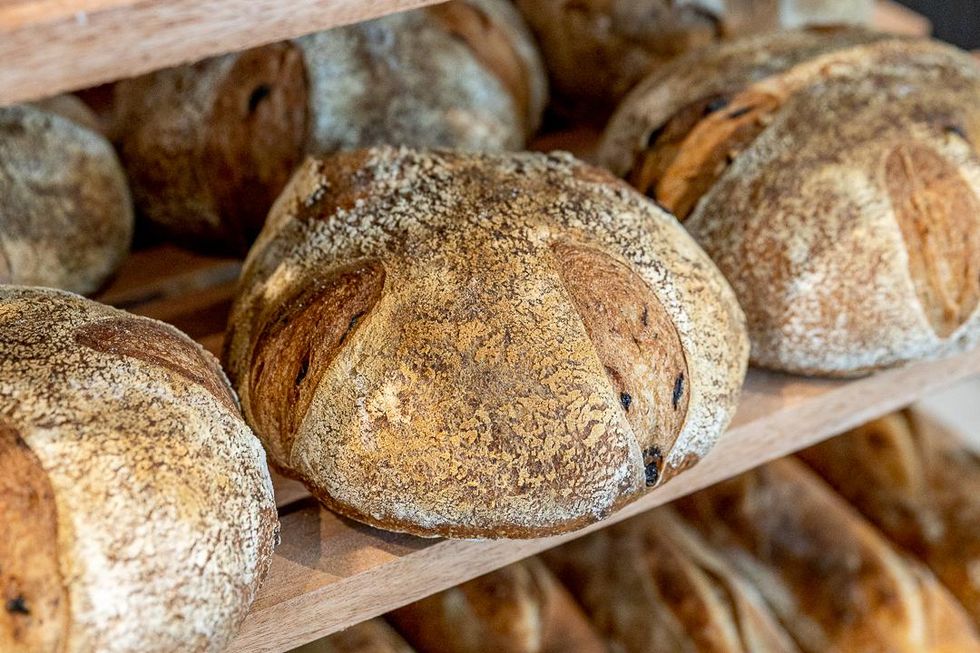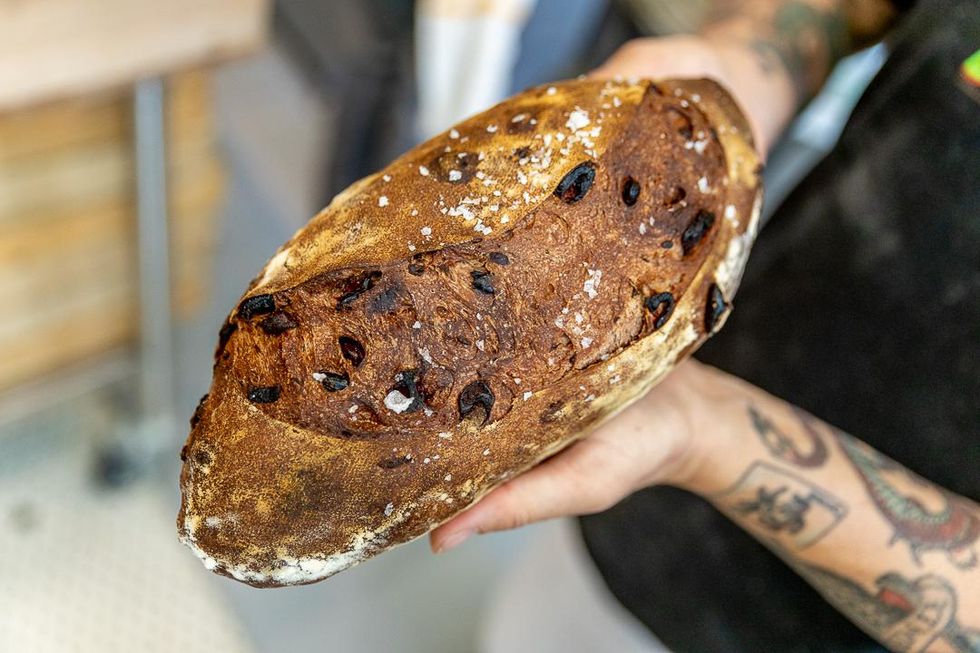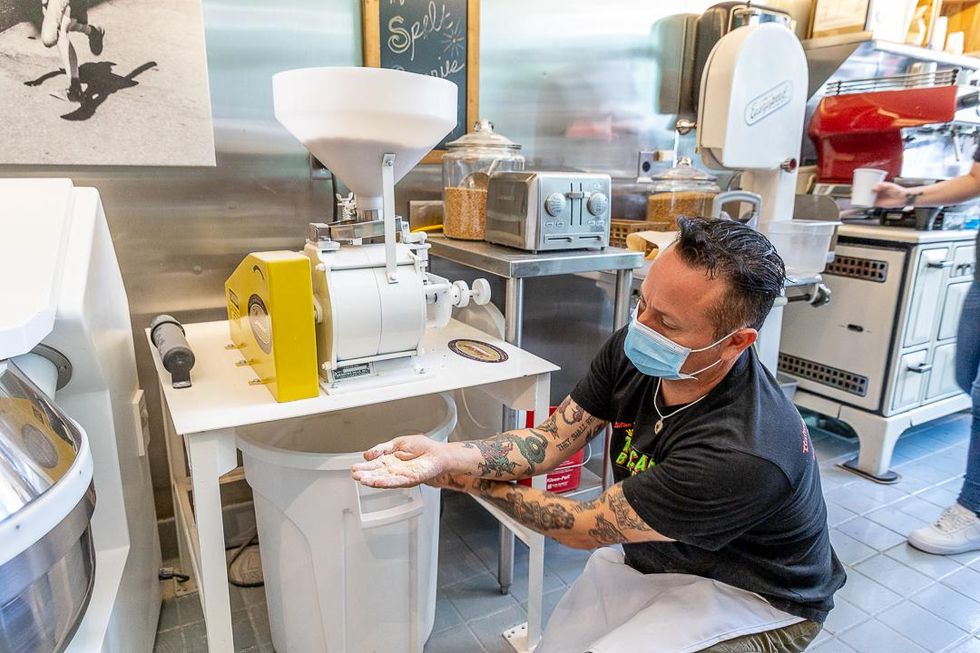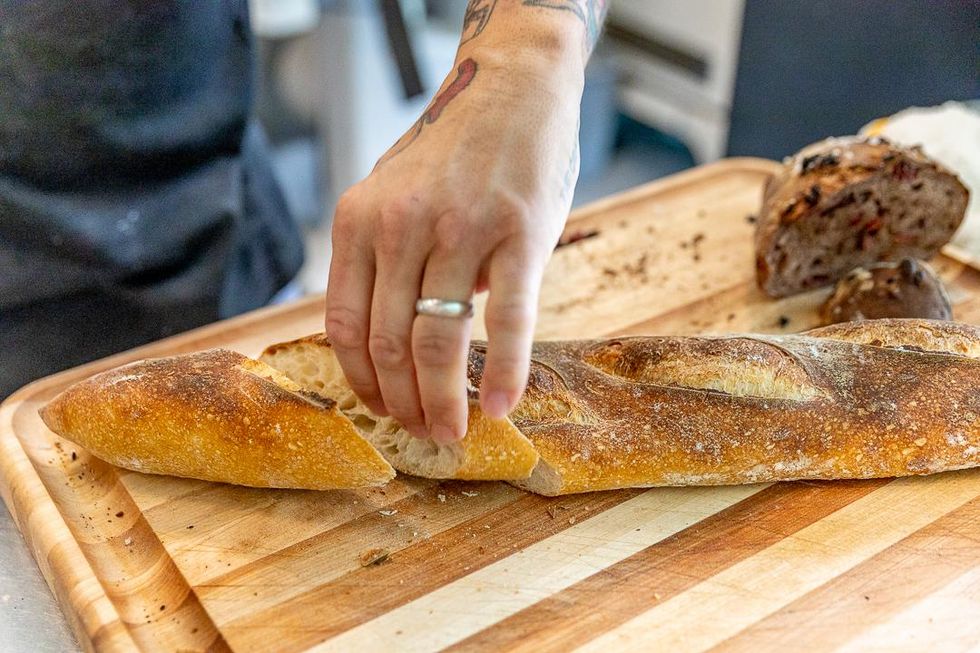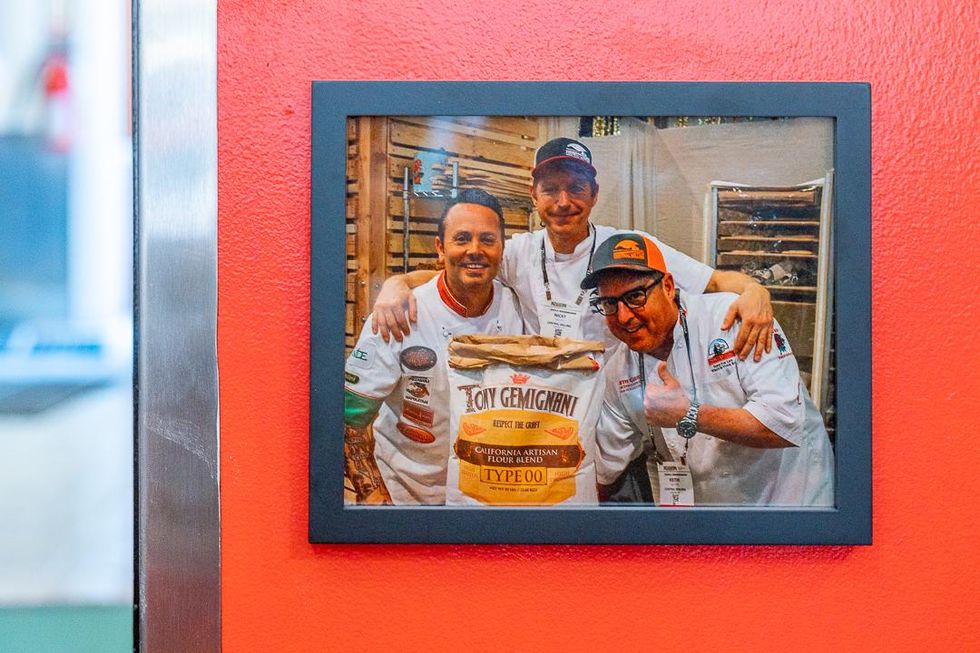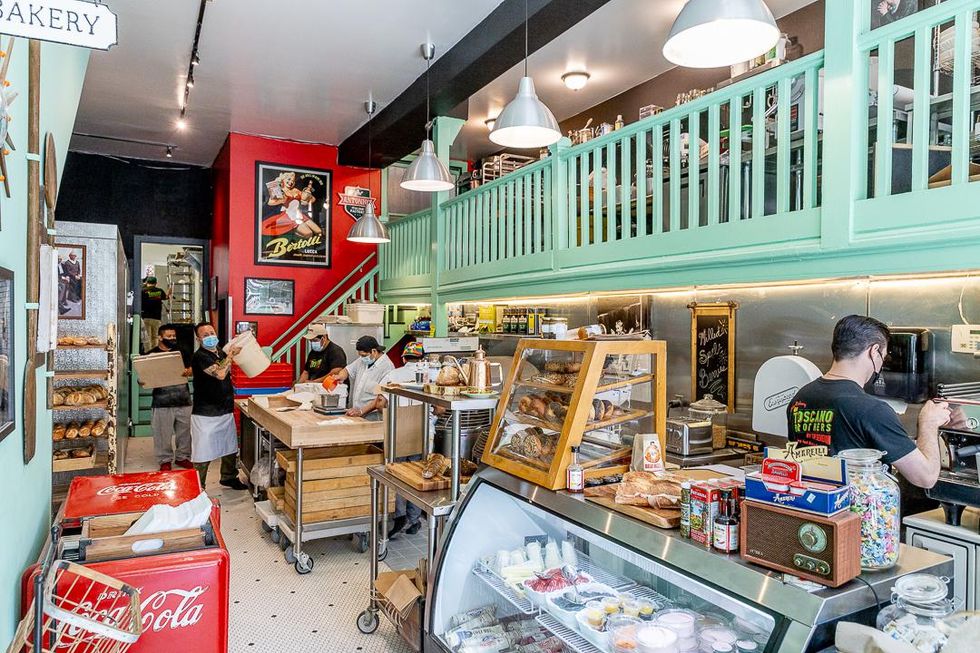 Bread loaves are available in three varieties: classic baguette ("the neighborhood was missing that"); a rustic black olive and rosemary pagnotta ("always one of my favorites"); and a unique sour cherry chocolate bread that is already the house favorite ("a showstopper—we only make so many a day, and when we're out, we're out").
The recipe for the cherry chocolate bread actually comes courtesy of Gemignani's friends Keith and Nicky Giusto, both artisan bakers at Central Milling, which makes the flour for his pizza dough. The Petaluma-based uncle-nephew bakers have played a quiet yet important role Gemignani's business. They provided him with a 40-year-old starter as the base for his loaves, and also inspired the new bakery's name: The pizzaiolo is from Tuscany; the Giustos are like his brothers; hence the name Toscano Brothers.
Expect the breads to remain small-batch—in other words, arrive early and know that loaves will sell out daily. By June, Gemignani plans to add pastries like panna cotta and tiramisu to the mix, which will be sold at Toscano Brothers as well as at some of his slice houses and local cafes.
// 728 Vallejo St. (North Beach)