What will you be eating this week?
---

Friday, June 29
Fifth Floor restaurant have recently released their special rotating summer menu. There is a different special menu item every day, but Fridays are when they unleash their piece de resistance, the cioppino. Each day's dish costs only $20 and is a great way for people to pop up to the Fifth Floor for a casual meal. The summer menu will be available through until the end of August. Restaurant hours are from 5-10 p.m. 12 Fourth Street.

Celebrate the end of the working week by heading down to the Vin12 Summer Kick-off to unwind while enjoying some of the best Californian wines. There will be more than 15 local wineries pouring over 40 different varieties of wine as well as delicious gourmet bites from Porteno Empanadas. DJ Martin Collins will be setting the mood with some summery electronic music. Vin12 is California's largest monthly wine event and tickets will sell out so it is best to buy online before the event. The $30 ticket gives you unlimited wine tasting all night and can be purchased here. From 5:30-9 p.m. @ Club Mighty, 119 Utah Street.

Saturday, June 30
Oyster lovers, rejoice! The 13th San Francisco Oysterfest is upon us. It's the largest Oyster festival on the West Coast and there will be oysters from a wide variety of oyster farms throughout the Pacific Coast as well as food from some of San Francisco's finest restaurants. All food vendors at the event place a huge emphasis on providing healthy, local, sustainably farmed product. Though oysters are the main emphasis of the festival, there will also be a plethora of different food options available. Numerous beers will be available, as well as a range of cocktails and heaps of Guinness. The unique combination of oysters and stout is supported by some amazing live music including Minus the Bear and Young the Giant. Tickets cost $35 and can be purchased here. From 11 a.m.-6 p.m. at Sharon Meadow, Golden Gate Park (Bowling Green Drive).

There are few greater pleasures than sitting in the sun and knocking back an ice cold beer. Brewtruc is giving us the perfect excuse to do so by hosting a charity beer garden. There will be an impressive array of craft beers available including Stone, Magnolia, Anderson Valley, and Lagunitas. A small batch pale ale throwdown featuring some of Bay Area batch breweries will flow from the taps from 2 to 6 p.m. - this is not an event for the faint-hearted! Food trucks and live music will be on site to keep you fed and entertained as well as a culinary pop-up from Starbelly Executive Chef Adam Timney. The event goes from 12-6 p.m. and the $20 entrance fee gets you a cup and ten 4 oz pours. Tickets can be purchased here. All money goes towards the physicans organizing committee's ongoing efforts to establish and defend the ethical practice of medicine. 160 Church Street.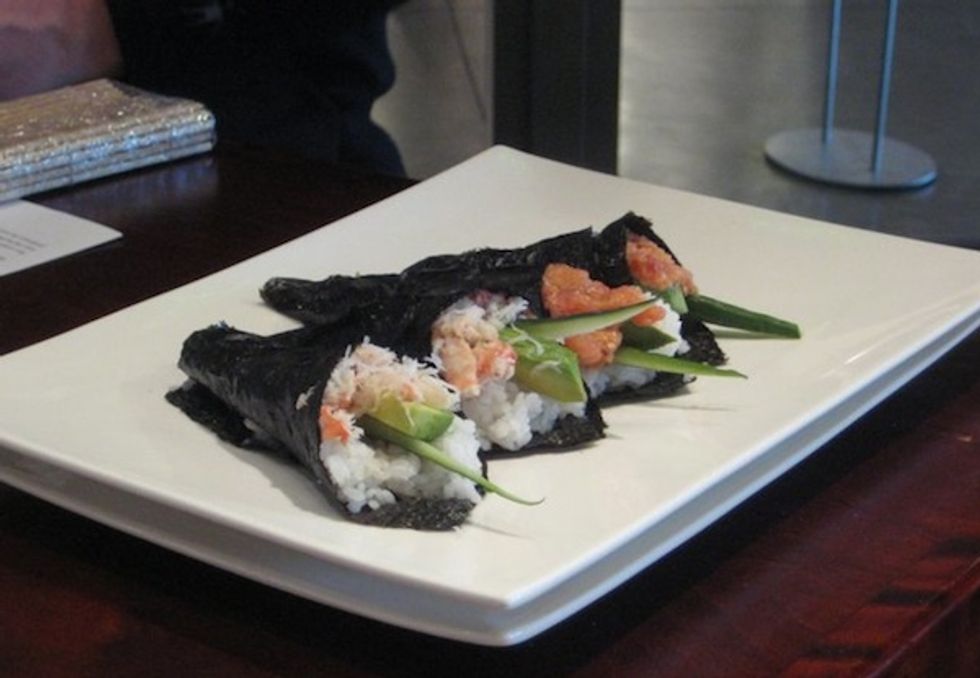 Photo courtesy of Delica/Facebook


Monday, July 2
Ever wanted to learn how to make some delicious, healthy sushi? Delica are offering a beginner class showing people how to make their favorite Japanese sushi rolls using Californian ingredients. Using only naturally-raised meats, sustainably harvested products and locally sourced produce, the class is a hands-on lesson in the basics of sushi making. Chef Ando will teach students how to prepare handrolls, temarizushi, and other specialized sushi styles, including proper rolling techniques in a fun, relaxed class. It is a beginner class but all levels are welcome. Tickets are $100 and can be purchased here. From 5:30-8:30 p.m. at Delica, 1 Ferry Building, Shop 45.

Wednesday, July 4




Celebrate July 4th by watching the fireworks from a yacht out on the Bay. The four hour cruise includes a four-course seated dinner and an open premium bar including after-dinner liquors and free flowing champagne to keep you in a festive mood. The menu offers something for everyone, with vegetarian, meat, and seafood options all equally as mouth-wateringly delicious. Setting off before the sun sets, the yacht will sail around Alcatraz and then find a prime location to watch the fireworks. There will be live entertainment on board as well as a rocking dance floor (literally). Tickets cost $244 and can be purchased here. Board at Pier 39, 6 p.m.

If you are looking for something "hot" to do this Fourth of July, why not head down Highway 101 to Palo Alto for the 31st annual Chili Cook-off. Tantalize and terrify your taste buds with some of the hottest chili this side of Mexico. There will be an array of red-hot chili delicacies prepared by over 20 teams of chefs battling for the chili championship as well as live music by the band the Hitmen and some good old boot scootin' with Hedy McAdams. It's a kid-friendly event and there will be a jumping castle, face-painting and balloon artists on site to enthrall and entertain the young ones. The FREE festival is 12-5 p.m. (Chili tasting is at 1:30 p.m.) Mitchell Park @ 600 East Meadow Drive.

Thursday, July 5




The Lower Polk Art Walk is back with 10 galleries on show this month. Come and wander about the Tenderloin and Nob Hill at night and explore some of the city's most interesting galleries. There will be a designated area for food trucks, so you can chow down as you admire local neighborhood murals also included in the Art Walk. All the participating galleries are open until 10 p.m. and it is completely free. 6-10 p.m. @ Polk & Larkin between Geary and Bush.