When the macaron wave crested from New York to San Francisco a few years ago, we wondered if cupcakes had finally ended their reign as the nation's trendiest treat. Ongoing interest in gluten-free foods continues to buoy the appeal of these dainty sandwich pastries (the French do not call them "cookies"), with their shells made of almond flour and typically ganache-filled centers. Autumn brings new reasons to fall for a plate of these colorful confections. 
---
Here's where to go:
To support October's Breast Cancer Awareness Month, La Boulange has created a lilac gift box containing seven peachy macarons containing pink pâte de fruit fillings in passion fruit mango, cherry, and raspberry ($12.50).  Through October, the bakery will siphon $1 from all sales to the nonprofit organization Bright Pink, which focuses on prevention and early detection of breast and ovarian cancers. All La Boulange locations are participating. Larger boxes containing fourteen and twenty-one macarons will also be available.

Oui Oui! Macaron


What should the ideal macaron taste like? Owner of Oui Oui and pastry chef at Candybar, Cathleen Li offers her opinion: "It should have a slight chewiness and a perfect crunch with each bite, fresh enough where the filling is absorbed into the shell without making it soggy."  In 2010,  Li began selling her finessed version from the Kung Fu Tacos truck. Starting in early November, devotees of her Thai Tea, Lychee, and Vietnamese Coffee flavors can visit her temporary shop in the Serramonte Center in Daly City. The store will continue through April, during which time, Li plans to secure a permanent location for the future. By then, she'll have hopefully finalized the formulas for her newest crop: cherimoya, pink lemonade, dragon fruit, and Okinawan yam.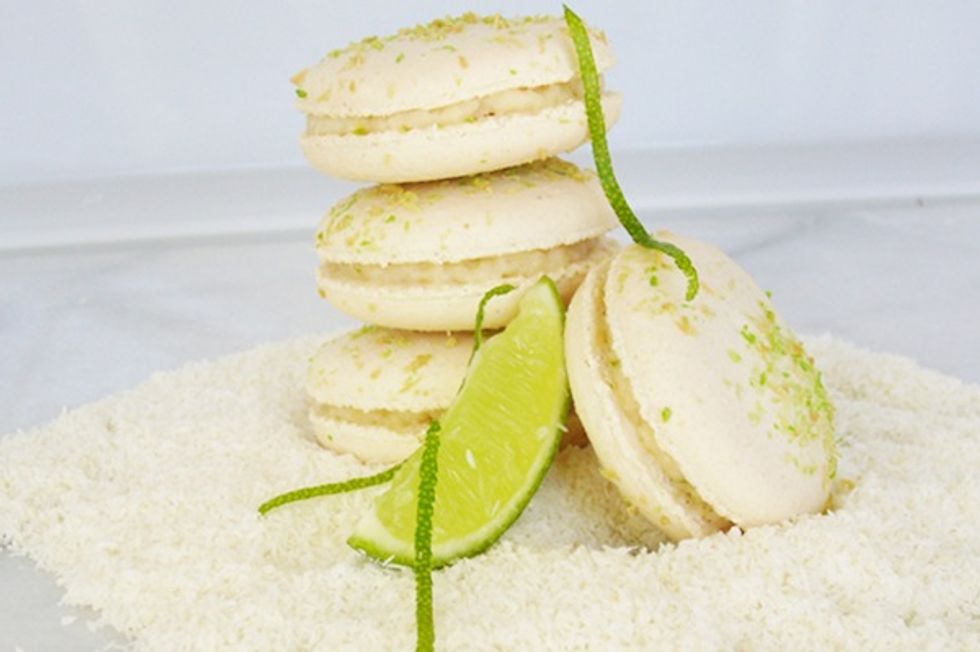 Credit: Chantal Guillon website
Chantal Guillon


Next week, this Hayes Valley treasure will herald Halloween and Day of the Dead with a pumpkin option painted with skulls. A cranberry edition will follow on November 14th. Expect a sparkly design as Chantal Guillon is equally devoted to artistry and taste. From shells brushed in gold or sprinkled with iridescent sugar, you'd never guess that each prim pastry sucker punches with perfect mimicry of whatever flavor its name suggests. Through the end of October, jet to the Caribbean via the piña colada or refreshing mojito macaron whose white chocolate ganache gets flecked with fresh mint. Fans living in the Peninsula can stop by the year-old Palo Alto shop where they'll also find a black and white photography exhibit from Bacetti co-owner Cedric Di Donato. His series of analog shots developed using the gelatin silver process will be on display until the end of the year.

DeLise Dessert Café


On October 16th, DeLise Dessert Café in North Beach turns four years old. To celebrate, husband and wife pastry team Eloise and Dennis Leung will present three to four of their most popular macarons every day. Inspired by their upbringings in the Philippines and Hong Kong, respectively, the couple gravitates toward Asian flavors. Sniff your way toward one particularly special offering this month -- durian. The Leungs temper this pungent (or some might say "putrid") fruit with coconut milk, white chocolate, and vanilla to create a filling that eliminates the stench without masking the rich tropical flavor. Even so, be prepared for a taste that lingers. In addition to the macarons, look for the Peking Duck scone, made from a whole deboned Peking duck and normally reserved for Chinese New Year. Small batch baking means items sell out, so call ahead to check availability.