A desk can be a direct reflection of its owner. We selected five notable locals who welcomed us into their workplace so we could get our anthropological voyeurism on.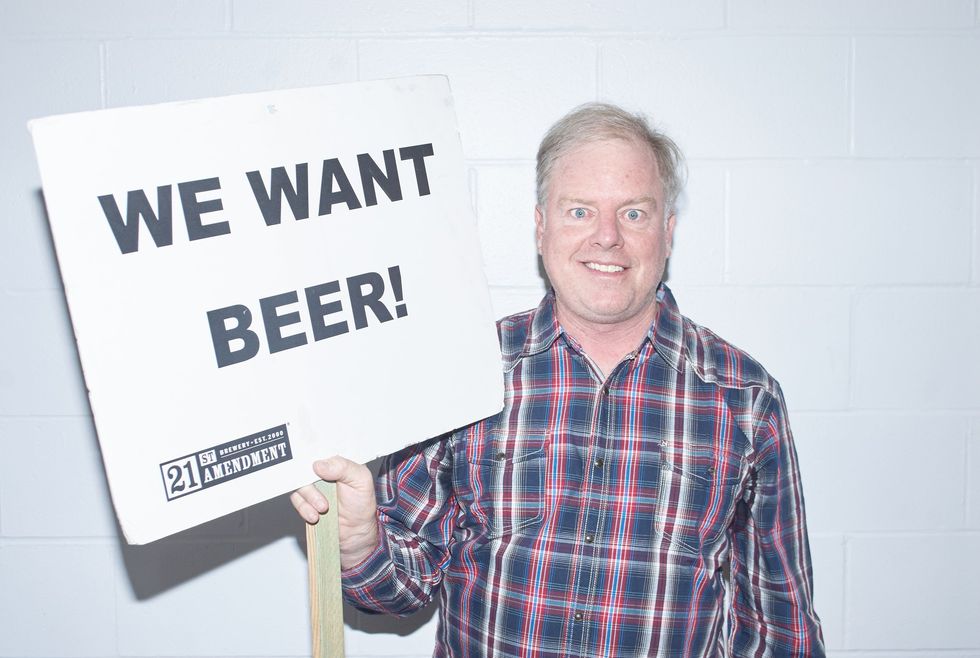 Shaun O'Sullivan.(Anthony Rogers)
---
LOCATION: San Leandro
FIRST IMPRESSION: A vast collection of random objects, beer signs and trophies packed into a tiny space. And, of course, the smell of beer.
TYPE OF DESK: Generic white office desk.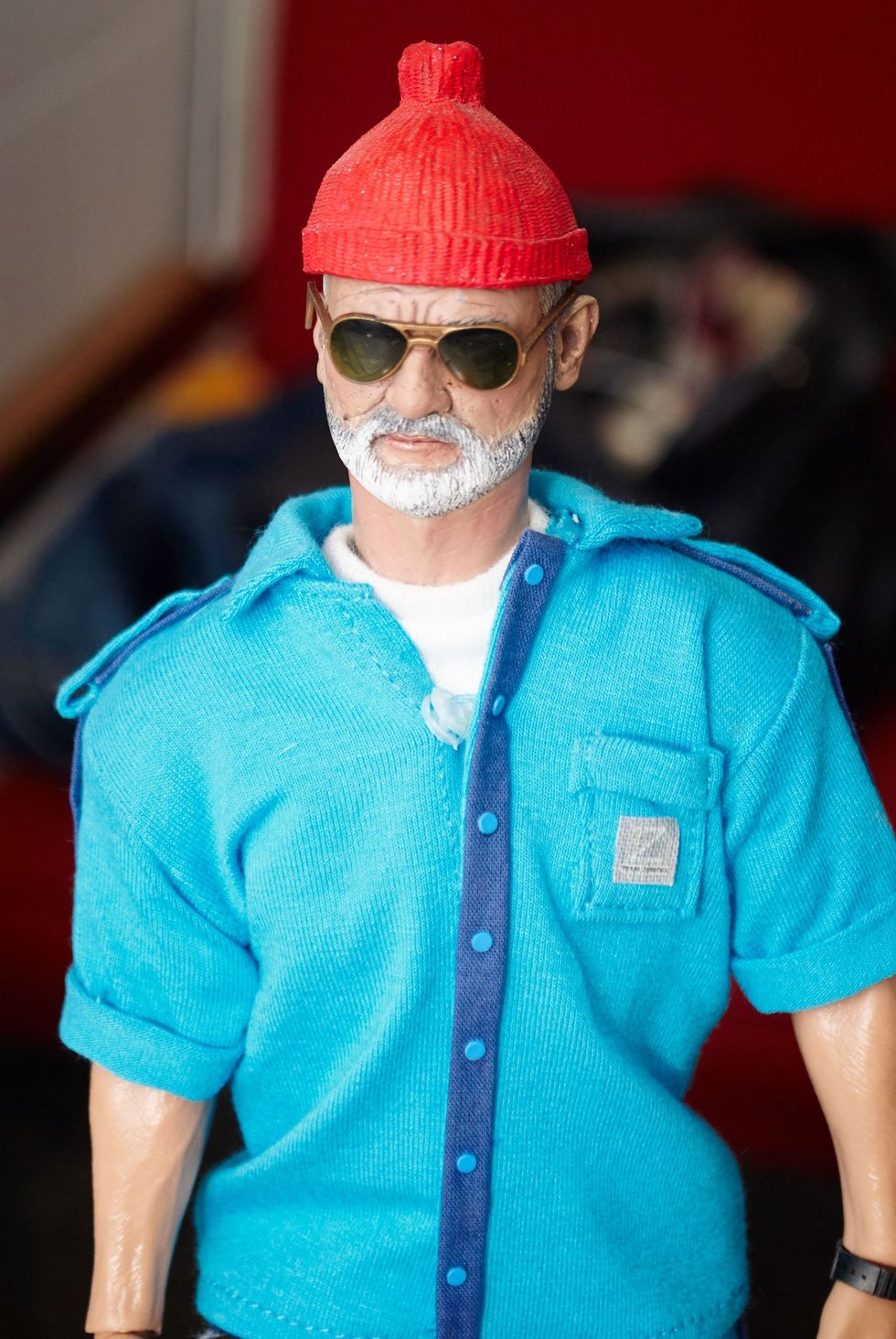 Stevie Zissou doll.(Anthony Rogers)
DESKTOP ESSENTIALS: A series of 21st Amendment Brewery cans. "All the cans are the latest and newest beers that we have put out of our new brewery in San Leandro," he says. Among them, Toaster Pastry, an India-style Red Ale, is an homage to Kellogg's, the former tenants of the new brewery. It's hard to believe that Pop Tarts were once made here. "No Pop Tarts were hurt or used in the making of this beer, but it did win a silver medal at the Great America Beer Festival last year." Down to Earth is also in the lineup; it's a a seasonal IPA with tropical fruit and dank hop flavor and aroma. The Mexican lager, El Sully, is bright, crisp and refreshing. "It's what Modelo dreams of when it goes to bed at night."
DESKTOP EXTRAS: A bag of chicharones from 4505 Meats. "Brewers cannot live on beer alone," says O'Sullivan.
BONUS FLAIR: "I am obsessed with the movie The Life Aquatic and all things Wes Anderson, for that matter. I purchased this doll off eBay. My spirit animal is Bill Murray."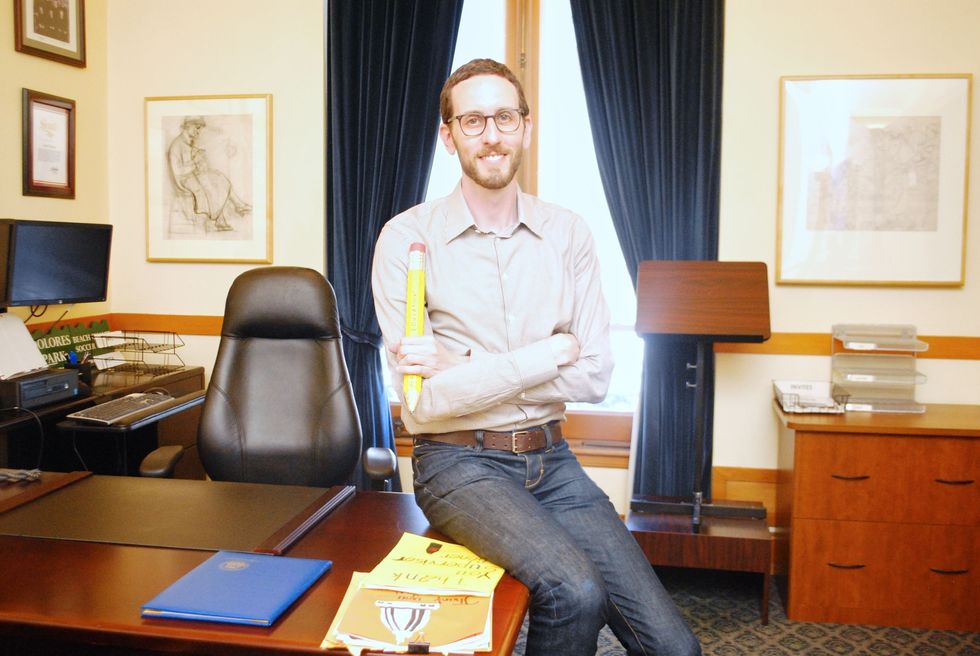 Scott Wiener.(Anthony Rogers)
WHO: Scott Wiener, democrat for California State Senate District 11
LOCATION: City Hall, San Francisco
FIRST IMPRESSION: There isn't a thing out of place.
TYPE OF DESK: Wooden pedestal desk becoming a bureaucrat.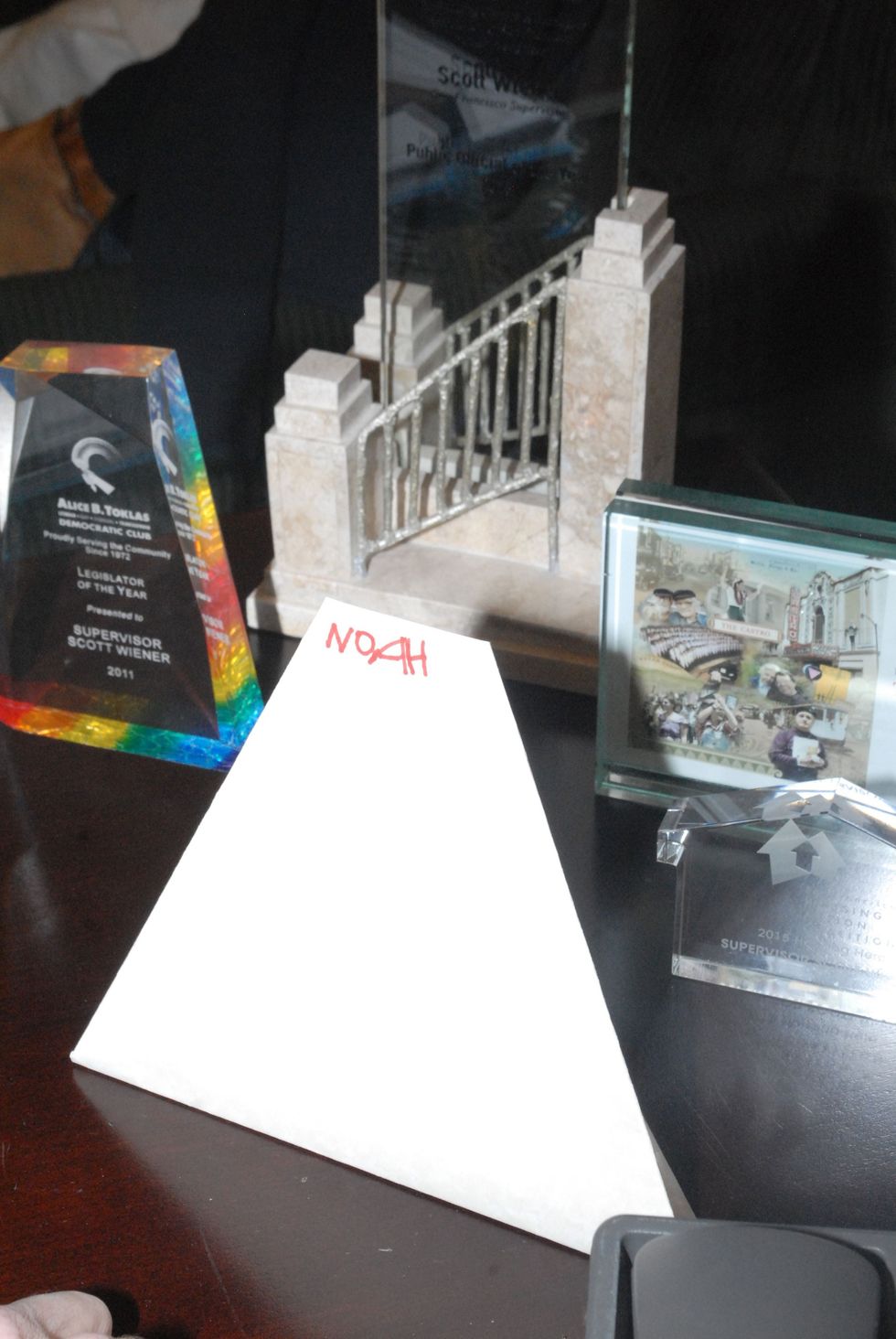 Noah's volcano paper(Anthony Rogers)
DESKTOP ESSENTIALS: Many reports and projects to evaluate such as the Dignity Funds for seniors or the Children Now project.
DESKTOP EXTRAS: "Periodically, an elementary school class will come in to visit the office. Before leaving they write a letter to share their observations. I keep them on my desk. Sometimes it can be intense here and negative, so the letters are good reminders that there were kids here sharing their good energy."
BONUS FLAIR: A paper volcano. "This is something that my nephew Noah gave to me and I like to keep it here, visible, so when I am overwhelmed I just think about the good vibes I received when he gave it to me."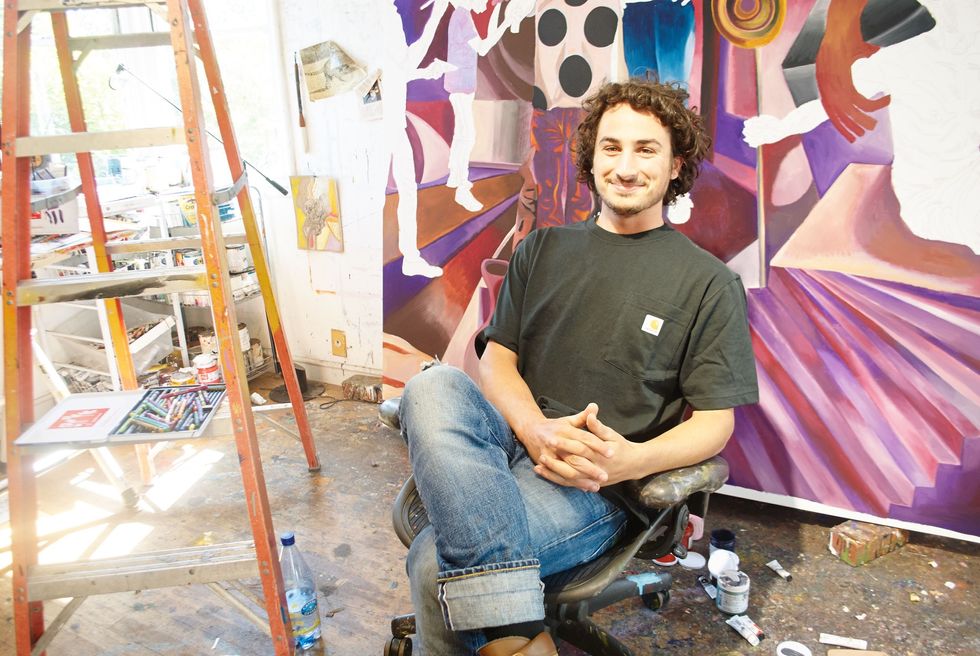 Zio Ziegler.(Anthony Rogers)
LOCATION: Mill Valley
FIRST IMPRESSION: There is paint everywhere.
TYPE OF DESK: Industrial white desk.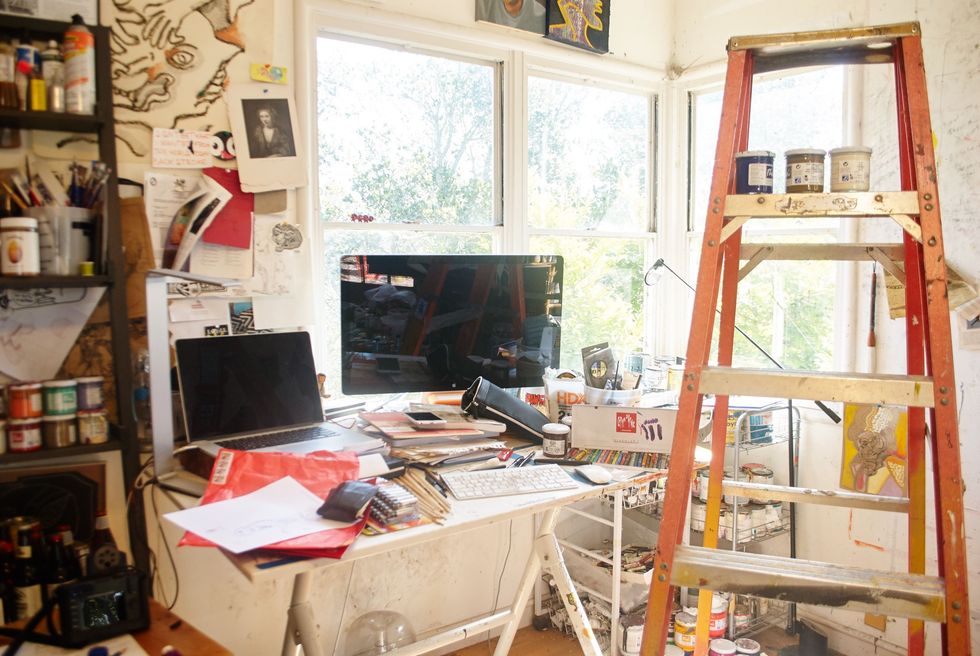 Zio Ziegler's desk.(Anthony Rogers)
DESKTOP ESSENTIALS: Brushes and tempera tubes. "I have an obsession for brushes and I have plenty."

DESKTOP EXTRAS: Figurines, stickers, a cup that a friend in Tokyo gave to him, his high school iPod, soy sauce. "I eat almost two to three meals a day here and I really love sushi. So as you can see there is a lot of soy sauce."
BONUS FLAIR: Above the desk on the wall, there are letters written by his girlfriend and his father. "Every year for my birthday my father writes me a letter. Usually, I cry right after the first few sentences."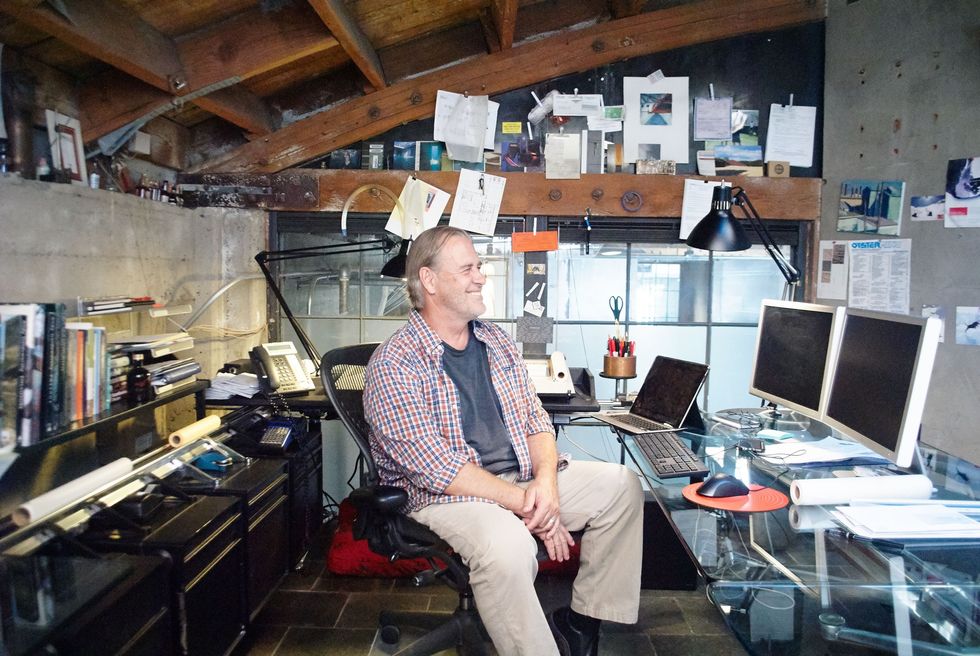 Olle Lundberg seated on his desk.(Anthony Rogers)
WHO: Olle Lundberg, designer and founder of Lundberg Design
LOCATION: Dogpatch, San Francisco
FIRST IMPRESSION: You wonder if you're in the right place. Near the entrance is a vintage collection of whiskey.
TYPE OF DESK: Glass desk. "This table is designed by Bruce Burdick of Herman Miller. It is an elegant and very functional system, an hybrid of architecture and engineering."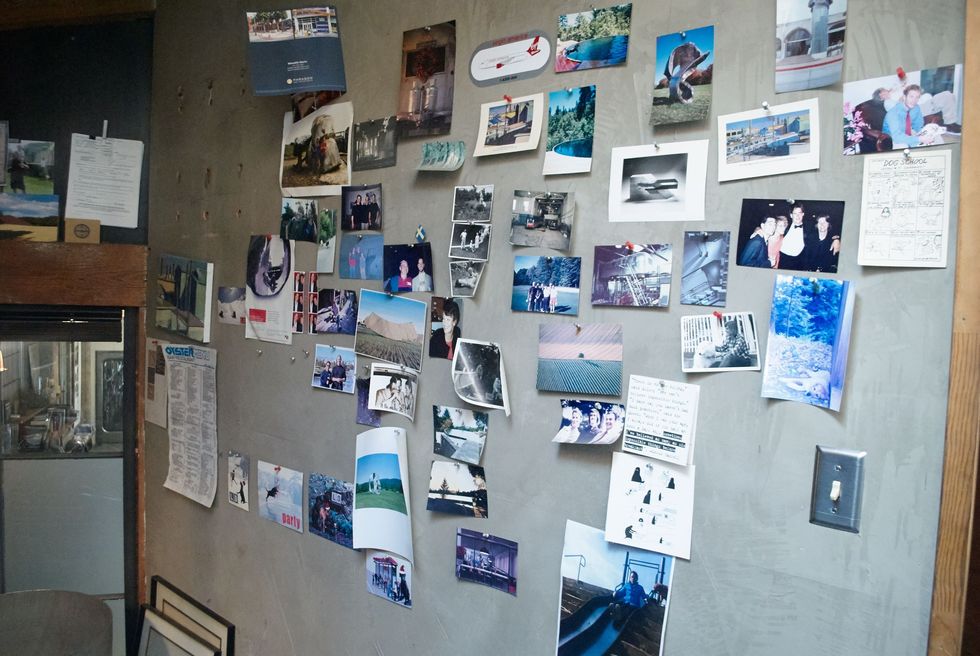 The wall of memories.(Anthony Rogers)
DESKTOP ESSENTIALS: Blueprints of projects he is working on.
DESKTOP EXTRAS: In the office there are many architecture and cooking books, mostly on mushrooms. Cooking is another big hobby for the designer. He keeps a bottle of his homemade hot sauce at the office.
BONUS FLAIR: On the wall in front of the desk there are personal photos of "the most important moments of my life. Me lying down on my father's belly, my graduation, my first marriage. Everything I want to remember."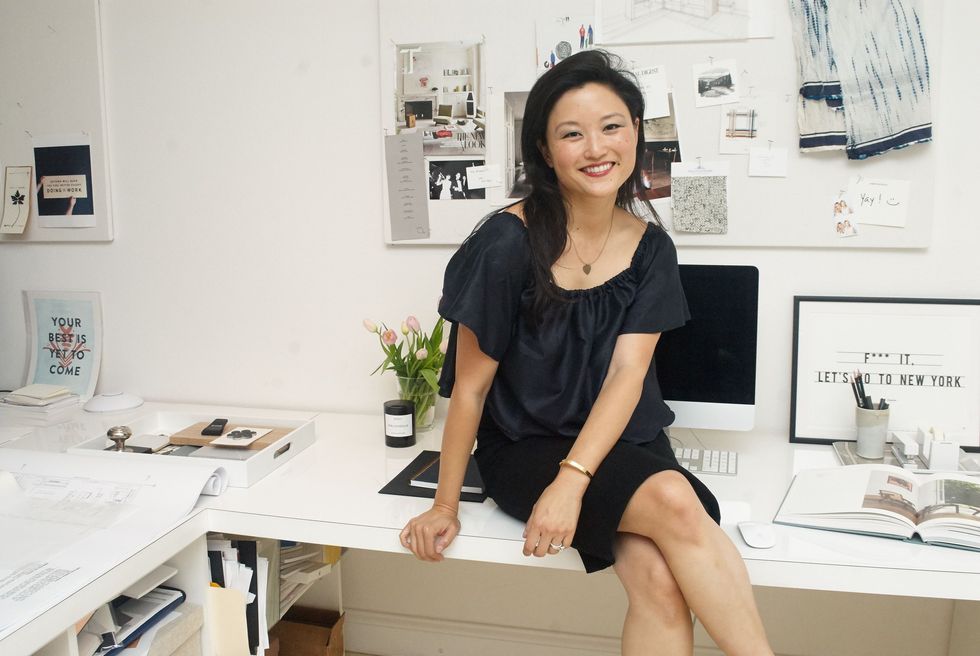 Catherine Kwong(Anthony Rogers)
LOCATION: Potrero Hill, San Francisco
FIRST IMPRESSION: Elegant and modern. Not surprisingly, it looks like it came out of an interior-design magazine.
TYPE OF DESK: Modern version of glossy white wooden Partners desk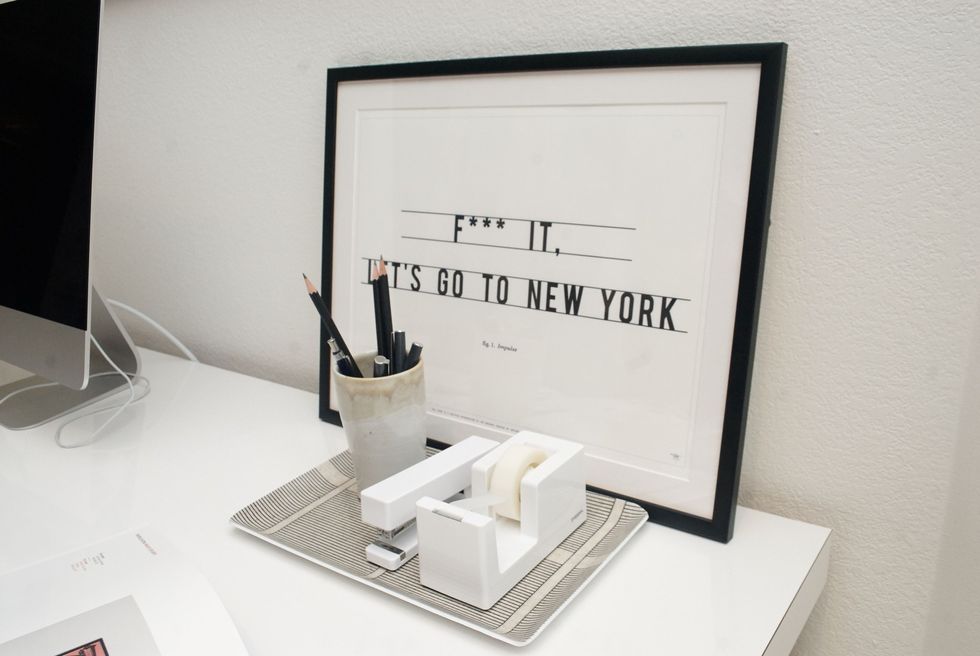 Art work her friend Alison gave to her. (Anthony Rogers)
DESKTOP ESSENTIALS: Architecture plans, design sketches and a tray she uses each time she has a presentation with a client. "On this tray I usually put some textures, objects and fabrics we are planning to use for the project we are working on. It is an efficient, clear and nice way to show our clients our vision."
DESKTOP EXTRAS: Tulips placed in a vase close to a picture of her husband and son. Above her computer, there is a large inspiration board that changes with every project. "Here, we put all the things that we like and that inspire us, such as fabrics, wallpaper, all kinds of texture. The menu at one of my favorite restaurants in New York is permanent."
BONUS FLAIR: A print that says, "F*** it, Let's go to New York."