The beloved Bay to Breakers is fast approaching on Sunday, May 20. The 12km race is a little under 7½ miles, and whether you plan to run, walk, or be dragged in a shopping cart (oh wait, you can't do that anymore) you'll need the proper kicks to power you through and complement your killer costume.
---
With four weeks to go, there is still time to train, which will definitely help from feeling like a 90-year old needing a hip replacement the next day (and this is further amplified by a hangover).  
I decided to tackle my hatred of running at last year's Bay to Breakers. This subsequently led to running the San Francisco half marathon and then kicking ass at the Nike Women's Marathon. Then, I promptly announced I would never do it again. But, running Bay to Breakers is truly an awesome way to experience the race so, not surprisingly, I'm getting sucked in again. But my shoes of the 2011 glory days were a holey mess.
I decided to visit Fleet Feet to see if they could help. They use a "Fitlosophy," a multi-step method to ensure each customer is fit properly with the best shoes. First, Dan interviewed me to find out my goals and injuries. Then, he took an unweighted measurement of my foot vs. a weighted measurement to figure out my range of motion. Finally, I rolled up my pants and walked around as he studied my stride - did I overpronate? Was I neutral? Was I supinating? It all sounded Greek to me, but the process helped my man Dan figure out what shoe would be just right for me. 
Like Prince Charming searching for Cinderella at the ball, Dan tied shoe after shoe after shoe on me. I pranced around the store and ran up and down Chestnut St. And like Goldilocks, I hemmed and hawed, "This pair is too big. That pair, too small. This shoe feels heavy. That one is ugly. What is that color?!" Ever patient and incredibly informative, the Fleet Feet staff take great pains to find that pair of running shoes that fits perfectly, feels amazing, and looks pretty damn good.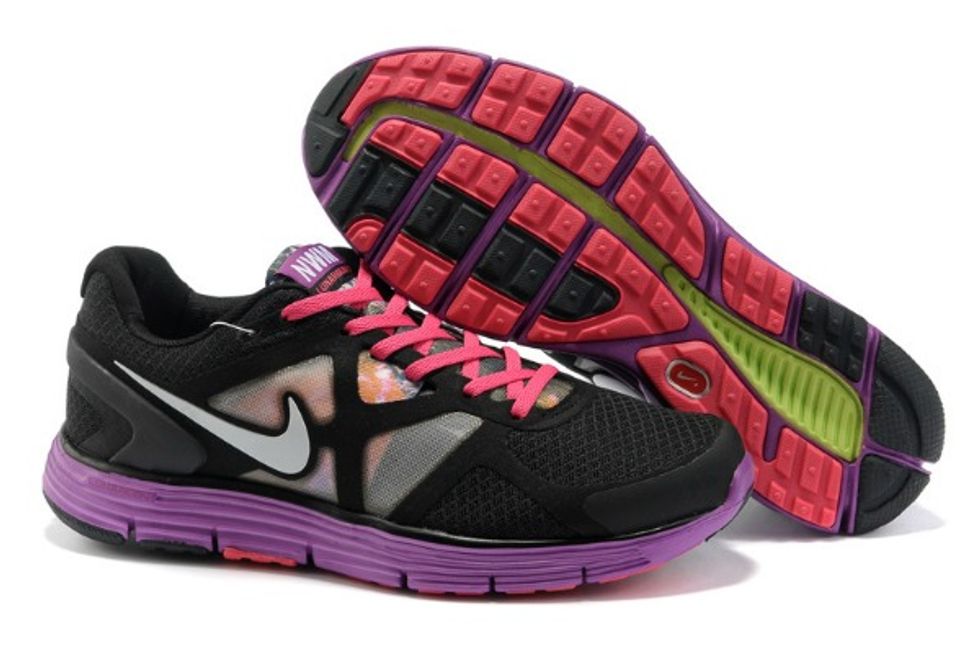 For me, it was a pair of shoes that, initially, I recoiled from and balked at. They were branded NWM, my marathon nemesis, and they felt incredibly stiff. But after trying on a dozen pairs of shoes, I began to prefer the rigidity, they made me feel light and fast, not clumsy and dragging. So, not only did I find my perfect pair of kicks, I exorcised some of my own running demons in the process.
Another sweet thing about Fleet Feet is their local community involvement through their "Run Love" philosophy. They'll donate your old shoes to various programs (like Walden House and The Homeless Youth Alliance) and they sponsor themed runs, like weekly Fun Runs, Sunset Runs, and challenges like the "Divis Up or Shut Up," the proceeds of which are donated to the Ethembeni School in South Africa. 
 Flask in hand or not, if you want to feel spectacular and look hot while you sprint up the Hayes St. hill on May 20, hit up Fleet Feet. Your feet and body will thank you the next day.