If you've strolled past SFMOMA lately and looked up, you've likely seen these three big little words "Love Over Rules."
A project of Sites Unseen, the nonprofit organization that's already brought Barry McGee's vibrant geometric mural and Leah Rosenberg's technicolor seating to the hidden alleys of Yerba Buena, a new neon sculpture by New York-based conceptual artist Hank Willis Thomas is now glowing on the Salma Family Building on Annie Street.
---
Known for his restless creativity, Thomas focuses on themes related to identity, popular culture ad history, delving into our current political state and African-American culture and struggles. As an example, his current video installation at the Oakland Museum of California, Question Bridge: Black Males, presents a series of intimate interviews with 160 black American men who answer each other's questions, share stories and values, and honestly explore their lives together.
Love Over Rules, though, is of a more personal nature to Thomas. More than just a beautiful affirmation, the piece is an homage to the artist's cousin, Songha Willis, who was murdered in Philadelphia in 2000. The words represent the last message Willis left his cousin before his death.
"A month after he died, I found a recording of the incident, and his last words were 'love over rules.' When I received the opportunity to create a public art installation, I thought about him and how his last words could inspire people everyday, reminding them to be generous."
We talked to Thomas about his experience, the Sites Unseen art installation and the value of love today.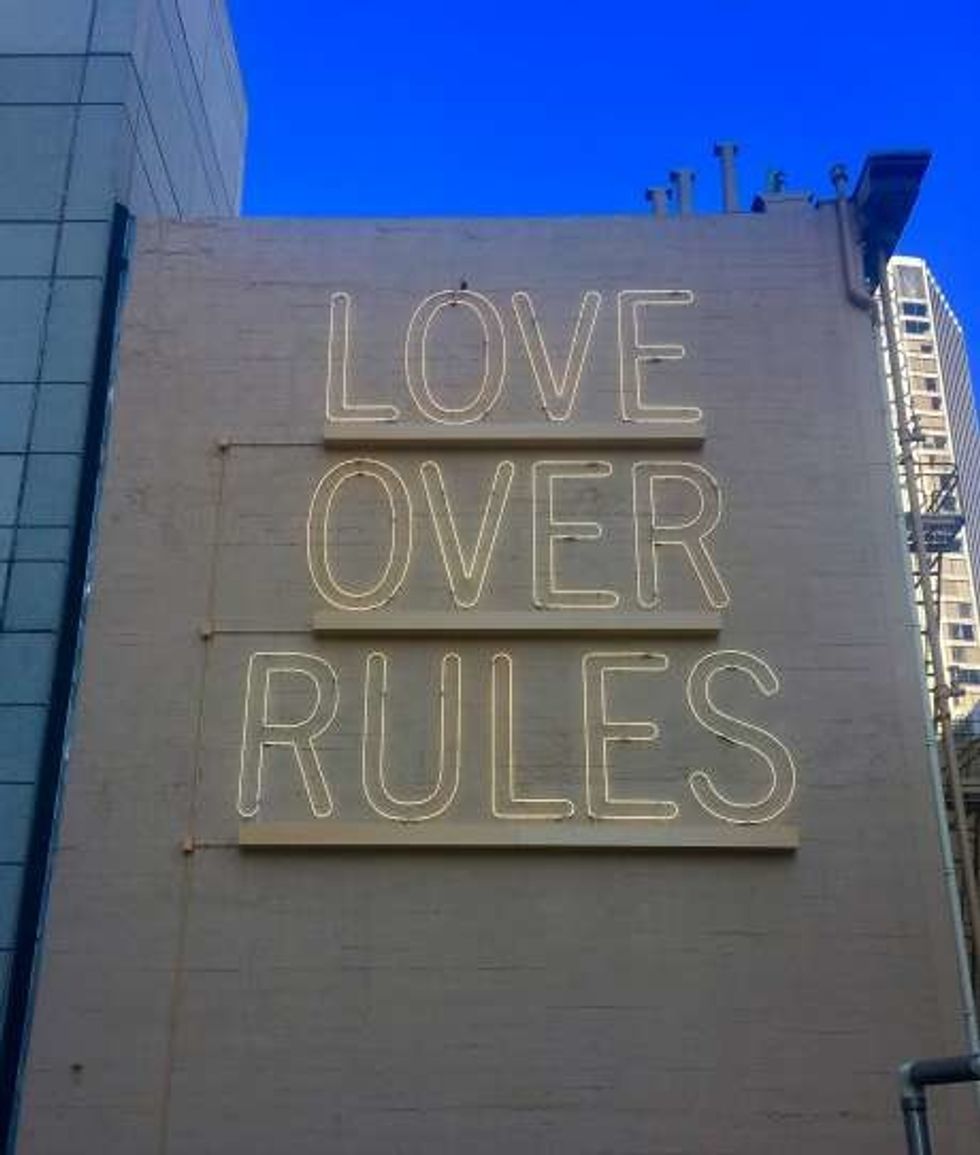 (Courtesy of Dorka Keehn via Sites Unseen)
7x7: What is the meaning of Love Over Rules?
Hank Willis Thomas: "Love is a verb of action. Its meaning goes beyond the romantic idea of it. Love is an invitation to people to stand up and be generous every day of their lives. It is not an action of receiving, but rather an action of giving. My question is what you do to give love? How love is breaking the rules you have in your life?"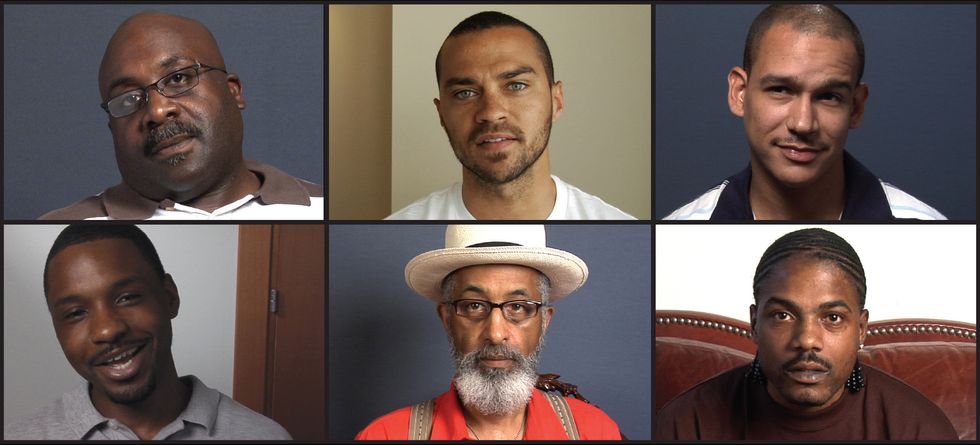 Question Bridge: Black MalesCourtesy of Chris Johnson, Hank Willis Thomas, Bayete Ross Smith, Kamal Sinclair
7x7: Tell us more about Question Bridge: Black Males. Do you think that the conversations happening resonate in a wider scope, beyond race or gender?
Hank Willis Thomas: The idea of Question Bridge: Black Males came from Chris Johnson, my collaborator, as a way to ease a conversation between people about certain types of topics. It is a project that allows all the people involved to talk about themselves and issues that really touch their lives. We focused just on African American men, but the conversations that are happening there are not just related to a certain ethnicity but involve all of us as human beings. It is an open heart dialogue where people have the freedom to share their stories find answers and ask questions.
7x7: Do you feel that art is having a major impact now in breaking rules and challenging people to think and take action, or do you feel society is more intrigued by aesthetics?
Hank Willis Thomas: Everywhere is a gray area, I think we always need to be focusing on breaking the rules, or at least thinking about where these rules came from and who they are for. As we just talked about, "love over rules!" When I show work in a public space I am thinking about how to grab people's attention and make them think about things that they normally wouldn't think about. Everyone's attracted to beauty, we can use beauty to present challenging ideas. I want everyone to feel welcome in a space but also have a conversation that may have been hard for them to speak about before.