Tip your chapeau to three of the city's best hat makers—from the modern and mysterious to the San Francisco classics.
---
Hampui Medicine Hats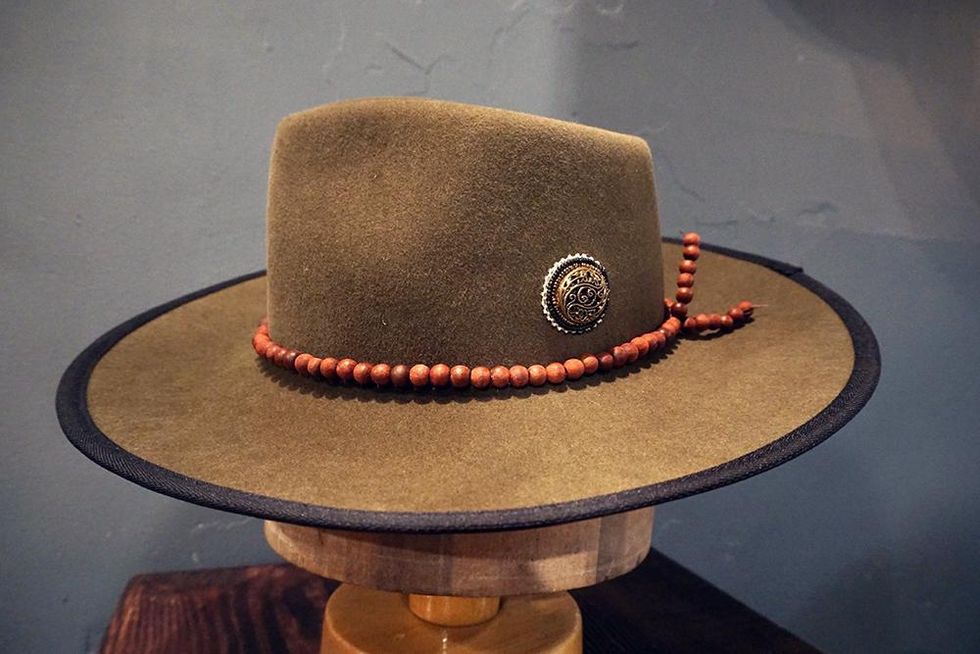 Hampui's hats are all custom-made so each is unique to its wearer, but this olive-green fedora would make a great canvas for your personal hat story. (Pre-fabricated hats run $140 to $250; bespoke hats start at $400.)
(Janie Cai)
Hiding in a secret alcove at the back of The Perish Trust, Willee Roberts' old hat shop made for serendipitous encounters. The milliner's cozy pop-up space felt then like an old apothecary, stuffed with a curious selection of embellishments and medicinal waters (used to cleanse hats of any negative energy). Multi-colored hat braids lined one wall and wooden drawers slid open under the counter to reveal tiny, decorative objects—metal buttons, beaded patches, and bird feathers that Roberts called "medicines." Soon, though, this sliver of a shop, called Hampui Medicine Hats, will move out of its temporary location on Divis, where it has held court for the past six months. Come August, Roberts will begin peddling his unique brand of style from a converted trailer in his hometown of Berkeley (its exact location is, as yet, a mystery).
For Roberts, each hat is truly a bespoke original, a personalized object that becomes a spiritual, transformational tool for the wearer. The name Hampui is a Quechua phrase that translates to "soul of mine, return to me"; every new hat's journey begins with a personal prayer. The hatter encourages his patrons to bring along items that have deep personal meaning to them, items that align with their intentions for their hat. These tokens might become part of the hat, or may be used in the making of it, to be incorporated in a specific protocol resulting in a truly one-of-a-kind, positively charged piece. And though Roberts is emphatic that he, and his hats, are by no means healers, the notion of a custom-made hat crafted with care and diligence, inspired and adorned by the things dearest to you, sounds like a powerful talisman to us. // Hampui Medicine Hats, 728 Divisadero (Nopa), hampuihats.com