This week's ultimate bike ride starts in the small Sonoma County town of Penngrove. The ride has two variations—one easy, one challenging—both of which offer over 36 miles of lovely Wine Country riding. 
---
If you opt for the more challenging route you'll need strong legs and good gearing as the trail climbs into double digit gradients.
The ride begins in downtown Sonoma. Park on Broadway near the central plaza (make sure to check for parking time limits). An early morning start on weekends helps avoid traffic.
How to Get There
Sonoma is 40 miles north of the Golden Gate Bridge via Highways 101, 37 and 121. Follow the signs to Sonoma. From the East Bay take Hwy. 80 to Vallejo, then Hwy. 37 to Hwy. 121.

The Ride


Head south on Broadway to the stoplight at W. MacArthur, turn right. (0.2 miles)
At the intersection with 5th St. West, turn left (0.8)
At Leveroni Rd. turn right (1.4)
Go left at the stoplight on Arnold Dr. (2.7)
Right on Watmaugh Rd. (3.7)
Right onto Hwy. 116. You'll appreciate the wide shoulder bike lane and rumble strip separating you from the busy road. (4.6)
The climb up Hwy. 116 is gradual. Just past the summit, bear right onto Adobe Rd. (7.2)
At 10.8 miles, as Adobe swings to the southwest, look for Green String Farm on your right. If you're in the mood you can stop for fresh produce, juice, and plenty of good vibes.
At the intersection, make a right onto Old Adobe Rd. (11.0)
At about the 14.8 mile point, the road narrows and the shoulder disappears. To make a safer passage to Penngrove, turn left onto Corona Rd. and enjoy a short, but fast downhill. 
Make a right on Ely. Rd. (16.0)
At Old Redwood Hwy. make a right (17.2)
At the fire station, turn right on Petaluma Hill Rd. and ride into the quaint town of Penngrove. This is a great place to take a break, and have a coffee or a sausage sandwich. (18.1)
Those opting for the easy ride can retrace their steps. To avoid the climb up Corona, continue on Ely Rd. then make a left onto Sonoma Mountain Parkway to Casa Grande, where you'll turn left at the roundabout and ride back up to Old Adobe Rd.
Those wanting the challenge can head north out of Penngrove on Petaluma Hill Rd.
Make a right onto Roberts Rd. as the scenery get a bit more rural (20.4)
Go straight onto Pressley Rd. at the intersection with Lichau Rd. (21.7)
Just past Crane Creek Regional Park, (you'll find restrooms here but no water), the climbing gets a bit more serious as you hit the first of five 'bumps' – about 15% here. (22.4)
Turn right on Sonoma Mountain Rd, which narrows and the surface gets a bit rough. (24.6)
You'll soon pass through a small redwood grotto followed by intermittent views of mountain vineyards on the upper slopes of Sonoma Mountain. A few more bumps are interspaced for your enjoyment.
After a technical descent, turn right onto Warm Springs Rd. (30.2)
Upon reaching Glen Ellen, turn right onto Arnold Dr. (31.4) Snacks, food, and coffee can be found here.
Continue south on Arnold Dr. There's very little shoulder room for the next few miles, use caution. 
After the Sonoma Developmental Center the shoulder opens up. (33.5)
Turn left at the stoplight at Leveroni Rd. to reverse steps 1-3 above. (41.2 miles).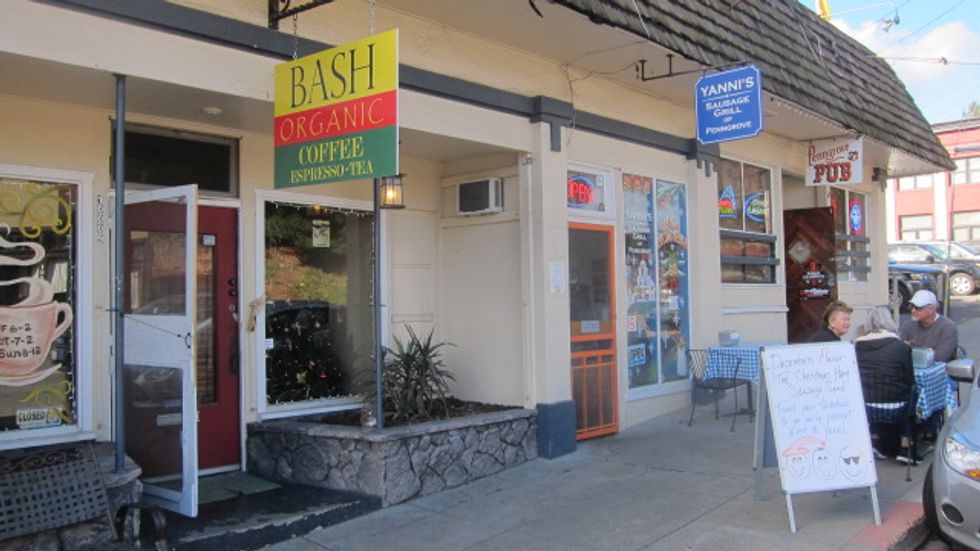 Other Things to Do
There's much to do in Sonoma. The HopMonk Tavern on Broadway serves pub-style food and libations; there's excellent pizza (including gluten-free options) at The Red Grape. Sonoma's many wineries have tasting rooms in the plaza area; and there is much history to be appreciated—Sonoma was the center of the "Bear Flag Revolt" against Mexican rule that led to the establishment of the short-lived California Republic.
In Penngrove, there's the JavAmore Cafe, Yanni's Sausage Grill, and Bash Coffee and Tea.
On Adobe Rd. in Petaluma, visit the aforementioned Green String Farm.