Glass tinctures of hand-labeled botanical extracts line the bar. Amongst the 75 options, there are dandelion leaves, birch bark, wormwood, juniper, and sassafras. The only thing missing is eye of newt. Yet this isn't a Wicca convention, nor is it even a temple of mixology. It's the latest in ice creamery—or more specifically, the Ice Cream Bar, which opened in Cole Valley in January to long lines of both adults and children.
---
Owner Juliet Pries, who has a background in pastry, initially wanted to sell scoops of house-made ice cream. Fourteen flavors are now just part of the deal. (Rai Lai, who makes the ice cream, comes with a pedigree that includes Bi-Rite Creamery.) "While I was negotiating the lease, I found a back bar and marble counter from the late '30s," says Pries. "I'm really into streamlined Art Deco, and so it evolved from a simple ice cream shop into a soda fountain."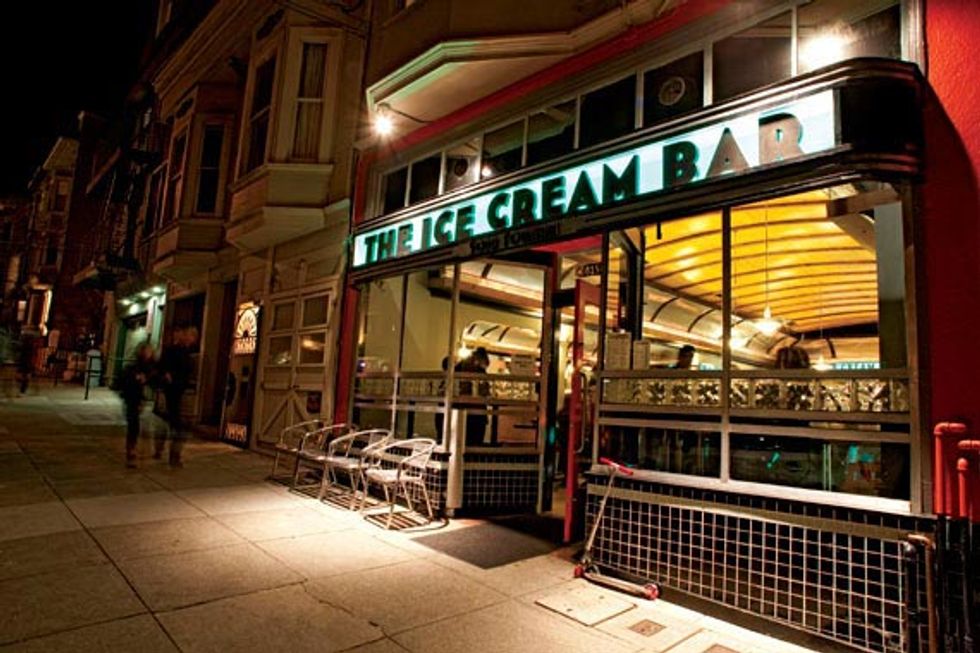 She hired Russell Davis, a noted bartender from Rickhouse in the Financial District, to consult. And like any good mixologist, he didn't give it up at floats made with house-made root beer, though you can order that too. He delved deep into the history of soda fountains, which during prohibition replaced bars as a meeting place. Davis came up with riffs on old-timey drinks, from lactarts (which include lactic acid) to phosphates (which include acid phosphate)—both additions give the beverages a tart kick. The result is a menu of subtle, not-so-sweet concoctions that, though boozeless, cater to the over-21 set.
There's My Girlfriend's Girlfriend made with roasted pineapple, pink peppercorn lactart, and roasted pineapple syrup soda and Breakfast Soda, made with thyme tincture and muddled oranges, which impart a touch of bitterness. And yes, the makers of these drinks wear little white hats and refer to themselves as soda jerks (without laughing first).
But for the real kids and the kids within, there are ice cream sandwiches and sundaes too. This is where you order a hot fudge sundae with a cherry on top, as well as something more fanciful like a Tropical Split, made with roasted pineapple ice cream, coconut ice cream, passion fruit sorbet, a sprinkle of crunchy macaroon crumbs, and toasted passion fruit marshmallows. It's all served on a grand silver pedestal, which in this day and age of ice cream fanaticism, isn't just anothernod to tradition but a modern day statement.
815 Cole St., 415-742-4932