At Thursday's media preview at the de Young, a charmingly boyish Jean Paul Gaultier began by poking at his own torso. "I thought retrospectives are for dead people," he quipped, "and I seem to still be alive!"
---
It was on the basis of this apparent contradiction that Gaultier originally refused the offer of this exhibition. Fortunately he came around, on one condition: That the show itself be as alive as he is. No glass-encased, museological funeral processions, thank you.
Working with a team of curators, the "enfant terrible of haute couture" successfully crafted a show as vocal as the clothing it contains, transforming the sober de Young exhibition space into an immersive, swarming catwalk, bizarre and enlightening – unmistakably Gaultier.
Far more than merely a display of clothing, The Fashion World of Jean Paul Gaultier: from the Sidewalk to the Catwalk is a veritable multimedia extravaganza, complete with walls of TV monitors projecting fashion show footage, red neon-illuminated installations of BDSM-inspired fashion, moving catwalks and "animated" mannequins.
Easily the show's most talked-about feature, this unprecedented technology projects real models' faces onto the mannequins. They twitch, blink, talk and sing. They will creep you out a little. Importantly, though, they transform the mannequins from human-shaped clothes hangers into lifelike presences, lending the incredible garments at least some of the invigorating effect that a living, sweating, digesting body would. If you feel slightly uncomfortable, even voyeuristic, staring at the figures, then you're seeing the works in the way that the artist intended.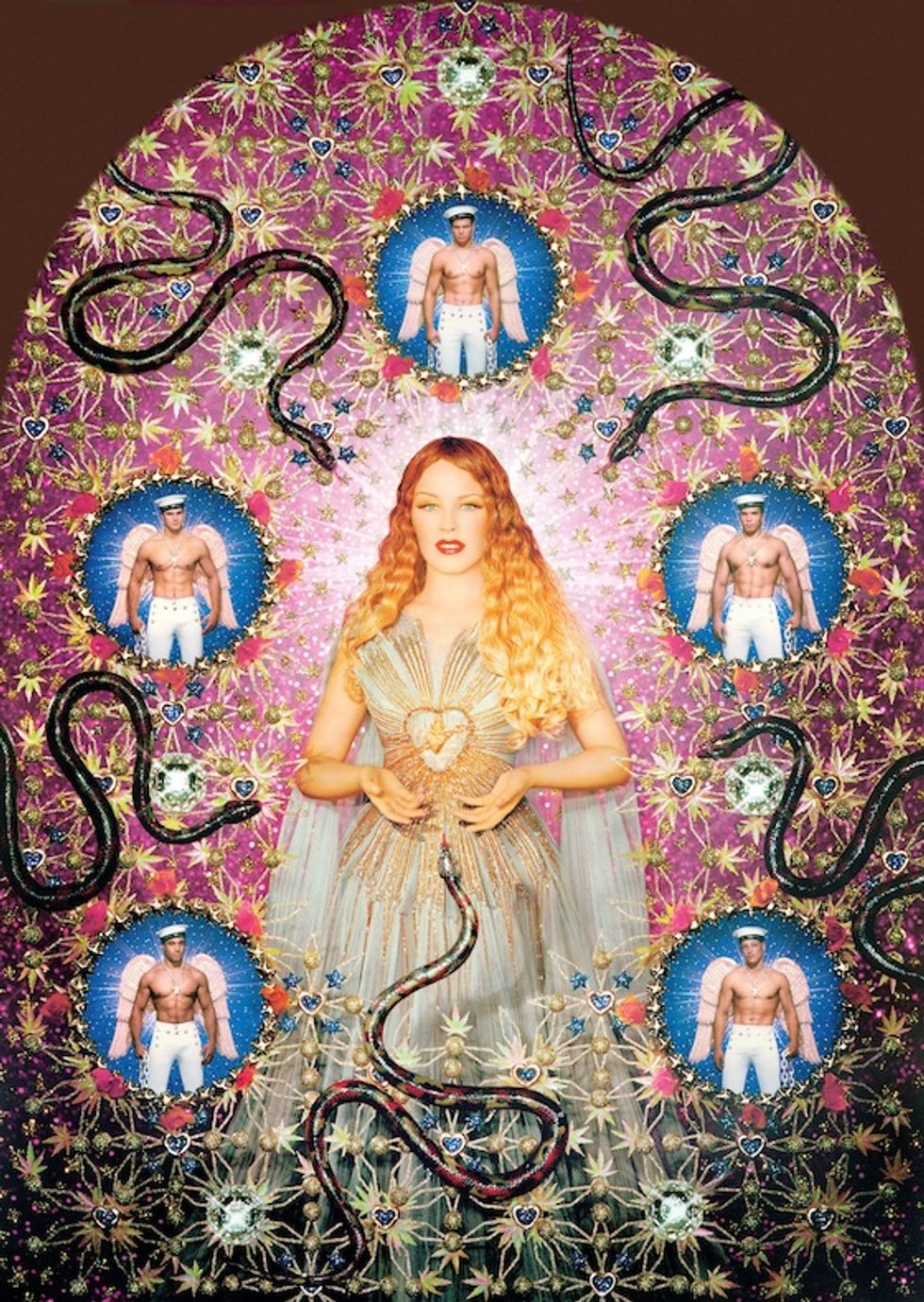 Pierre et Gilles, The Virgin with the Serpents (Kylie Minogue), 2008
Virgins (or Madonnas) collection, "Auréole" gown. Haute couture spring/summer 2007. Sky blue pleated tulle gown with "rays of light" gold lamé appliqués, long panels floating from the shoulders in the back. Painted photograph, framed by the artists. 181 x 137 cm (framed), Galerie Jérôme de Noirmont, Paris, © Pierre et Gilles. Courtesy Galerie Jérôme de Noirmont, Paris

San Francisco is in so many ways the perfect place for Gaultier's audacious couture. This is the man, after all, who made it his mission to represent alternative lifestyles in high fashion at a time when the specter of AIDS was sending his contemporaries into a relatively de-sexualized conservatism. This is also the man largely responsible for the images of Madonna, Kylie Minogue and Lady Gaga as we know them.
With entire rooms devoted to Gaultier's gender-bending lingerie, bondage-inspired couture, multicultural garb (from Mongolian dress to that of Hassidic Jews) and subcultural identity markers (most famously punk), The Fashion World of Jean Paul Gaultier is a vivid and open-minded vision of the world, brimming with humanity and political edge.
"It's not my aim to be provocative. I just try to reflect what I see and feel around me," Gaultier humbly says. The exhibition marvelously reveals Gaultier's singular success in this endeavor. Beyond being a rare opportunity to see haute couture up close, The Fashion World of Jean Paul Gaultier is a thrilling look at thirty years' worth of cultural mutations and subcultural blossomings. Intelligent, life affirming, sassy and fun, this is far and away the most engaging fashion exhibition the De Young has had to date.
The Fashion World of Jean Paul Gaultier: from the Sidewalk to the Catwalk runs through August 19, 2012.