Half Moon Bay and pumpkins go hand in hand. When October rolls around, you know the self-proclaimed capital will pull out all the stops to celebrate the popular squash. But it turns out Mendocino County has its own vegetable love affair. November is magic mushroom time in Mendocino County.
---
From porcinis to chanterelles and candy caps, with nearly 2,500 square miles of live oak and redwood forest, Mendocino County is prime turf for some 3,000 mushroom varieties. Spread over 10 days, the 14th Annual Mushroom, Wine & Beer Festival honors the beloved fungi in a surprising assortment of fun ways. Guests can take their pick on horseback, bike rides, kayaks and walking tours. It's worth checking out the day-by-day list of activities, but the highlights below will give you an idea just how serious about mushrooms Mendocino County is.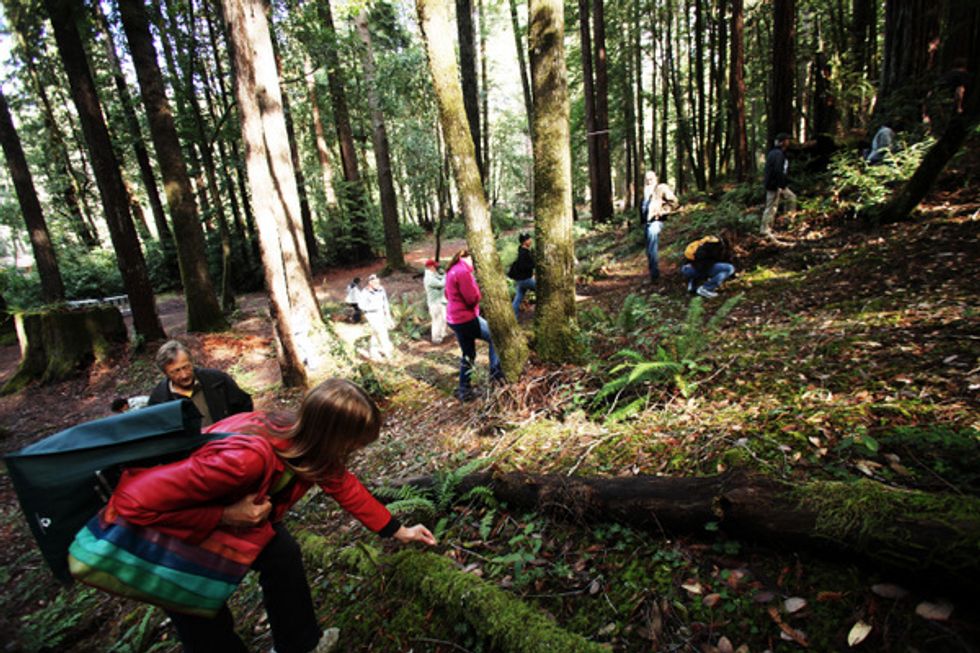 Photo courtesy of Brendan McGuigan
Mushroom, Wine & Beer Train, November 2nd, 10am-5pm
All aboard the Skunk Train for an outback mushroom adventure. With departures from Fort Bragg and Willits, riders will be transported to Camp Mendocino for a day that includes fungi hikes, wine and beer tasting and live music. Railroad riding mushroom lovers can take part in the Mighty Mushroom Weigh-Off and a mushroom cook-off. $95.00
Hunt on Horseback
"Mushroom Hunt" horseback rides are scheduled at Ricochet Ridge Ranch every day during the festival. You can join the mushroom round-up on rides that vary from an hour and a half in length to an all day trip. Prices vary according to length of ride.
Mushroom Paddle, Sundays, November 3rd & 10th, 9am-12n
Start off on dry land with a lesson on the basics of mushroom identification from Liquid Fusion Kayaking, then glide the Noyo River and put your new found knowledge to the test. No kayaking experience is necessary and all equipment, waterproof splash wear is provided. (It is a mushroom education and spotting tour, you don't get out of the kayaks and forage for mushrooms.) Tours run rain or shine. $75
Hunt for the Wild Mushroom Mountain Bike Ride, November 2nd & 3rd, 9th & 10th, 9am
Mountain bike through the Redwood forests with Mendocino Bike Sprite, hunting and picking fungi as you roll. All skill level riders are welcome. Half-day rides, $70, 13 and over.
Mushrooms Walk Mondays, November 11th – December 23rd, 1:30pm
Get all the dirty mushroom details at the Mendocino Coast Botanical Gardens. Along with information on identification, staff gardener Mario Abreu will cover bonus extras like biology, edibility and myths. Come prepared for wet, off-trail hiking. Free with Gardens' Admission, $14
Room at the Inn
Innkeepers are showing their sense of humor and hoping to entice visitors to hang around for longer than just the day. Little River Inn's Mushroom Mania rooms rates are up to 50% off with added "shroom" spa  and fungi hunting and cooking packages. Your love of mushrooms might cap off the perfect excuse to check out the newly opened Heritage House Resort. Baechtel Creek Inn & Spa's "Fungi & Girl" package includes two spa treatments and passes to the annual Mushroom, Wine & Beer Train.
Dana can be found on Twitter @drebmann