Listen up, music fans. Here are the best live shows in the Bay Area this week.
---
Tuesday: Braids at Bottom of the Hill
Deep in the Iris, the third album from rising indie pop outfit Braids, was inspired by the rarely braided Joni Mitchell, according to Braids singer Raphaelle Standell-Preston. Specifically, the band listened to Mitchell's tour de force album Blue on its way to the studio in Arizona, as relayed by VUE Weekly. "It was just a beautiful record, and it hit us at the right time—right before going into recording...We definitely wanted to channel that forwardness, and that immediacy, and that vulnerability that she has. Aside from that record too, those were things that we really wanted to have. And then we just heard a record that did all of that, and we're like, 'Oh, OK, this is kind of how you do it.'"
Friday: Jamie xx at Fox Theater
By this critic's measure, producer Jamie xx has an album of the year on his hands with In Colour. Its varied beauty; its confident, unexpected genre-bending; its transcendent 1am dancehall anthems; the pop genius of "Gosh" and "Good Times"; the hushed, euphoric subtlety of "Loud Places"; Romy (the other half of the xx)—it's all here. It's all glory. Do absolutely whatever you can to be here.
Friday: Hercules & Love Affair at Public Works
If you'd rather not shell out $100 to see Jamie xx, here is your plan B. Hercules & Love Affair's Andy Butler's collaborative art experiment gets bodies moving just as well. Here's...weird proof:
Saturday: Beirut at Greek Theatre
Zach Condon may have a worldly name and sound, but he identifies as just "a kid from Santa Fe, and that's pretty cool." His most recent album, No No No, sounds less like a study in foreign genres and more like Tex-Mex pop. The multi-instrumentalist already felt like a too-mature prodigy when he took over the indie pop world with 2005's Flying Club Cup, but the new album sounds even more mature, refined, and assured than anything he's recorded to date.
Saturday:  Young Thug at The Regency Ballroom
Young Thug's pro-rapper comparison, to hear it from the horse's mouth, is apparently Lil Wayne. He recently told GQ that he thinks Lil Wayne actually wants to be Young Thug. "I feel like if he had the chance to be himself or me, he'd be me," Thug said. "If I had the chance to be myself or him, I'd be him. That man is the greatest. If we had the biggest problem in the world, I'd still say he's the best rapper in the fucking world. Everybody knows nobody raps better than the fucking boss."
Saturday: Autre Ne Veut at Social Hall Sf
Arthur Ashin's third full-length release as Autre Ne Veut is the second part of a planned trilogy of albums, and it's damn good. AllMusic says the album "delivers another set of bold and nervy tracks that are as hyper-controlled as they are chaotic." The yearning to make a bolder, more cohesive statement is clear and important, each song an impossibly titillating suggestion of what's to come.
Last Week
Empress Of at Rickshaw Stop
Twenty-three-year-old phenom Lorely Rodriguez, singer-producer of Empress Of, quickly won the hearts of the crowd at Rickshaw Stop last Tuesday. She exited just as quickly, racing through her still-modest catalogue, consisting of one EP and one LP, the brilliant 2015 release Me. Rodriguez's electropop comes semi-organically, with percussionists flanking her and her keyboard. She manages to layer in effects on her own vocals—a telltale sign she's way more than just a voice. Stay tuned for much more from Empress Of: It won't be long before she upgrades in venue size to places like the Fox and Fillmore with hits like "Kitty Kat" and "Standard," which were obvious highlights of her short but thrilling set.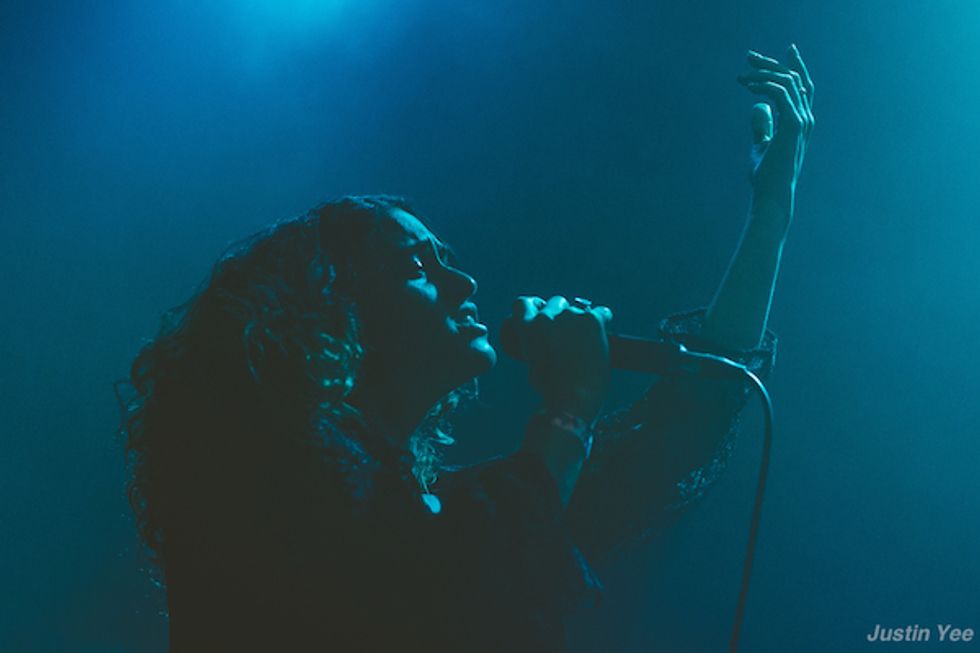 (Courtesy of Justin Yee. Follow him on Instagram @Yeesus)
Follow @ChrisTrenchard on Twitter for more words like these.