"I remember looking around and thinking, Holy shit, this is the most beautiful thing I've ever seen. Are we really doing this?"
That's Julianne Aiello, a nature-loving yogi, looking back on her very first silent disco yoga class on Baker Beach in 2015. Now, the 33-year-old is a household name in the San Francisco yoga community, where she's created her own unique style of practice through Outdoor Yoga SF.
---
"I've always been in love with nature, and there's a way to use all of the elements—the ocean, the sand, the breeze, and the music—to help people feel present," she says. "We're all looking at our phones to feel engaged, but the answers aren't there. When we tune into nature, we feel a whole other level of presence and connection to whatever it is we're looking for."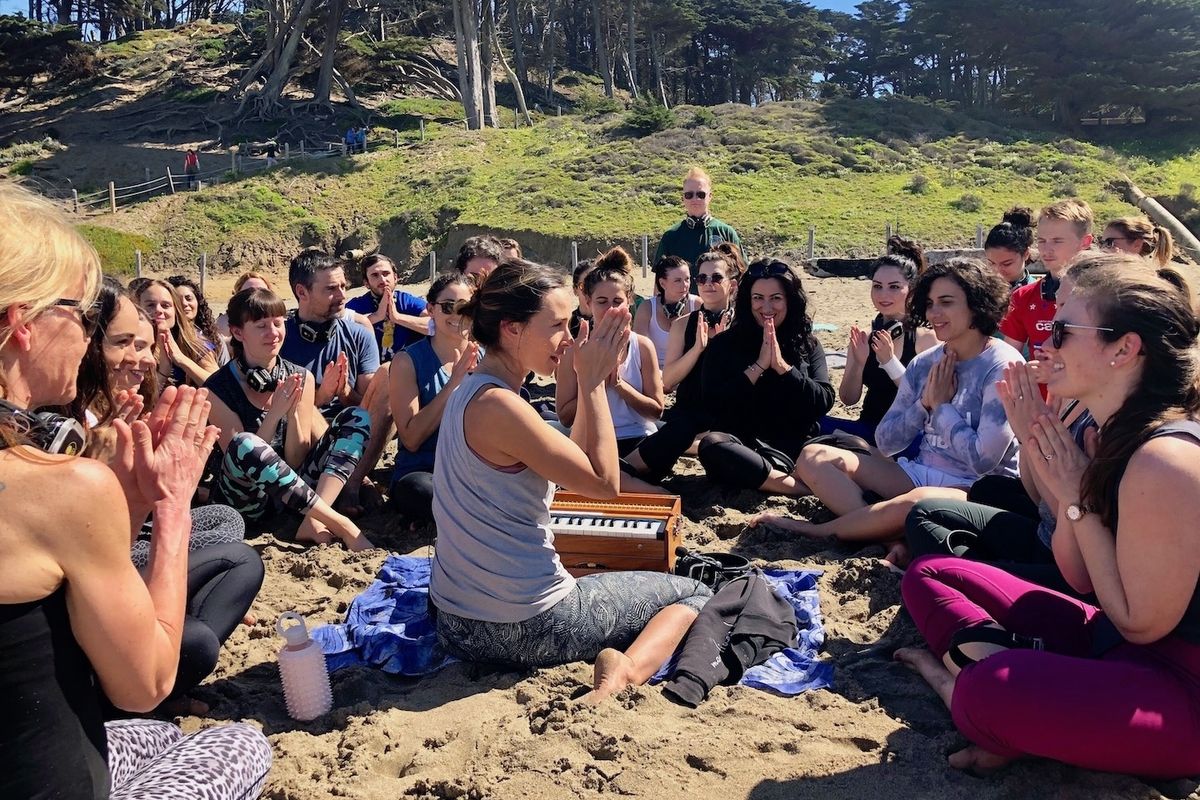 Aiello connects the community with nature during Outdoor Yoga SF classes.(Outdoor Yoga SF)
Outdoor Yoga SF began as so many San Francisco success stories do: as a side hustle. When Aiello moved to SF from New York, she had recently completed teacher trainings there and in Bali, but didn't yet have full-time work. So she started teaching yoga outside to her friends. They played music and grooved through class, and the group started to grow. "People loved it. We did and we started to build a little community."
To turn the gig into a business required a four-letter word: work. She knew she wanted to teach on the beach, but obtaining permits to bring a large gathering and play loud music on federally protected land—Ocean and Baker beaches are both part of the National Parks Conservancy—proved challenging.
"There was no way I was going to get permission to lead a yoga class on the beach with live music," she recalls. It was time to get creative.
"I went to Google. I started searching different ways to listen to music, and eventually researched everything about headphones. And that's when I came across silent disco rentals. I went all in."
Aiello hosted the first few classes with the help of a silent disco rental company. She eventually invested most of what she had to buy the proper noise-cancelling headphones and gear needed to run things herself. She applied for a permit and created a Facebook event. "I reached out to anyone and everyone and said, 'Hey, I'm doing this thing, it's going to be awesome, you should come.'"
People did come—50 of them. It was a sell out; the first of many over the past four years. To date, the Outdoor Yoga SF crew has taught more than 35,000 yogis, now hosting about four silent disco beach yoga classes each week, often with a live DJ. Aiello also leads classes as corporate team building experiences for the likes of LinkedIn, Airbnb, and Athleta.
When Aiello's not at the beach, she's leading group retreats in other beautiful places like Sonoma, Tahoe, and Hawaii. In February 2020, she's taking a group of women to Bali.
When Aiello is home, you can find her teaching Friday night and Sunday morning classes—her favorite way to end and start the week. "There's just something so celebratory about Friday evenings. Everyone is relaxed, peaceful and playful. It's really special."
This writer can vouch. I experienced my first Friday night soul flow class on Baker Beach about three years ago. The Facebook event promised groovy beats, stunning views, and a post-yoga dance party in the Pacific. It was all of that—plus the absurdly picturesque scene of dolphins playing in the waves as the sun set over the Golden Gate Bridge while I laughed and danced with strangers to a remix of "Sexual Healing."
"That's the sweetest thing about this job," Aiello said, when I shared that memory with her. "When people come up to me after class and say, 'I'm so relaxed, I feel so peaceful,' that's when I know I'm doing the work I came here to do."
// Silent disco beach yoga classes (starting at $24) can be booked at outdooryogasf.com. There are also volunteer opportunities to support events and be part of the Outdoor Yoga SF team.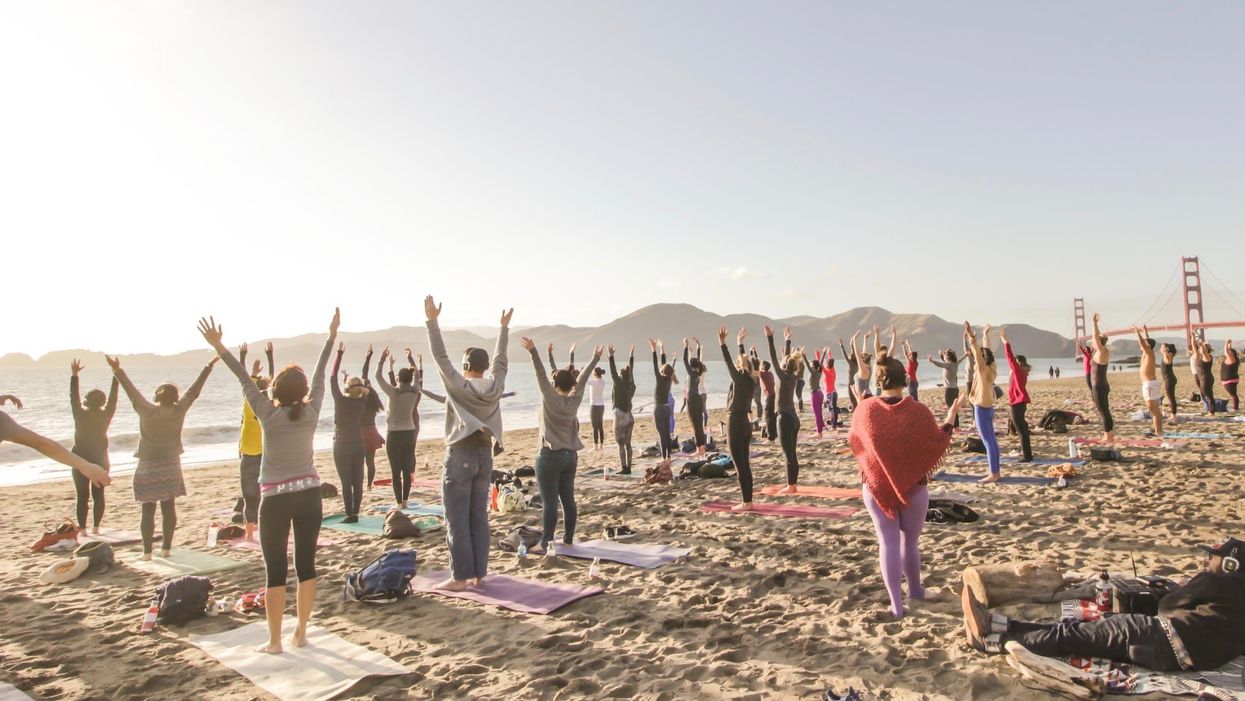 Outdoor Yoga SF hosts sunset classes near the Golden Gate Bridge on Baker Beach.(Outdoor Yoga SF)
This editorial feature is the final in a series celebrating women entrepreneurs. See our latest post on Kendal Sager, a former DreamWorks animator who teaches kids and adults around the Bay Area about beekeeping. The series is sponsored by Sava, a women-founded, women-led company that makes it their mission to support other women-owned businesses. Sava founders Andrea Brooks and Amanda Denz have created a different kind of cannabis experience, one with high-quality standards, transparency in sourcing, education around the plant, and strong customer support. They've sought out partnerships with women who make exceptional cannabis products, and as a result, half the brands you'll find in Sava's online marketplace are women-owned. Shop the complete offering at getsava.com.