The Bay Area is home to delicious treats, from gourmet to whimsical and everything in between. For Meet the Maker (in this case, Meat the Maker), we pick one local who produces exactly the kind of flavorful eats we love.
---
Black cherry BBQ. Sweet chipotle. Basil citrus. Chili lime. Jerky options are way better than they've ever been.
A few years ago at the Fancy Food show at Moscone Convention Center, a new option with a local connection popped up: Krave Jerky. The tastes and textures in the product line were surprisingly good, and it was interesting to see phrases like "all-natural," "no nitrites," and even "low fat" on the packaging. Krave, based in Sonoma with a facility in Fairfield, makes beef, pork and turkey jerky in interesting flavors, minus the weird chemicals.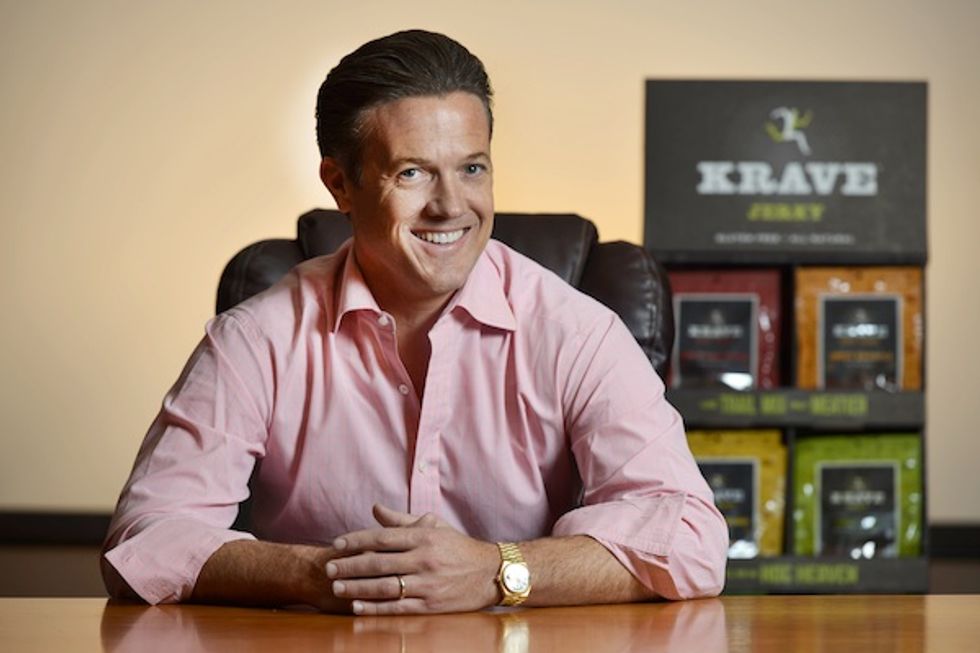 Jon Sebastiani, Photo courtesy of Krave Jerky. 
Krave's CEO and founder Jonathan Sebastiani, 43, lives in Sonoma. His family is known in the wine industry spanning back four generations, and he's worked as the President of Viansa Winery, a popular destination, as well as the Managing Director for wine.com. A little over five years ago, Sebastiani had an epiphany when he was training for the NYC marathon and in need of low fat, quality snacks with a protein boost.
The first big order for Krave Jerky was placed by a Safeway buyer, and Virgin Airlines became an early partner. Krave can now be found nationally in retail outlets like Whole Foods, Costco, and Safeway. Even the Four Seasons hotel chain and QVC are a part of the Krave success story. This January at the Fancy Food show, Krave was one of the 5 marquee companies chosen to be spotlighted in an ad campaign for the show—a major coupe given how crowded the gourmet field is. 
Below Sebastiani lets us in on some of his success secrets: 
How do you create the jerky?
We use double cooking and marination, for one of the most important parts we wanted to achieve. We took a look at all the different elements of why people didn't like jerky, and sodium nitrate was one of the ingredients they don't like. The other thing they didn't like was that jerky can be so hard to chew and makes your jaw sore. Making a tender jerky is not exactly easy because the process is about removing the moisture from the meat so it can withstand a shelf life.
We use proprietary measures and take a whole cut of top round beef and marinade it. Then it goes through a first cook of the whole muscle and we slice it. Next, the meat is then marinaded and cooked a second time. It's not like our production methods are curing cancer or anything, but we try to keep them confidential because it's extraordinarily different and it makes for an extraordinarily tender chew.
What ingredients do you use?
Things like natural chile flakes. For basil citrus turkey jerky, you can actually see the basil in the jerky; this isn't a powder or liquid flavor substitution. I'm very proud to talk about launching a new Krave line in June in Whole Foods and have some wine inspired flavors: Cabernet rosemary beef jerky, and Chardonnay thyme turkey jerky. That's kind of fun to bring it back to Sonoma and back to the wine business that completes the circle. 
You were raised a family that makes wine (Sebastiani & Viansa) and your mom Vicki is a noted cookbook author. How did the winemaking traditions transfer to your jerky enterprise?
In the 80s and 90s, the marriage of wine and food hadn't erupted as it has today. It's now common to talk about wine together with food but it hadn't achieved that status yet. Growing up, I learned that it was best to pair wine with specific flavors and there was an environment of innovation and exploration.
Viansa was about a marriage of food and wine and my mom was definitely driving the food stuff. When we sold the winery, I discovered that jerky was a high protein, low in fat, low in calories snack, but it struck me how boring and stale the category was. It was relegated to the gas station and there was no prestige or glamour. As an entrepreneur, I wanted to jump in because I saw a very confused customer, which we still run into 5 years later; people still think jerky is junk food and garbage meant for a convenience store.
The basil citrus turkey jerky was created knowing poultry likes acidic marinade to bring out the flavor of the meat and basil was unexpected. We were in a tent next to some of the best chefs and best wineries at the 2011 Sonoma wine auction, which is about as hoity toity as you can get. There was shock and interest, and we even had a longer line than some of the restaurants.
As a healthy snack, we don't use nitrates, artificial flavors, or refined sugars. Stack up our ingredients to Cliff bars, Kind bars, and pop chips and we're able to make it trendy and cosmopolitan.
Did you grow up eating jerky?
I did. Viansa winery is a half mile from Angelo's butchery. As a kid, I would eat unbelievable jerky as a meal from Angelo. Even when I went away to college as a freshman, I spent $200 there to take some with me. He deserves some of the credit for my reason to venture into this category because his product is testament to how great jerky can be.
Where do you get your ideas?
My mother continues to inspire me and she's given me the gift of knowing that there's no barriers to creativity and innovation. I live near the best restaurants in Sonoma and San Francisco. Gary Danko is a great friend of mine and he demonstrates some of the best thinking in food.
We recently had an exotic meat supplier encouraging us to make python jerky, which he called the "chicken of the tree." Maybe we'll someday test a jerky with ostrich or a protein that is a little more mainstream. The challenge is to have the average U.S. consumer look more favorably at jerky.
What's your favorite jerky flavor?
Sweet chipotle beef.
Follow @mladdfood