Having not attended the entire week's worth of Metallica's fan club-only 30th anniversary shows at the Fillmore, I feverishly read everything I could about the total metal extravaganzas that they were (despite their foray into Lulu material). Needless to say, I was more than ready to drop everything and witness their final installment this past Saturday night. And guess what? San Francisco's lost sons didn't dare disappoint their once-upon-a-time hometown, playing as hard as ever and bringing out special guests such as Ozzy Osbourne, Geezer Butler and Dave Mustaine of Megadeth.
---
Although the night was heavy on self-deprecating jokes (mostly between James Hetfield and Lars Ulrich, who act like an old married couple at this point), banana eating (Ulrich strikes again), smiles, endearing song mess-ups and stories of how things came to be, it was just as much about paying tribute to the band's roots and shredding as hard as they did in the golden days of 80s thrash metal. The air inside the Fillmore was rippling with a dozen different languages and felt palpably exuberant, the kind of thing you can only achieve as a band when your fans shell out just $6 to see its heroes. This was the night Metallica would get closest to coming full circle, when the band's beginnings would come face to face with its present day.
There was just enough space for me to squeeze to the front, just as Metallica's entourage was wrapping up a tribute to Cliff Burton–the band's best and most important bassist, who died in 1986 at the age of 24. Then the men of the night came out and kicked off the night with "Orion," one of their most expansive songs as a salute to Burton, wherever he is now. "Cliff Burton is in the house tonight," confirmed Hetfield. After delving into "Through The Never," "The God That Failed," "Sanitarium (Welcome Home)" and "Ride the Lightning," they began to tailor the setlist to their long line of very, very, very special guests: venerable producer Bob Rock for St. Anger tracks "Dirty Window" and "Frantic," a Black Sabbath medley involving "Sabbra Cadabra" ("How does Ozzy hit notes that high?" Hetfield wondered aloud) with the ever-stoic Geezer Butler, "Iron Man" and "Paranoid" with the heavy metal showman of the century Ozzy Osbourne, "King Nothing" and a Jason Newsted-sung "Whiplash," "Motorbreath" with Hugh Tanner (the man who introduced Hetfield and Ulrich), "Hit the Lights," "Phantom Lord," "Jump," and "Metal Militia" with the unspeaking and ferocious Dave Mustaine, and the closer "Seek and Destroy," wherein there were about three bassists, four guitarists all sharing the stage with Ulrich on drums. Metallica even unveiled a new track entitled "Rebel Of Babylon," inspired by Layne Staley of Alice in Chains.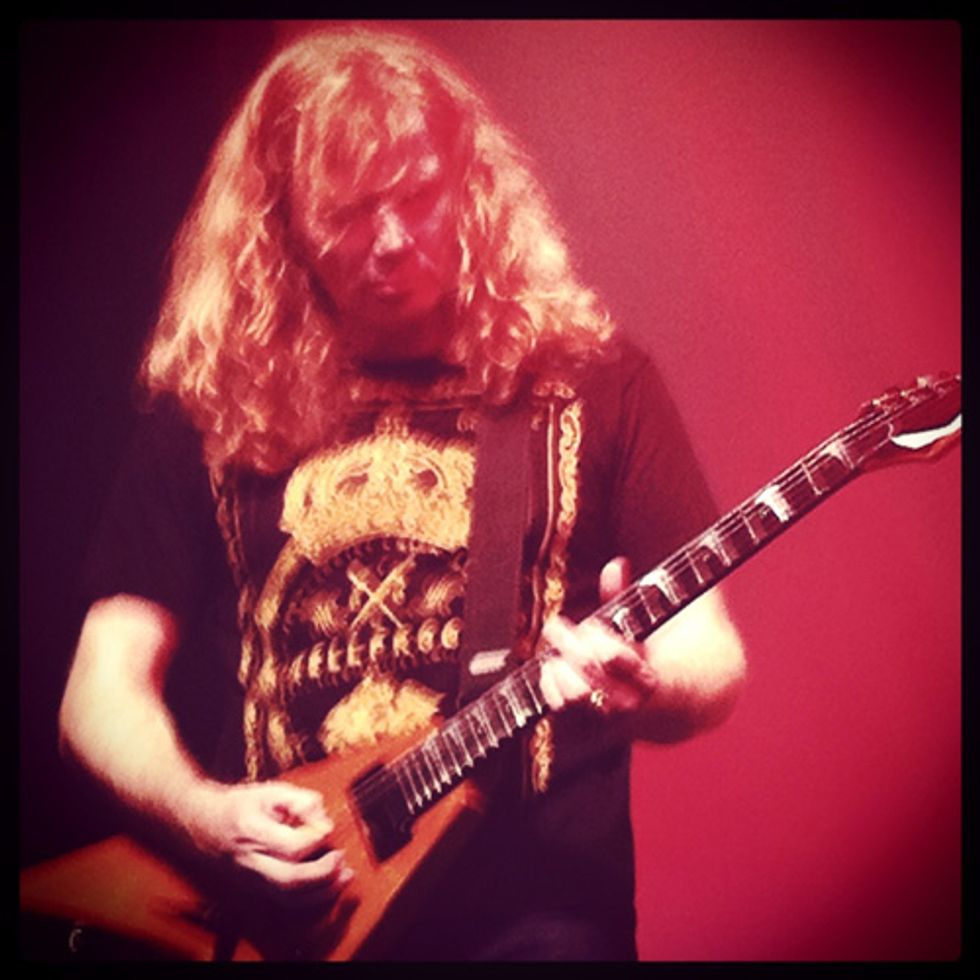 The unhinged furor of Hetfield's voice has softened around the edges through the years, but he can't help that; he's sober, married with three kids and almost fifty. That didn't hinder the blazing tempo of the music nor the insane precision with which these guys play each and every song. They're from an era when you had to work hard to win–because they weren't going to get anything based on their looks–and these days, you get the sense that they have no desire to stop sweating bullets, no matter how easily their fingers fly across the fretboards. And it's all reflected in the legendary ilk their own stature as musicians can lure to the party; kudos in one night alone came on the jumbotron from Queen's Brian May, Slash, Jimmy Page and Slayer's Kerry King, and the week's previous performances were graced by Lou Reed, Exodus, Rob Halford of Judas Priest, Glenn Danzig, Jerry Cantrell, Mercyful Fate and other metal notables.
Four hours later, the night ended with an avalanche of balloons dropping from the ceiling, onstage hugs and "Happy Birthday" sung back to the band by the audience. Whether you were there the entire week or just for one night, it was one of those fleeting chances in life where you can actually say "I was there," because we'd all just witnessed history being made.
Video of Ozzy performing "Iron Man." Make it full screen for maximum enjoyment and clarity.
Dave Mustaine shredding on "Metal Militia." Again, blow it up for maximum effect.
Note: all photos and video were taken by me, not a pro photographer. In the maelstrom of bodies flying around the Fillmore's floor, I was unable to get utterly clean shots of all the action; you'll have to forgive me.