When many of us first heard local band Moon Duo's stony, sexy krautrock drones, initially on their 2009 Killing Time EP and mesmerizing Escape LP from 2010, it wasn't clear how keyboardist Sanae Yamada and guitarist and vocalist Ripley Johnson's dark oeuvre would make their next move.
---
Now their second full-length, Mazes (Sacred Bones), which drops tomorrow. Remember when Bob Dylan "went electric"? It was like the shifting of the tectonic plates at the time, and turned out to be one of the best things to ever happen to rock. Well, Moon Duo have gone pop, and it's yielded their best stuff yet.
Mazes oozes with the kind of musical chemistry that lunges at you, partly thanks to Johnson and Yamada's relationship status. The luscious synth licks, untamed, psyched-out guitar solos, and hot-and-bothered vocals brilliantly tangled up in "When You Cut"  followed by the two-step jab of "Run Around" herald the first-ever danceable Moon Duo tunes. Bookended by the otherworldly "Seers" and the into-the-void churn of "Goners", the album is a tour de force from start to finish.
We caught up with the on-the-road band for a quick Q&A about their pop turn, semi-permanent move to Colorado and more.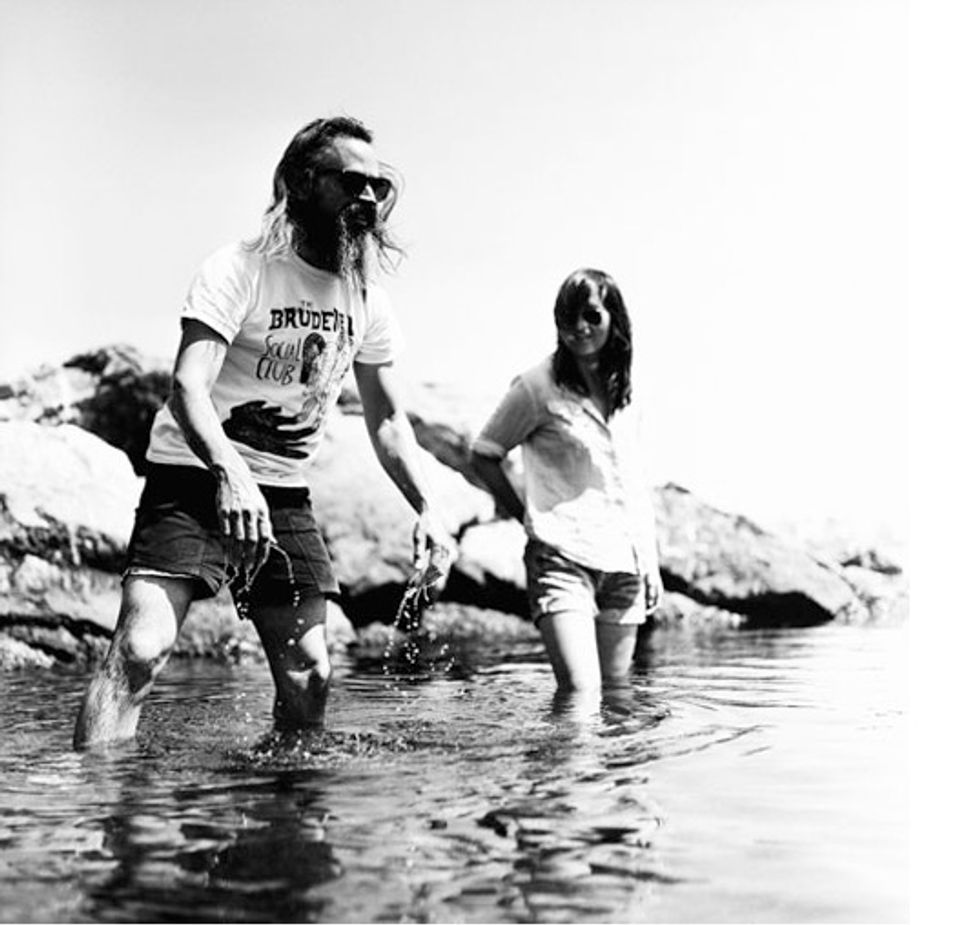 How has your relationship with each other changed as your music has changed? How are the two interrelated?
I don't think it's changed really. We stay stay pretty focused on the music while we're working. We have been able to spend a lot more time together know that we do this full time.

How has your vision for Moon Duo's music changed from the first EP until now?
The vision hasn't changed too much but we expanded the sound a bit for the new record, using more tracks and different textures, things like acoustic guitar. I guess you could say our palette is more varied on this record.

What inspired the poppiness on this new album?
I don't know how that happened. I guess there was always a bit of that around but the recording this time is a bit less foggy. We mixed this one in a proper studio so it sounds crisper and more balanced in general.

What memory or experience from the last year had the most profound effect on the making of this new album?
Definitely the mixing process in Berlin. We wanted to elevate the sonics for this one, so we went to our friends studio, re-recorded some elements, tweaked things, ran everything through a vintage Neve board to smooth it out. It was an intense process. We thought it would make it our "Berlin" record but it ended up sounding San Francisco after all.

Did you guys really leave SF behind for Colorado?
Yeah, we needed cheaper rent so we headed to the mountains. We think of it more like an extended sabbatical from California, put most of our stuff in storage. It's so we can tour as much as possible.

What brought you to Berlin to work on parts of the record?

We have friends with a studio there and it was a good excuse to go to Berlin for a couple of weeks. Plus our working title for the record was Die Blumen ["The Flowers"], so the signs were there.

What's next for you guys?
Lots of touring. We're on the road in the US and Canada until mid-April, then head over to Europe for about six weeks. After that, who knows?