While most of us are still sound asleep at 5:45am, this nonprofit is waking up to outrun homelessness.
In 2016, Back on My Feet, a national nonprofit that combats homelessness through the power of running, community and employment services, put down roots in San Francisco. Just under two years later, the organization is preparing to grow again—adding their third team here in SF, and also expanding to Denver, the organization's 13th U.S. city, later this year.
---
Since its founding in 2007, more than 6,500 jobs and homes have been achieved by Back on My Feet members, individuals experiencing homelessness, and more than 2,500 have completed job training and education. All this was accomplished by first encouraging individuals to put one foot in front of the other. They've walked and run close to a million miles alongside supporters, and even run in more than 450 marathons.
Back on My Feet's work is grounded in the idea that people, no matter their situation, are capable of extraordinary things. Each and every one of us has potential to be unlocked, we just need someone to believe in us.
CEO Katy Sherratt explains, "Our program is meaningful and impactful to people who have lost a supportive network and to the communities of people who believe in them. That support structure is the missing link—it is what we provide that other people or organizations in this space do not."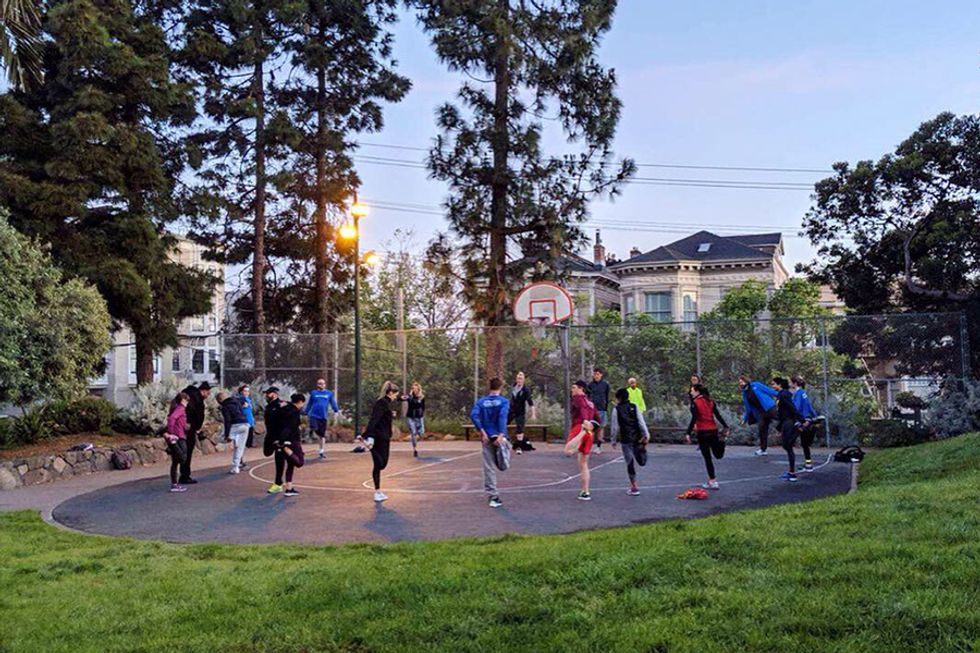 Community as the Missing Link

Back on My Feet members are recruited from local shelters and facilities and asked to commit to weekly early morning runs with volunteers. Suddenly, members are welcomed into a community of individuals from all walks of life and greeted with smiles, high-fives, and hugs.
For many members, the promise of a new pair of shoes is what initially brings them out to Back on My Feet. But, it's the feeling of support and accountability that keeps them running or walking with the group.
"Running with people who listen, care, and cheer on my every forward step has been both healing and empowering. With the help of Back on My Feet, I have grown, risen, and now I thrive," shares Mirinia, an alumni member of the program who is now working full-time and pursuing a degree at Columbia University.
After 30 days with a committed 90 percent attendance rate, members can earn access to services for maintaining attendance to the early morning runs. These services include financial literacy and job readiness trainings, financial aid, and introductions to employment partners such as Marriott Hotels.
The ultimate goal: self-sufficiency. Once an individual has secured full-time employment and housing, they are considered alumni members of the Back on My Feet program.
Growing Nationally and in the Bay Area
While Back on My Feet plans to expand to Denver later this year, the program is also growing to serve more individuals locally. Earlier this month, Back on My Feet's San Francisco community partnered with HealthRIGHT360's Walden House to launch their third team, Team 360.
In addition to running on Wednesdays and Fridays at 5:45am, Team 360 meets on Mondays at 8:30am in the local Back on My Feet office space for Make it Work Mondays. This volunteer-supported workforce development program covers everything from goal setting to computer basics, while allowing members the flexibility to work towards skills and goals based on where individuals are at in their journeys.
How You Can Help
Looking to get involved? There are many ways you can support Back on My Feet's mission on a local and national level. Consider volunteering for the early morning runs with a team in SF, bringing your skills to Make it Work Mondays, or joining one of their community events. Similarly, you can deepen Back on My Feet's work by making a donation to help transform more lives.