Originally published on CaliforniaHomeDesign.com
---
When World Poker Tour anchor Kimberly Lansing and her poker playing-businessman husband wanted to add glamour to their new, conservatively appointed home in Marin County, they had an ace in the hole: interior designers Jeff and Tray Schlarb of Green Couch. "As it was, the house was a bit stodgy," says Jeff. "We wanted to give it a more youthful, intercontinental design." The resulting family home is so successful, the couple feels like they have hit the jackpot.
"Although the clients wanted a home that was not formal and with rooms that could be used every day, they also wanted some glam elements," says Jeff, principal at Green Couch. "The tension between the comfortable and blingy is electric." In the living room, a neutral rug is a quiet backdrop for both an elegant blue-tufted ottoman and a oversize ball of rope. "The ottoman allows them to sink into the sofa and kick up their feet," Jeff says. "The rope ball moves around the room to provide extra seating." Lansing says the room is a quiet oasis in lives that include a new business, a travel-heavy career, a toddler and busy tournament schedule (she also plays). "The living room is just a wonderful place to be," she says.
The dramatic windows in the living room filled it with light and captured stunning views, but made the room hard to furnish. The designers solved the problem by creating custom, low-profile angled sofas that sit in front of the glass without obstructing it.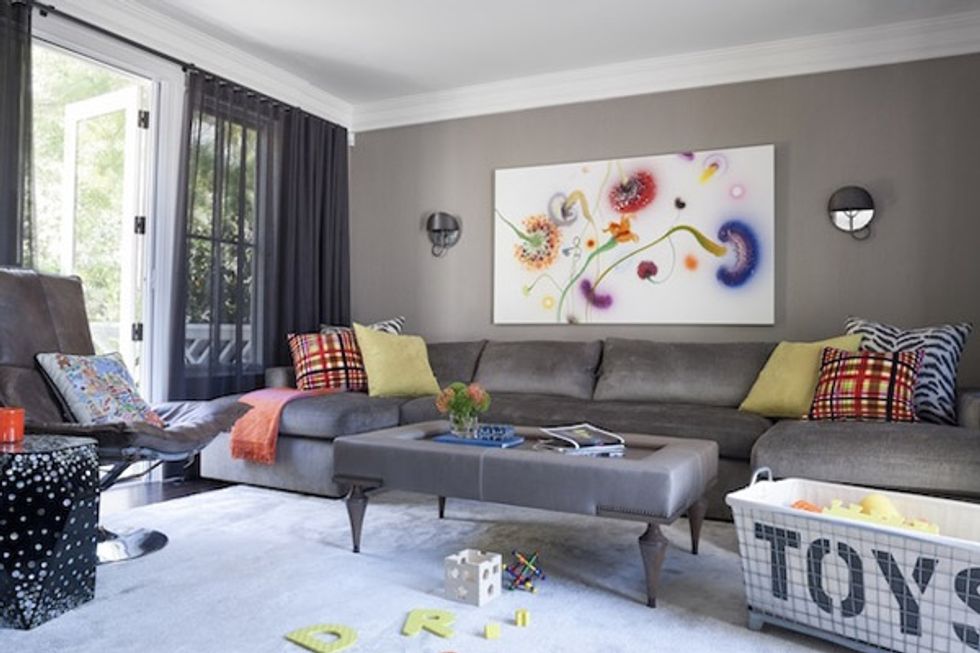 The media room also serves as a playroom. When guests come to watch games on television, a rolling cart can whisk toys out of sight.