Leslie Cockburn is a woman of many accomplishments (award-winning journalist, documentarian, and mother among them), but she counts fiction writer as the latest addition to the list with the August release of her first novel, Baghdad Solitaire. After over 30 years as a stalwart journalist and war correspondent in Iraq for "Frontline," Vanity Fair, and "60 Minutes," the Bay Area native had ample material beyond the small sliver she was able to put in her stories. "It's the other 95 percent that I really wanted to do something with in a novel," she says. She's done so in a political thriller that's at once vivid and sensual in the painterly quality of her prose and painfully real, with detailed descriptions of the horrifying realities of war—tableaus Cockburn witnessed firsthand. At the book party thrown in San Francisco in September in her honor, attended by the elite of the SF literati (including Joyce Maynard and Phil Bronstein), she had the audience enraptured by the passages she shared. We caught up with her afterwards about her Bay Area roots, moving from fact to fiction, her movie star daughter, and more:
---
SB: You've had a fascinating career in journalism and film. How has your Bay Area upbringing influenced your work?
LC: Some of my ancestors were California pioneers. That gave me a powerful desire to explore, to find frontiers. I remember one trip to the Colombian Amazon, an area fought over by guerillas, narco traffickers, and cattle barons. When I watched a cowboy, draped with bullets, ride his horse into the saloon, I felt I was experiencing the Wild West. Driving across the Somali desert, passing camel trains, reminded me of the mule teams carrying Borax from Death Valley in the 19th century when my great grandfather was opening up mines there. Also, when I was growing up in San Francisco, it was a time of turbulence, demonstrations, a social revolution. I thought it was natural to question everything, which led to journalism and now to fiction.
SB: You mentioned that your career as a journalist has given you ample material for fiction, and that dichotomy is evident in your writing. Can you tell me about a factual experience from your time in Iraq (or elsewhere) that ended up in the book? Are there other moments from your career that you'd like to turn into other fictional works?
LC: Baghdad Solitaire is woven from dozens of factual experiences. When Lee [the protagonist] is in Abu Ghraib, she is seeing things I have seen: Saddam's torture chamber, the last words on the walls. The people are all invented, but people who have spent time in Iraq can be transported back there by the book. One former Marine with PTSD has given the book to his therapist to use for immersion patients, to take them back. I am working on another novel now, set in Kabul, drawing on another set of experiences. 30 years of journalism gives you a great deal of material to draw on.
SB: You and your daughter, actress Olivia Wilde, have both worked in film in different ways. Have your career paths crossed? If so, how and when? Would you ever work together in the future?
LC: Olivia's path and mine have crossed in the realm of documentaries. Olivia grew up around edit rooms, constantly watching me make documentaries. Now she is often off in Haiti or Africa, making her own films. She has a real passion for that form and is very good at it.
SB: What's next?
LC: I am in the middle of another novel. Like Baghdad Solitaire, the protagonist is a woman. I won't say too much more except that it is set in Afghanistan and Pakistan, where I traveled many times between 1985 and 2007.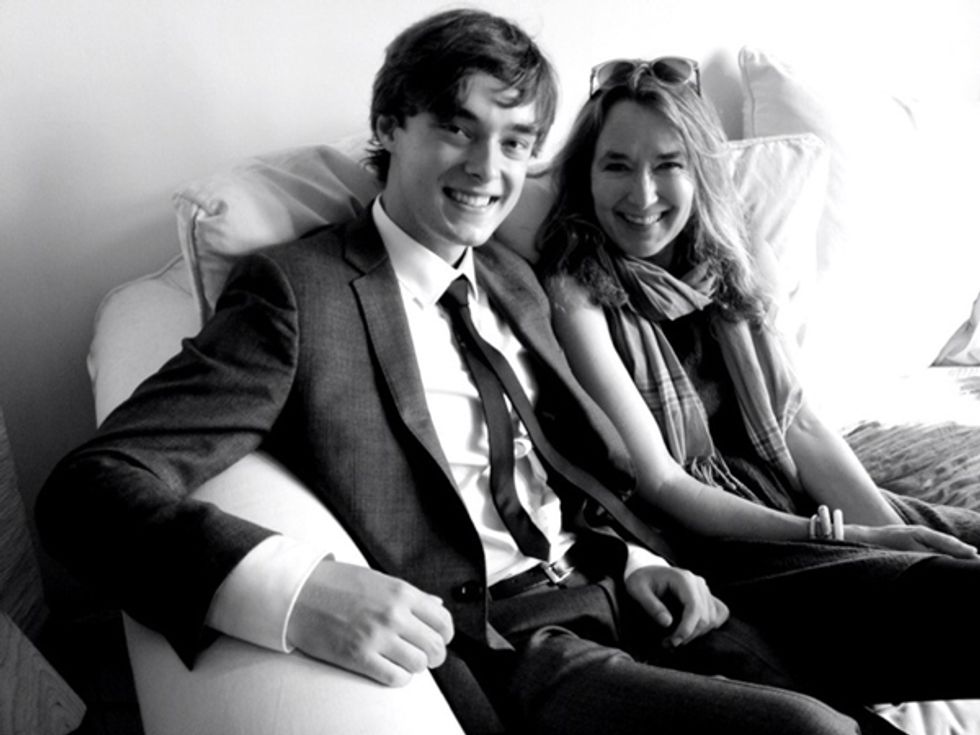 Leslie Cockburn with her son, Charlie.