This June, San Francisco Opera presents the most monumental work of art ever created—Richard Wagner's The Ring of the Nibelung.
Comprised of four sweeping operas, this remarkable mythical odyssey—think Lord of the Rings and Game of Thrones—thrills the senses with a score that is unmatched in its grandeur, including the famous "Ride of the Valkyries"—a tune that you may recall from the helicopter scene in Apocalypse Now.
---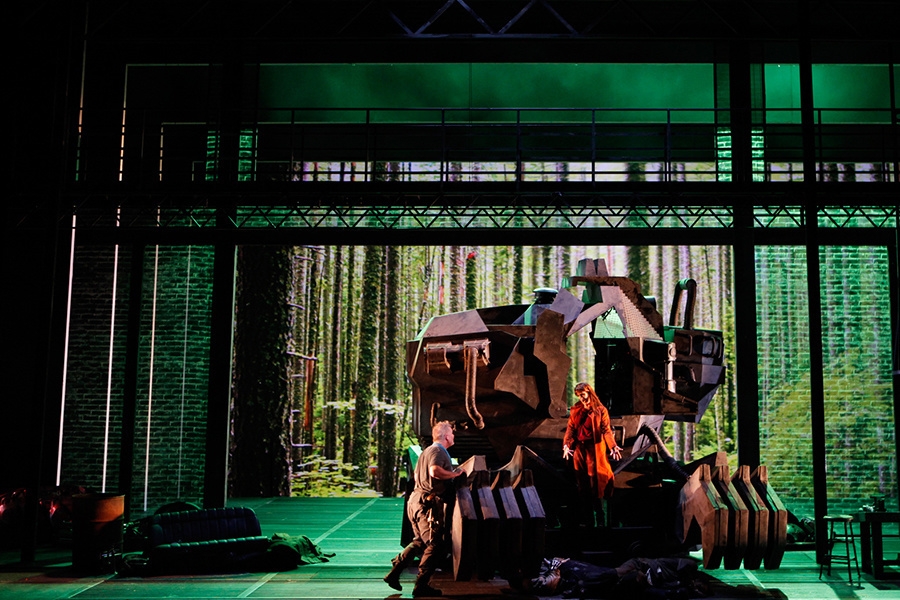 (Courtesy of SF Opera)
Despite having premiered in 1876, the Ring is incredibly relevant today.

The four-opera, 18-hour epic all begins when a dwarf is scorned by three beautiful Rhinemaidens who protect the river Rhine's magical gold. Hearing of the gold's incredible powers, the dwarf renounces love and steals the gold to forge a ring that grants its bearer absolute power. When the chief god gets wind of this almighty ring, he won't rest until it is his, taking us into a world unhinged by corruption and politics, ravaged by greed and neglect, where the only salvation is the redeeming force of love. Sound familiar?
Not many opera companies can successfully mount this behemoth. We're lucky to live in a city that has a history of presenting (and selling out) this masterpiece since 1935. The current production has been coined the "American Ring" and draws on American imagery from the Marin Headlands to Gatsby-era skyscrapers. It's sensitive interpretation highlights some of Wagner's dominant themes—greed, corruption, love, destruction of the environment—but views them through the prism of our own history and our own myths.
Some have called the Ring a religious experience, others life-changing. Either way, it's something that shouldn't be missed. Keeping in tradition, the Ring is on its way to being sold out, so you'll want to snag your seats soon. For the ultimate experience, we recommend purchasing one of the three four-opera cycles. If you can only see one, our pick is Die Walküre that features the world famous "Ride of the Valkyries."
// San Francisco Opera, 301 Van Ness Ave. (Civic Center), sfopera.com