'Tis officially the season for pie.
And while there are plenty flaky, round delights to be found in the Bay Area, no purveyor of pie this year has received more buzz than Divisadero Street's Theorita, where chef Angela Pinkerton's homemade slices have been luring us into sugar comas since the place opened this past August.
---
With the holidays approaching, you're probably already wondering where you can pick up a perfect pie to finish out your Thanksgiving feast. You can easily place an online order for one of Theorita's seasonal favorites—including brown sugar pumpkin, sweet potato coffee cream, and that quintessential Dutch apple (all $34 each)—or you can get in the spirit and DIY it at home with Pinkerton's recipe for walnut bourbon chocolate pie.
Dig in!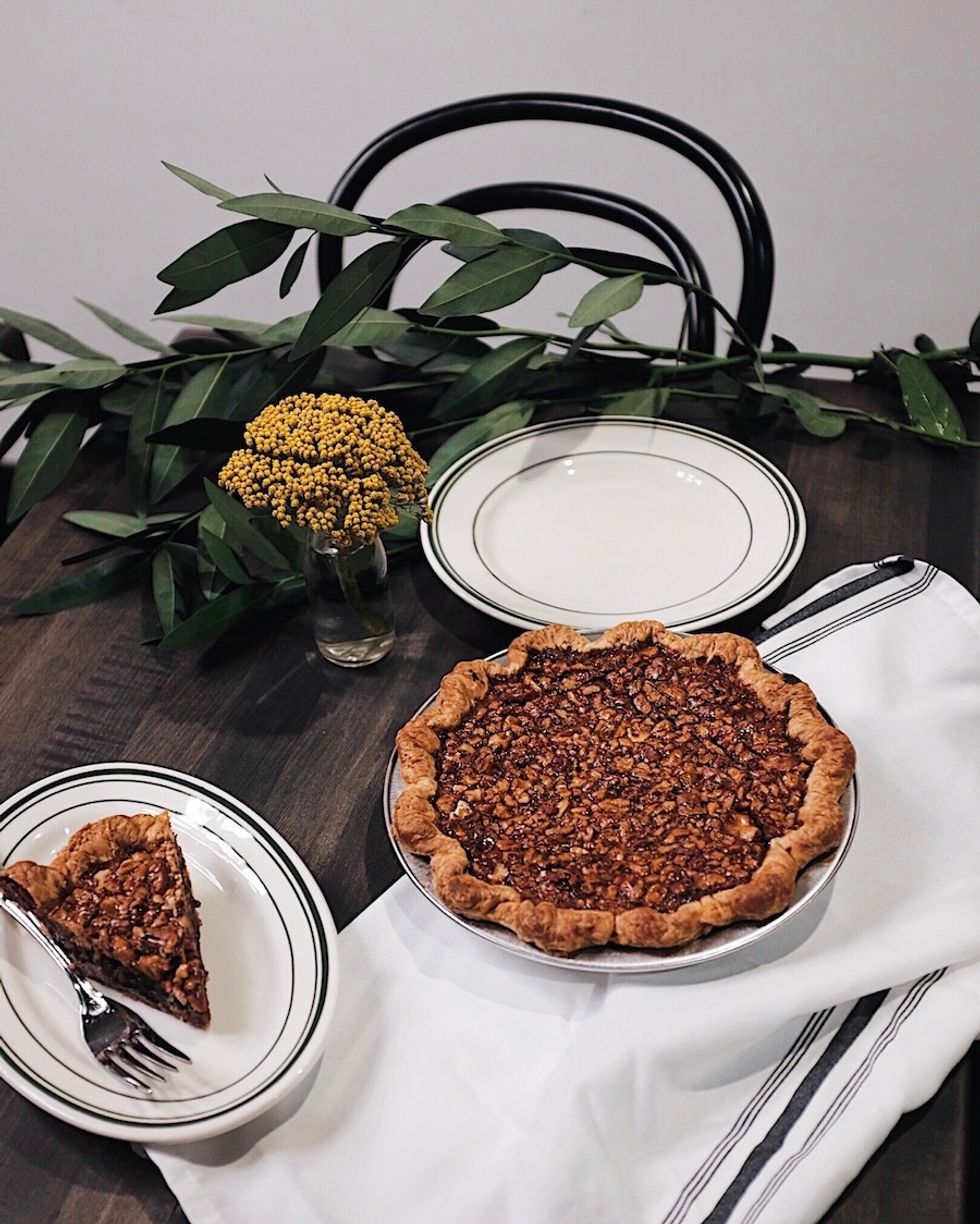 Make the Butter Crust
Ingredients

1 ¼ cup all-purpose flour
2 tsp. granulated sugar
¾ tsp. kosher salt
1 ¼ sticks of high fat butter
3 tbsp. water, ice cold
A drop of white wine vinegar
Directions
Combine flour, sugar, and salt in a mixer. Add butter and pulse until it becomes a coarse meal. Add vinegar to ice cold water and drizzle in slowly until dough forms. Split in two, round into balls, and then flatten into discs. Chill overnight.
Roll on a lightly floured surface to about 12-inch circle, mold into 9-inch pie tin, and flute the edges. Freeze.
Place a coffee filter in frozen pie shell, fill with beans, and bake at 375F until lightly golden. Cool at room temp.
Make the Bourbon Ganache
Ingredients
3 oz. 70% Valrhona chocolate
1/2 cup cream
1/4 cup corn syrup
1 ½ tbsp. bourbon
1/2 tsp. butter, soft
Directions
Melt chocolate half way. Bring cream and corn syrup to a soft boil. Pour over chocolate. Stir, immersion blend, add all alcohol and butter, blend again to emulsify. Pour into the bottom of the par-baked shell. Set in refrigerator to chill for 20 to 30 minutes.
Make the Bourbon Honey Walnut Filling
Ingredients
2 eggs
3/4 cup orange flower honey
1/4 cup brown sugar
1 ½ tbsp. butter, melted
1 ¾ tbsp. all-purpose flour
½ tsp. kosher salt
1 tsp. vanilla
1 ½ tsp. orange zest
1 ½ tbsp. orange juice
1 tbsp. bourbon
1 cup lightly toasted walnuts, chopped
Directions
Melt together honey and butter, cool slightly. Blend eggs, brown sugar, salt, and zest together with hand blender, then emulsify in honey and butter. Blend in flour, then juice, extract, and bourbon. Strain.
Place walnuts atop the chilled ganache and pour filling into shell. Walnuts will float in custard. Place in a 350F oven and bake for 45-55 minutes, or until the pie is set, nuts are richly toasted, and filling puffs and begins to crack around the outer edges.
Cool at room temperature for a minimum of four hours before cutting. Store at room temperature, covering any cut surface lightly with plastic wrap or in a cardboard pie box.
Enjoy!
// Theorita, 843 Divisadero St., theorita.com