Here's a handful of Bay Area stories you may have missed this week.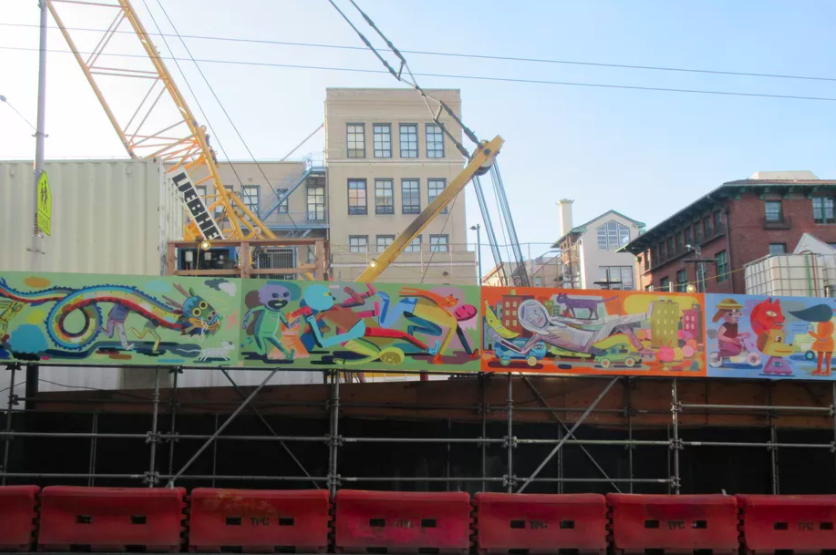 Jason Jägel "Processsion" mural in Chinatown.(Courtesy SF Arts Commission)
---
New Mural Graces Chinatown Subway Build, SF Curbed
The subway construction barricade at Stockton and Washington was recently graced with art by Jason Jägel. Called Procession, the piece is part of an ongoing project to beautify the building site and is a sequence of vivid cartoon figures. Read more.
In the Shadow of the Salesforce Tower, a Bold New Urban District Takes Shape, SF Chronicle
A master plan that's been brewing for the last 15 years is coming to fruition south of Market Street now. A new kind of neighborhood is on the rise—one that sounds like a utopia—where people of all incomes live and work near a multitude of different kinds of transit. In lieu of the changes, sparkling residential towers are popping up by freeway ramps, a park is in the works under a bridge for commuter buses, and miniature dog runs and greenery separate cars from pedestrians. Read more.
Redfin's Glenn Kelman Predicts a Mass Tech Exodus From Coastal Cities, GeekWire
CEO of Redfin, Glenn Kelman believes that due to soaring housing costs, companies will shift away from coastal cities to smaller towns in other parts of the country. Prime examples are Google, who's bulk of employees live outside of Silicon Valley, and Amazon, who is looking for a new location for their HQ. Read more.
How California Plans to Stop 'Dead' Drivers From Using Disabled Parking Placards, The Sacramento Bee
Apparently more than 26,000 people over the age of 100 in California are able to park at any street meter for free all day, and at blue-stenciled stalls in parking lots. However, there are only about 8,000 people older than 100 in the state, most of which are no longer driving; which means those parking in primo spots free of charge are likely not the owners of the centenarian placards. Read more.
Tibetan Filmmaker Jailed in China Flees to Meet His family in Bay Area, SF Gate
After being sentenced to six years in prison for creating a short documentary on Tibetan opposition to the 2008 Beijing Olympics, and kept in solitary confinement for months, Dhondup Wangchen fled the country. On Christmas Eve, he arrived in San Francisco and was reunited with his wife and four children who left Tibet in 2012. Read more.