Feeling down? Lonely? Spiritually absent? Undersexed? Or — god forbid — oversexed? Feeling like you need a change? Charles Bradley has some advice for you.
---
The one-man answer to cynicism put on a resounding and thought-provoking soul/funk/R&B revivalist show Tuesday night at The Independent that doubled as a self-help sermon. The 62-year-old phenom has lived quite the life, and his wisdom came across matter-of-factly–sometimes in his lyrics, other times in his impromptu evangelistic addresses, imploring the audience to stop being such bastards to each other (my words). "Love each other," he said a few times. "Let's change the world!"
Normally, such platitudes are quickly dismissed by the seasoned concert-goer, but something about Bradley makes you believe his are genuine and profound. Perhaps it's his Hollywood-ready backstory: Born in Gainesville Florida, raised in Brooklyn, Bradley bounced around the country working odd jobs as a carpenter and a cook for decades, including a stint here in San Francisco. He eventually returned to Brooklyn, where he currently lives with his mother in the projects, to focus on his music. But that's also where tragedy struck his family when his brother was shot and killed.
When he took the stage on Thursday, the emotionally resonant Bradley already looked like he was ready to cry under the weight of the night's gravity. Turns out, that's how he always looks, as if all the years and heartache and turmoil has reconfigured his face into a more sensible position. 
In front of a seven-piece backing band  — known as the Menahan Street Band — of trumpets, guitars, bass, keys and drums, Bradley seized the spotlight. He's a purist's showman of a nearly-forgotten era, channeling the spirit of James Brown on multiple fronts. He dances ridiculously well for a man his age, unabashedly putting the "sex" back in "sexagenarian" a few times with a sensual thrust move that had fans hollering, laughing and, perhaps, a few ladies wondering…
He's also mastered a move where he throws the microphone back into the stand, then pulls the stand back to his mouth with the cord, then takes it to the ground like a salsa dancer. When he's not singing, he was either interpretive dancing or roaming in the crowd doling out hugs. I'm also pretty sure he did the splits at one point.
It's all overwhelmingly inspirational to see, but to hear him sing these soul and funk numbers with earnest oomph is a whole 'nother thing. On "No Time for Dreaming," the title track of his debut album, he urged us to scoff at inaction, which he has adopted as a latter-day mantra. His hit single "The World (is Going Up in Flames)" is a classic R&B head-bopper, and Bradley spared no energy belting out tempestous cries of remorse. There were many moments like this, when Bradley removed himself entirely from the structure of his band's rhythm and rhyme to express whatever emotion was nearest to him in the song.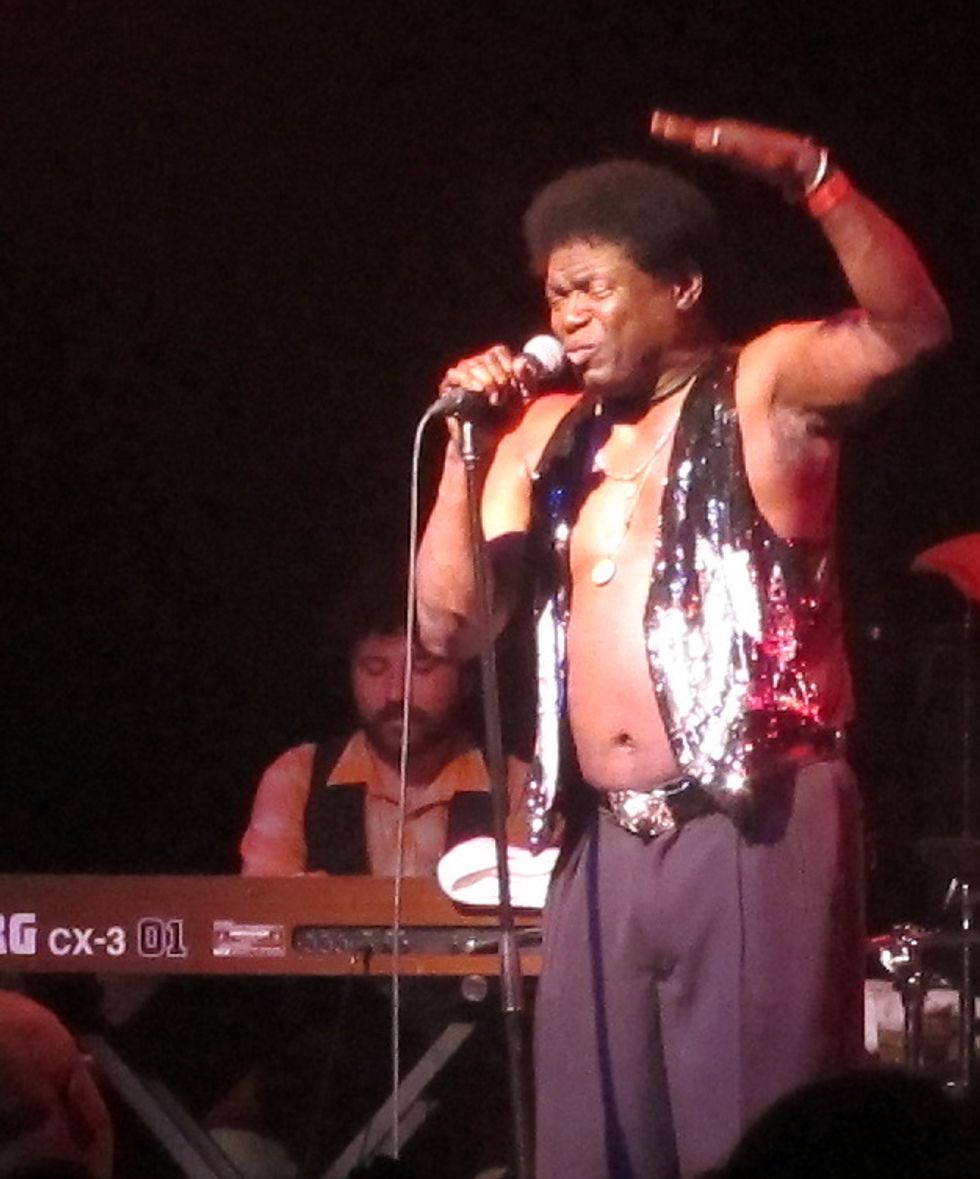 Bradley and the Menahan Street Band also worked in an unexpected but somehow appropriate cover of Neil Young's "Heart of Gold," retrofitting the seminal song with a R&B groove. For an encore, Bradley came out draped in just his bedazzled vest, no shirt underneath, exposing a toned, bellied physique. He did one of his many autobiographical numbers, "Why is it so Hard? (To Make It In America)," in which he discussed his long, hard-knock road. Like many of the soul greats, he puts you in his shoes and makes you sweat with him, as if to share (and ease) a bit of the burden. The crowd was more than happy to share in whatever Bradley was offering, perhaps more so than any show of the year, to these eyes.