M.F.D.G.C. -- money, fast cars, diamond rings, gold chains, and champagne. The custom made bling says it's all for Marc by Marc Jacobs store manager Chico Clark. 
---
Oozing with easy confidence, we loved Chico's romantic, jazzy look this Valentine's Day weekend.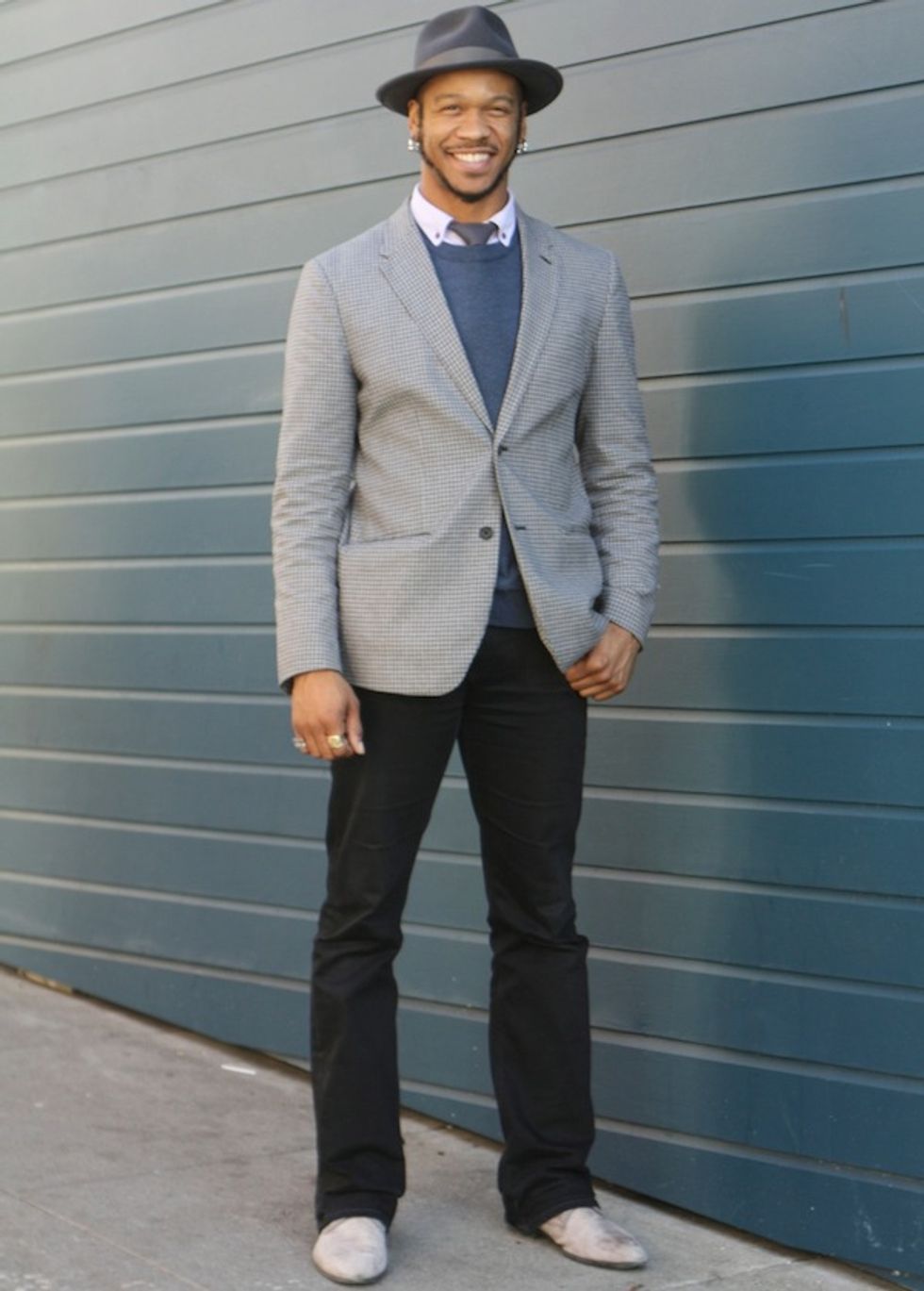 What He Wore: Goorin Bros. hat; All clothing and shoes by Marc by Marc Jacobs; Mixed jewelry all custom made and purchased while travelling.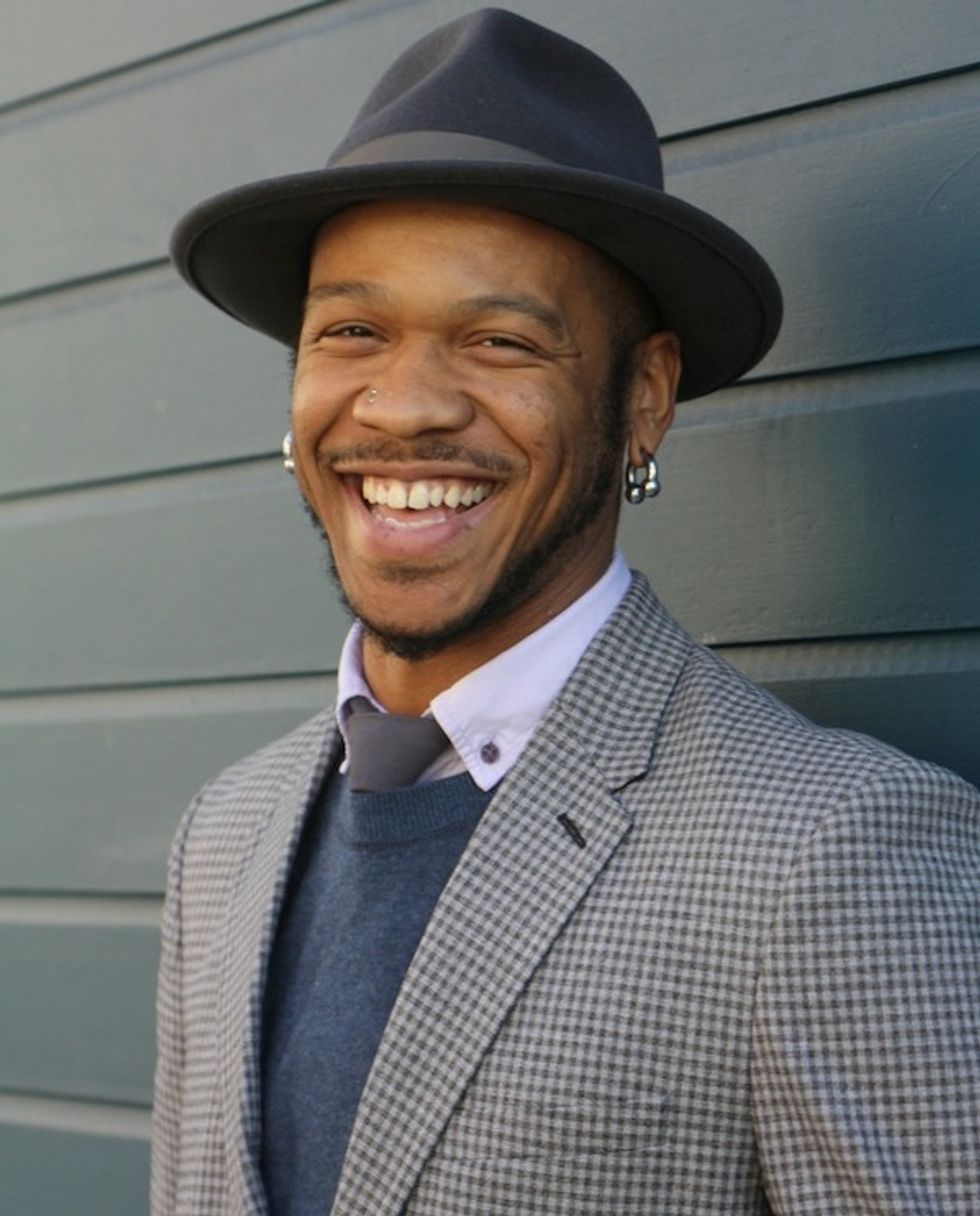 "I like to look like I'm always coming from work, never going to," said Chico. "Even now, my collar and cuffs are unbuttoned."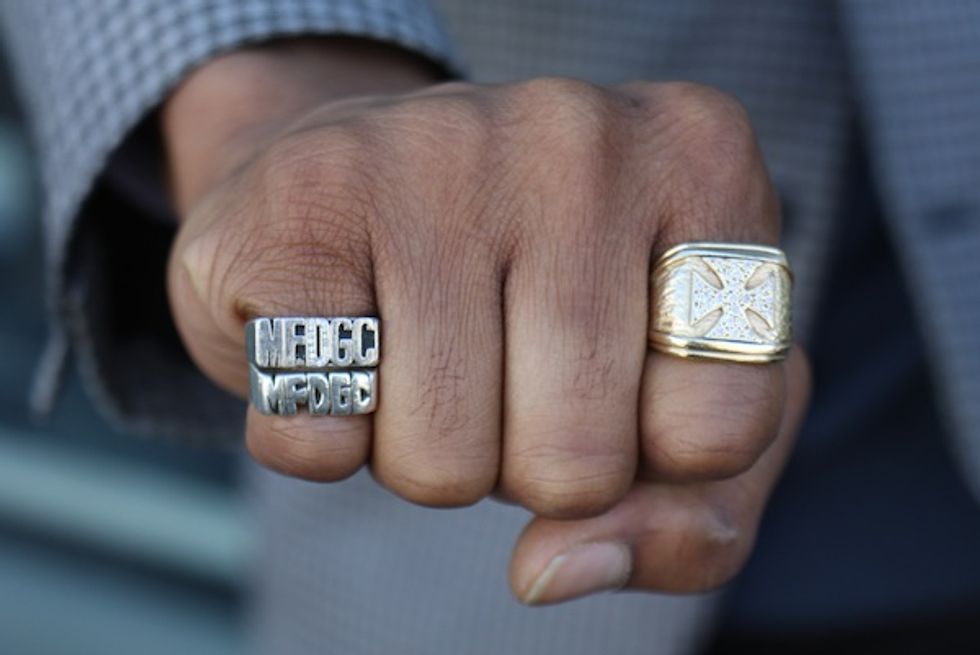 "There are about ten of us all around the world who have these custom rings and we get together about once a year," said Chico. "It's a lifestyle. The bottom ring I had made at Disney World. The top ring was a gift."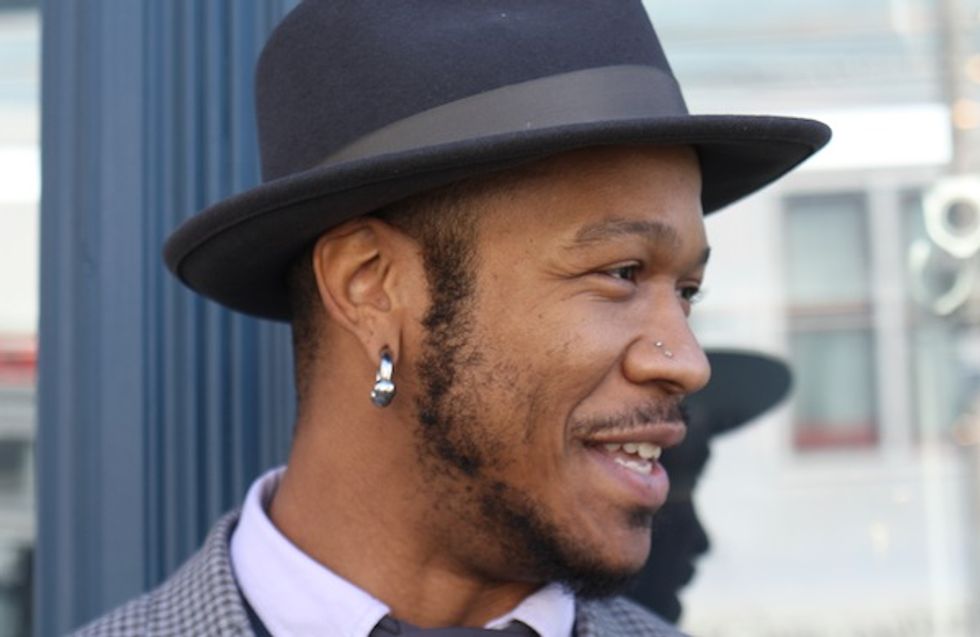 Seven Questions for Chico:
1. How did you spend Valentine's Day?
I flew back from Fashion Week, so I actually left my love. 
2. What are you always packing?
Wallet, phone, keys, cash clip -- I keep it as simple as possible. Oh, and most days I wear a necklace, but not when I wear a tie. 
3. What's on your bucket list?
Some day I want to own a pound of white truffles. 
4. What would be your last meal on Earth?
Several Big Macs...until I'm sick. Once a year I go crazy. I do not eat fast food, but once a year I have a 'Mac attack, literally. I don't know what it is about Big Macs!
5. What's your style in seven words?
Classic, sharp, consistent, colorful, well thought, ironed (I refuse to walk out without having my clothes steamed), and modern.
6.  What's on your wish list?
I'd love a Louis Vuitton trunk...vintage. 
7. What's your SF Top 5?
-Street Food Park in SoMa (specifically, The Chairman).
-Rye in the Tenderloin is a great bar.
-Cowgirl Creamery...actually, the whole damn Ferry Building, and the farmers' market on Saturdays. 
-Driving back across the Golden Gate Bridge from Sausalito. 
-Costco. I go once a month. I have a huge dry stock are in my apartment...with a 25 lbs. bag of flour. You know the one. Now I make a lot of confections. 
Lily Ko (lily7x7 @gmail.com) studied fashion design and merchandising at Central Saint Martins and the Academy of Art University. In addition to writing for 7x7, Lily works as a freelance stylist, writer, and designer.