Stand on Solano Avenue, the main drag that runs through the East Bay city of Albany, and you could be in any quaint Northern California town. There's the art deco Landmark Albany Twin theater and rows of stucco salons, cafes, and gift stores. Then you pop into bite-size Le Bedaine, and you're in Paris. 
---
Owner Alain Delangle grew up and trained in Paris before eventually opening Le Charm French Bistro in San Francisco in 1994. He left to open Le Bedaine in 2009. In addition to preparing pastries and sandwiches, he also makes beaucoup French entrees–think Coq au Vin, Canard à l'orange, and Caille Farcie (stuffed roast quails)–all vacuum packed with instructions for reheating at home.
On Sundays, Chef Delangle offers free pastry demonstrations. From now through July, the topic is "puff pastry," and he'll switch to a different technique in the fall. And while customers leave class with some serious baking knowledge, they can find instant gratification in one of the already-prepared sweets. Our favorites follow below.

Tarte Tatin ($3.50/slice)
"There are no rules to tarte tatin," says Chef Delangle. Except one. You should use leftover dough. Whether you arrive on a puff pastry or tart dough day, you won't linger too much on intricacies of the crust. The dough's more utilitarian here, acting as a cradle for caramelized apple slices bloated with sweet juice. A trickle of their liquid caramel drips into the pastry's crevices, taunting you to take just one more bite.

Financier (Bag of four for $3)
Here's a Betty masquerading as a Plain Jane. This two-bite, golden cake has a slight arch, firm pebbly crust, and a springy underside. Don't let the wafts of butter trick you into thinking it's a pound cake. It's made with ground almonds which lend a soft, chewy texture and a nuttiness that complements the flecks of orange zest.

Baguette ($.75/sandwich size, $1.25 for large)
Arrive when the bakery opens to nab a hot, just-baked baguette. Rip through the crust to reveal puffs of white chewy dough that resist your attempts to pull them apart. It's slightly sour and superb by itself, or with a smear of Pork Rillettes or Duck Liver Terrine ($5-6).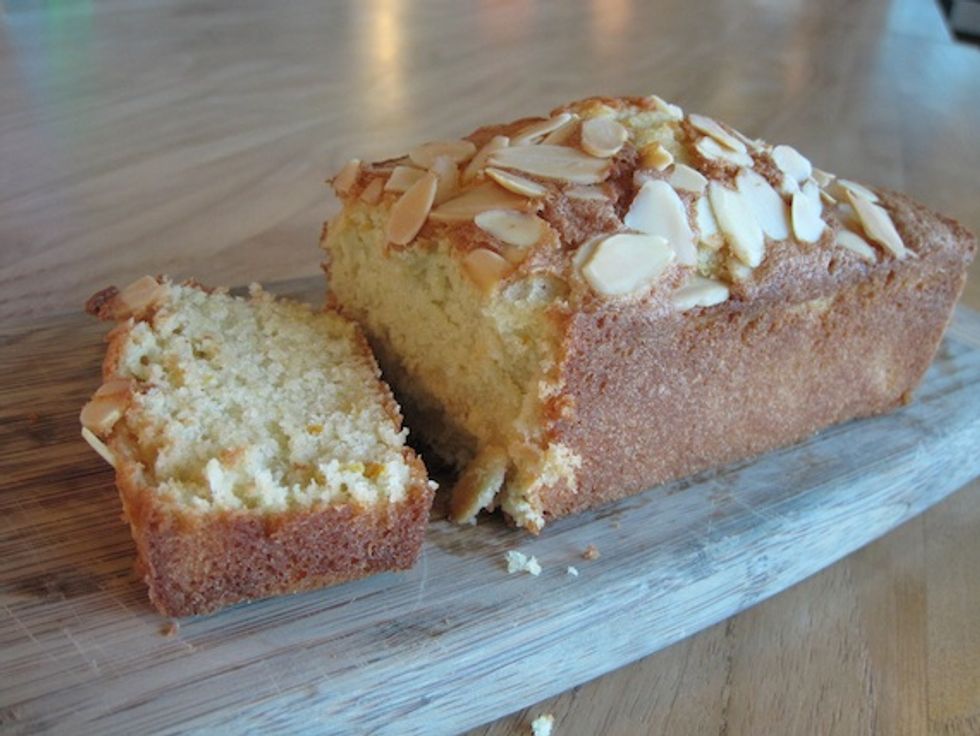 Orange Tea Cake, above ($6/loaf)
Slice through one of these blond mini-loaves topped with toasted, sliced almonds to discover scatterings of orange zest and whiffs of citrus. The orange lingers on your tongue, while flavors of butter and vanilla move to the forefront. Unlike other pound cakes, it will not smudge your fingers with grease. It stays super moist for several days, during which time, the orange flavor intensifies.

Eclair ($3)
Here, you'll find a paunch of cool, thick pastry cream ready to burst from its choux pastry shell. Some days, Chef Delangle injects them with chocolate cream; other days it's hazelnut or a combination. All are finished with a glaze of semi-hardened dark chocolate.

Millefeuille ($3)
Just admiring this stately tower of alternating puff pastry and heady vanilla bean cream can't help but make you feel fancy. But with the crack of a fork, she goes from "lady-who-lunches" to "hot mess." Buttery pastry breaks and flakes all over the place, cream slides out, and the strawberry on top falls to the side. And while the bottom rows of pastry manage to stay fairly crisp under the weight of the filling, it's best to eat soon after purchasing.