For months, Nathan Barefield, a quality assurance engineer for iPhones and iPads at Apple, had been checking out an attractive woman on the company's commuter shuttle from San Francisco to Cupertino. Not only did he like the way she looked, he noticed she wore Tiger sneakers—beloved by cyclists everywhere—and wondered if she shared his passion for bikes. The dark haired woman, who kept her ear buds in and her face pointed towards her laptop, never noticed him.
---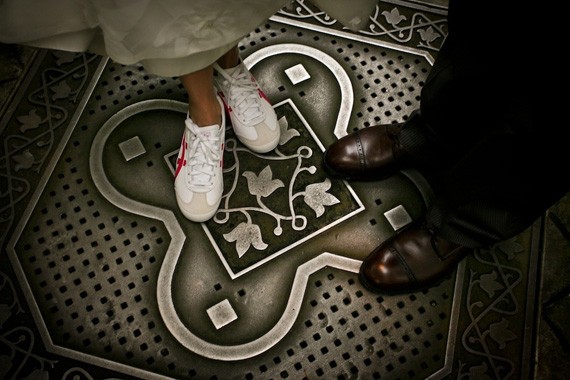 Several months later, the woman came to his door to buy a vintage bike his housemate had advertised on Craigslist. She introduced herself as Alison Hughes, an audio software engineer at Apple, and they struck up a conversation. As the saying goes, one thing led to another, and they were married August 14 at the Conservatory of Flowers in Golden Gate Park. The wedding incorporated traditions from the American South and Japan; showcased vintage bikes and computers and had a healthy dose of maker and music elements. In other words, it was as San Francisco as it gets.

"We chose the Conservatory because we love San Francisco, and this location is a classic," says Alison, who planned the event herself. "We wanted to have an outdoor ceremony but, since this is San Francisco, we wanted to be protected from the elements."

The couple decided to borrow a friend's Panhandle flat as a place to get dressed for the ceremony. From there, they planned ride a tandem bicycle (with their friends peddling along behind on their own bikes) to the site. But, fashion intervened. "I really wanted to wear a long gown, and you can't ride a bike wearing that," says Alison, who wore a dress by local designer Amy Kuschel along with her signature Tigers. Luckily Nathan's father, who lives in Atlanta and is described as the "ultimate maker," came up with the idea to create a sidecar for his son's vintage Heron touring bike. He started the project in Nathan's hometown of Atlanta, shipped it to S.F., and finished it off with products ordered from Cole Hardware.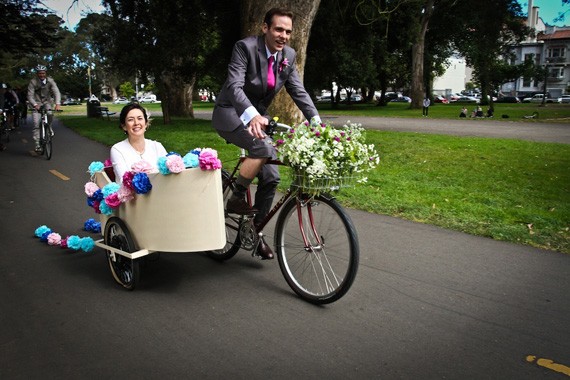 "It was quite a production," says Alison. "Cars stopped, people honked their horns and waved. It was like leading a parade."

At the Conservatory, guests sat down in front of the Victorian structure to watch the couple tie the knot, and in some cases, tie it for them. "We didn't want really formal vows, but we did want some kind of tradition," says Alison. "We asked people close to us to tie a ribbon around our wrists and say a few words."

Inside the building, everyone gathered to sip the couple's signature cocktail—named the Sidecar, of course—and, in lieu of a traditional guest registry, sign squares of fabric that are being made into a quilt.

Then guests sat down to a classic Georgia feast (pork loin, mac and cheese and cornbread created by Fork & Spoon catering) and decor inspired by Nathan's boyhood home and the Southern Gothic film Big Fish—all mixed with references to computers and Alison's Japanese heritage. "We decorated the tables with Mason jars filled with plants and little battery-powered lights we rigged to look like fireflies. We also created lighting to look like a starry night sky and strung big market lights," says Alison. "I bought an old Apple IIe, which is what I had as my first computer, and programmed it to give people their seat assignments. The table cards were old punch cards from vintage computers." [Read California Home+Design's article about collecting vintage technology here.]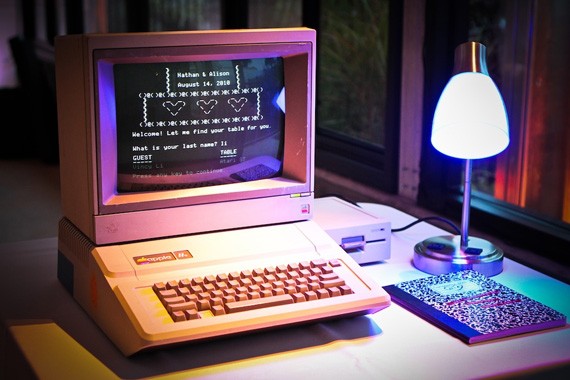 At the front of the room were large manzinita branches decorated with gold foil origami cranes. "Japanese tradition says that the bride must make 1,000 cranes herself before the wedding," says Alison. "I'm a modern bride and didn't have time to do that, so my friends and family helped. We had everybody making cranes."

There was no doubt about Alison's modernity when she took the turntable and DJ'ed a set. "I used to DJ a lot," she says. "And although we hired a DJ for the event, some of my friends took turns playing old-school club music."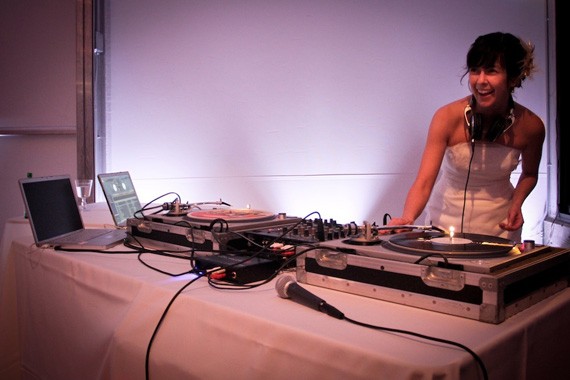 Earlier, Nathan had taken his own musical turn, using a viola his father had made to play the Brandenburg Concerto No. 6 during the ceremony. "It's not uncommon to find computer people who love music and can play instruments," says Alison. "It makes sense really, as writing software is a very creative act."