There must be something magical about breakfast burritos, because no matter what your morning entails, once that warm aluminum bundle hits your hand, things start seeming a lot brighter. If you were hungover, had your boss on your case, just found another parking ticket–whatever the case–it somehow doesn't matter as much. Eggs, salsa, beans, cheese and avocado all wrapped in a soft tortilla. They are oozy, they are gooey, and that salsa packs enough punch to put pep in any step. Here are nine of the most awesome breakfast burritos around the city.
---
Beachside
Patrick Maguire, part-owner of Beachside and a surfer, created this to be the perfect post-surf breakfast. Petaluma eggs are scrambled and fluffy next to house salsa, melted cheese, and homemade sausage and bacon ("Pat knows a surfer's appetite so he insisted on both," says wife and other-Beachside-half, Buffy). Feeling the veggies? Sub meat for spinach and tomato. It's all wrapped in a flour tortilla, lightly grilled and slightly crispy.

Velo Rouge Cafe
Velo Rouge's breakfast burrito is their most popular menu item. First they take a tortilla and melt cheddar cheese all over it, maximizing cheese surface area for an optimal cheese-to-bite ratio. Then they pile in eggs, black beans, home fries, cheddar cheese, salsa, avocado, sour cream, and a side of chips and salsa. The kicker? Sriracha. Sitting near the park with a burrito and a Blue Bottle drip is just what the doctor ordered.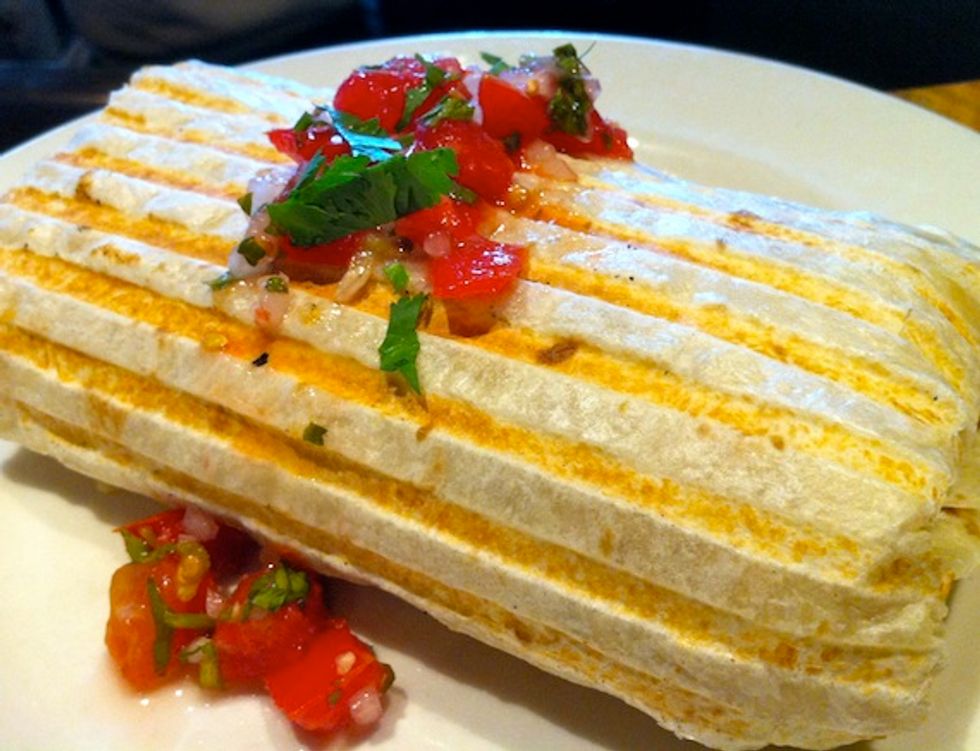 photo courtesy of The Grove
The Grove
This burrito is massive, so prepare yourself: A generous serving of scrambled eggs lays alongside rosemary hash browns that play between creamy and crunchy, rich refried beans, fresh pico de gallo, thick sliced avocado, and, because two cheeses are better than one, cheddar and jack. The best part is a La Palma Taqueria tortilla painted in crisp golden grill marks.


Don Pisto's
If you haven't been to Don Pisto's yet for brunch, you're doing yourself quite the disservice. The breakfast burrito is one of the best things on the menu, with house ground and seasoned chorizo, queso oaxaca, eggs, salsa fresco, sliced avocado, and charred, pickled jalapeno on a curled, grilled La Palma tortilla. Plus, they serve it all day on Sunday! Bonus.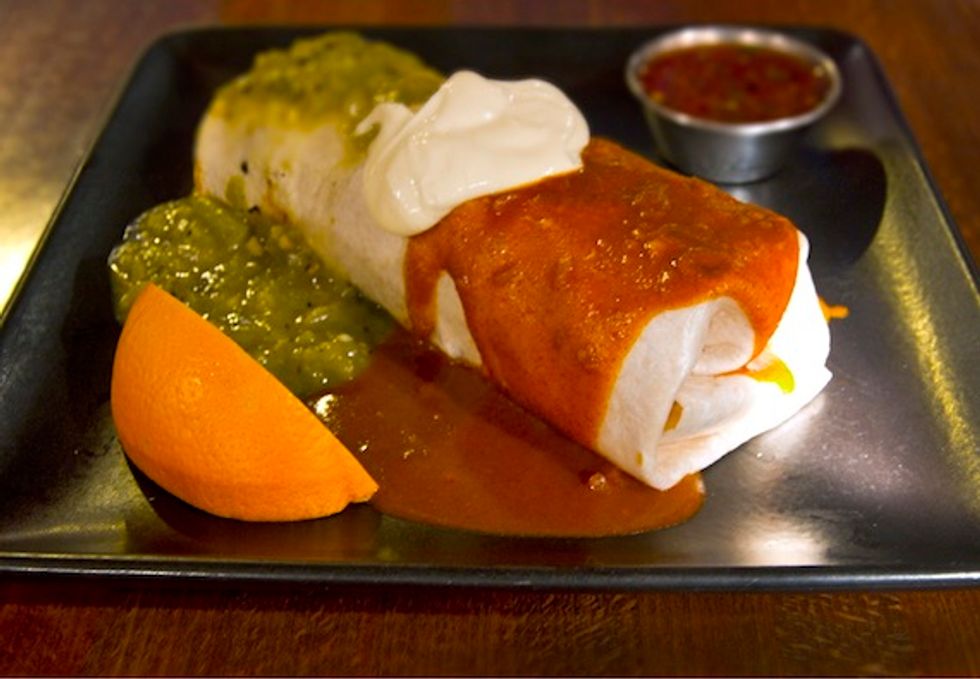 photo courtesy of Green Chile Kitchen
Green Chile Kitchen
The only New Mexico style burrito on the list, Green Chile Kitchen offers eggs and choice of meat, red chile potatoes, pinto beans, and then smothers it in a spicy green or red chile sauce. A big dollop of tangy sour cream is the finishing touch.

Little Chihuahua 
Little Chihuahua's offering is a big gem. When you slice into their thick wet-style breakfast burrito, scrambled eggs, jack cheese, more ranchero salsa, choice of beans, Mexican potatoes, roasted poblano chiles and onions, and choice of meat or mushrooms fight over who gets to ooze out first. This is definitely a fork-and-knife sort of deal, in the best way.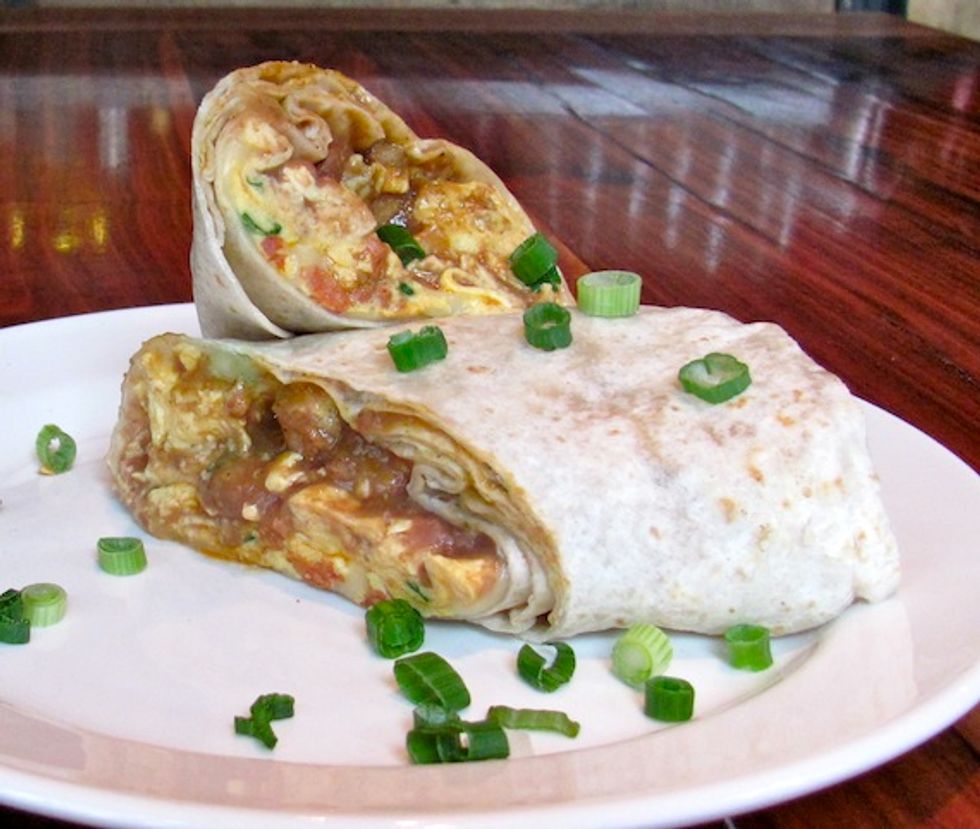 photo courtesy of Ironside

Ironside
Salty chorizo is the winner in this burrito at Ironside in SoMa, and accompanies eggs, silky refried beans, melted jack cheese, thick sliced avocado, and homemade habanero hot sauce and smokey roasted tomato salsa. It is really creamy, and really comforting.



Q
Located on buzzing Clement Street, grabbing a coffee at Blue Danube before breakfast at Q is a fun way to start the day. Q's burrito has scrambled eggs, ranchero salsa, and with grilled strip steak and sharp white cheddar, is the gringo burrito of the group. It's served alongside black beans, homefries, salsa fresca and sour cream.

Bean Bag Cafe
This tiny cafe on Divisadero has great beer craft specials in the evenings and hearty burritos in the mornings. Eggs, cheddar cheese, pico de gallo, avocado, black beans, and chunky smashed potatoes come standard. But the best part? A meat-lover's smorgasbord of options: chicken apple sausage, breakfast sausage, soy chorizo, bacon, ham, or grilled chicken. It's all wrapped and melty in a thick flour tortilla.

Where would you send someone for a breakfast burrito?