Jennifer Tilly's love affair with Bulgari fine jewelry began at a charity auction in 1994, when the actress 
purchased her first piece. Her heart went pitter-patter again in 2002, when a benefit for Elizabeth Taylor's AIDS Foundation brought a number of one-of-a-kind jewelry pieces to auction. It was a heart-shaped ruby pendant from Bulgari that evoked in Tilly a feeling of romance. So she bid on the piece and won.
---
"Afterward someone told me that it was Ms. Taylor's favorite piece and that she was going to bid on it, but Elton John was distracting her," says Tilly, who recalls expecting a call from the legendary Liz. "Well it's her charity auction. If she wants it, I'll have to give it to her," Tilly thought. But she never heard a peep.
With her palate wet for the brand's delicious, candy-colored confections, Tilly began collecting vintage pieces, including a white and yellow diamond brooch once owned by Taylor. On Sept. 21, these gems will be showcased among others in the first American museum exhibition of "The Art of Bulgari: La Dolce Vita and Beyond, 1950-1990," at the de Young Museum.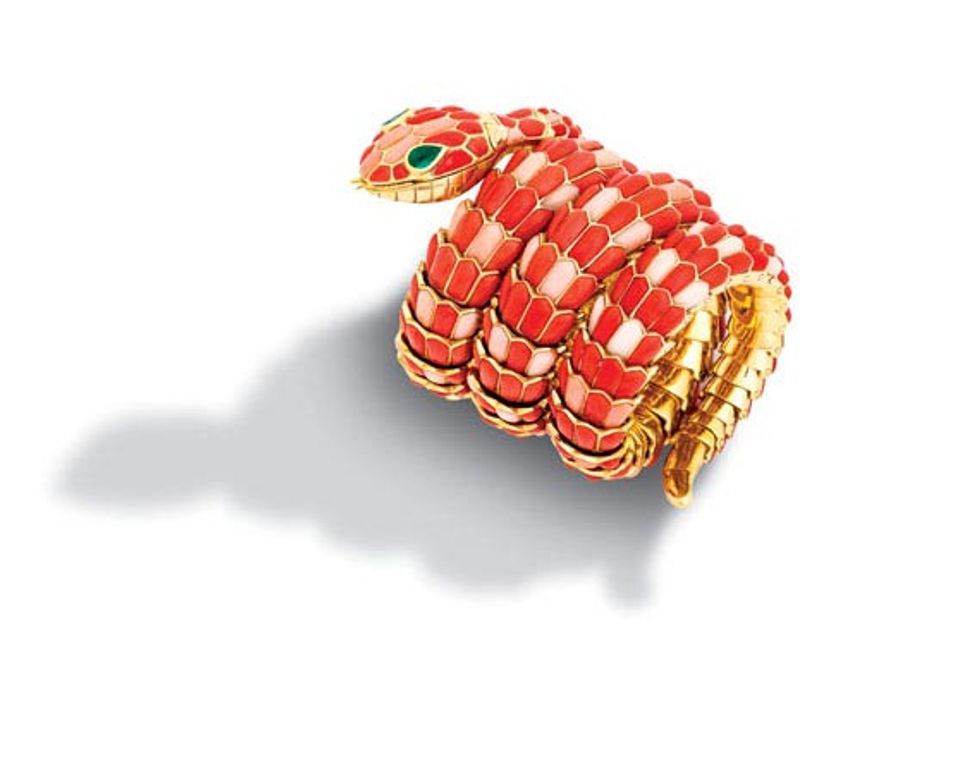 Snake bracelet watch of gold with coral, emeralds, and diamonds, ca. 1965. Private collection. Photo courtesy of Zale Richard Rubins
The show follows the modern legacy of fashionable exhibits presented by the de Young, which has celebrated the designs of Balenciaga, Yves Saint Laurent, Cartier, and more. In each exhibit, the stories of the design houses were told in context of the time period that informed their ascent. Bulgari's moment was midcentury Rome.
Today, the brand is widely accepted to be Italy's preeminent house of fine jewels. "The Art of Bulgari" chronicles its rise, beginning in Rome's golden era of cinema, when New York heiresses and Hollywood sirens flocked to its boutique on the tony Via dei Condotti. Dating back to 1884, Bulgari once specialized in traditional French design. But by the mid-20th 
century, the house had at last come into its signature style—layering bold, colorful precious cabochon stones in platinum and white gold.
"This time period marked a turning point in Bulgari, when Rome sparked great interest in fashion and jewelry worldwide," says Amanda Triossi, a jewelry historian who helped curate the exhibit. "It was a moment of change from all points of view. It was post-war 1950s prosperity and the beginning of 'made in Italy' design—it was an interesting place to be."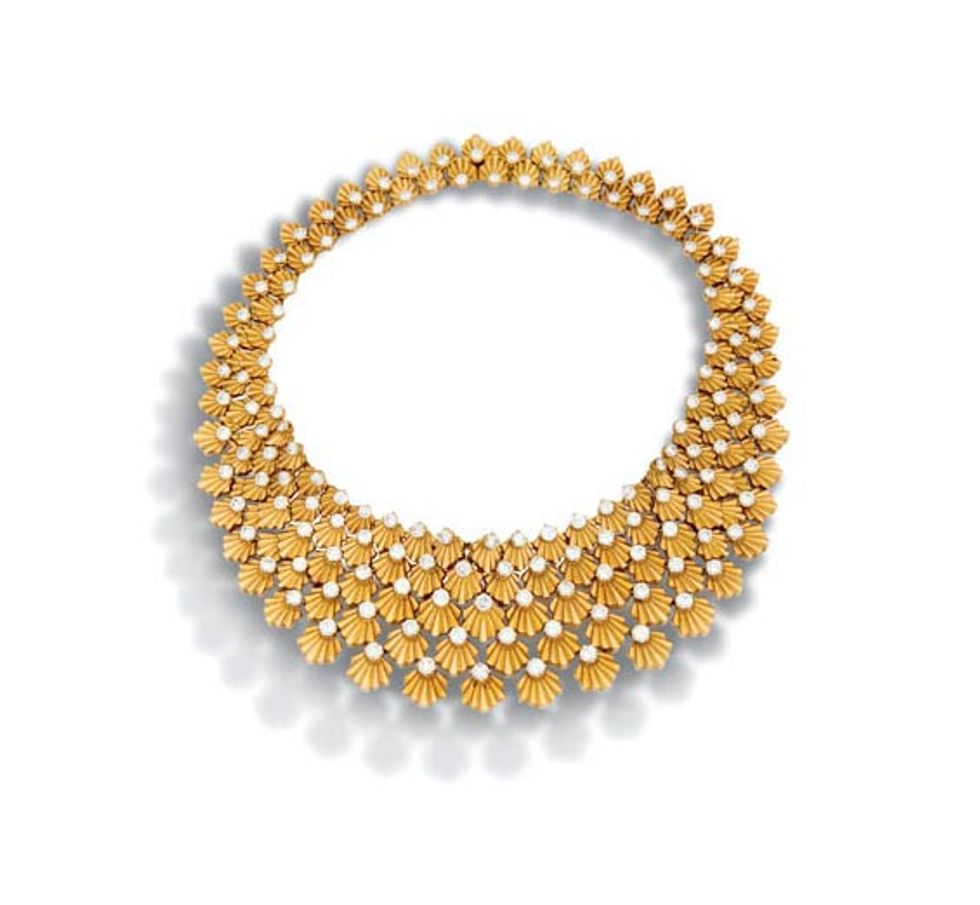 Parure necklace of gold and platinum with diamonds, 1954-1958. Private collection. Photo courtesy of Zale Richard Rubins
The exhibit includes jewels never seen before in the United States, highlighting those owned by glamorous Dolce Vita-era movie stars such as Sophia Loren and Ingrid Bergman. Also on view is an iconic suite once owned by Lyn Revson (wife of Revlon founder Charles Revson). Her bib necklace and matching earrings—an unusual mix of emerald, amethyst, and turquoise cabochons surrounded by diamonds—"epitomizes Bulgari style, which relies on interesting color combinations, with a soft, rounded effect," says Triossi. "This is very much in line with the Italian approach to both jewelry and fashion—an air of casual formality."
But the retrospective's crown jewel is the eight-piece collection once owned by Taylor, who famously wore 
Bulgari on-screen and off. "The only word Elizabeth knows in Italian is Bulgari," Richard Burton once said of his 
second (and third) wife. Indeed, Taylor's husbands—
Burton, as well as Eddie Fisher—often spoiled her with significant jewels from the house. Among them is a yellow diamond tremblant brooch, a gift from Fisher on Taylor's 30th birthday in 1962. With intricate mounting work, the diamonds appear to tremble when the wearer moves. There is also an emerald and diamond necklace—a gift from Burton in 1964—that features 16 step-cut octagonal Colombian emeralds, each surrounded by brilliant- and pear-cut diamonds.
Much like the ever-changing worlds of fashion and art, Bulgari kept ahead of the trends through the provocative 1970s. Exhibit highlights from this decade include the pop art–inspired Star-Spangled Banner collection, which Cher famously donned for a photo shoot to commemorate the opening of Bulgari's first U.S. boutique. The '70s also saw a more youthful, hip aesthetic as a new generation of the family took leadership at Bulgari. "This was a time of breaking with tradition in all arts, as well as in jewelry," says Triossi. "Bulgari wanted to do something new. This is when the brand created prêt-à-porter jewelry and began to grow worldwide."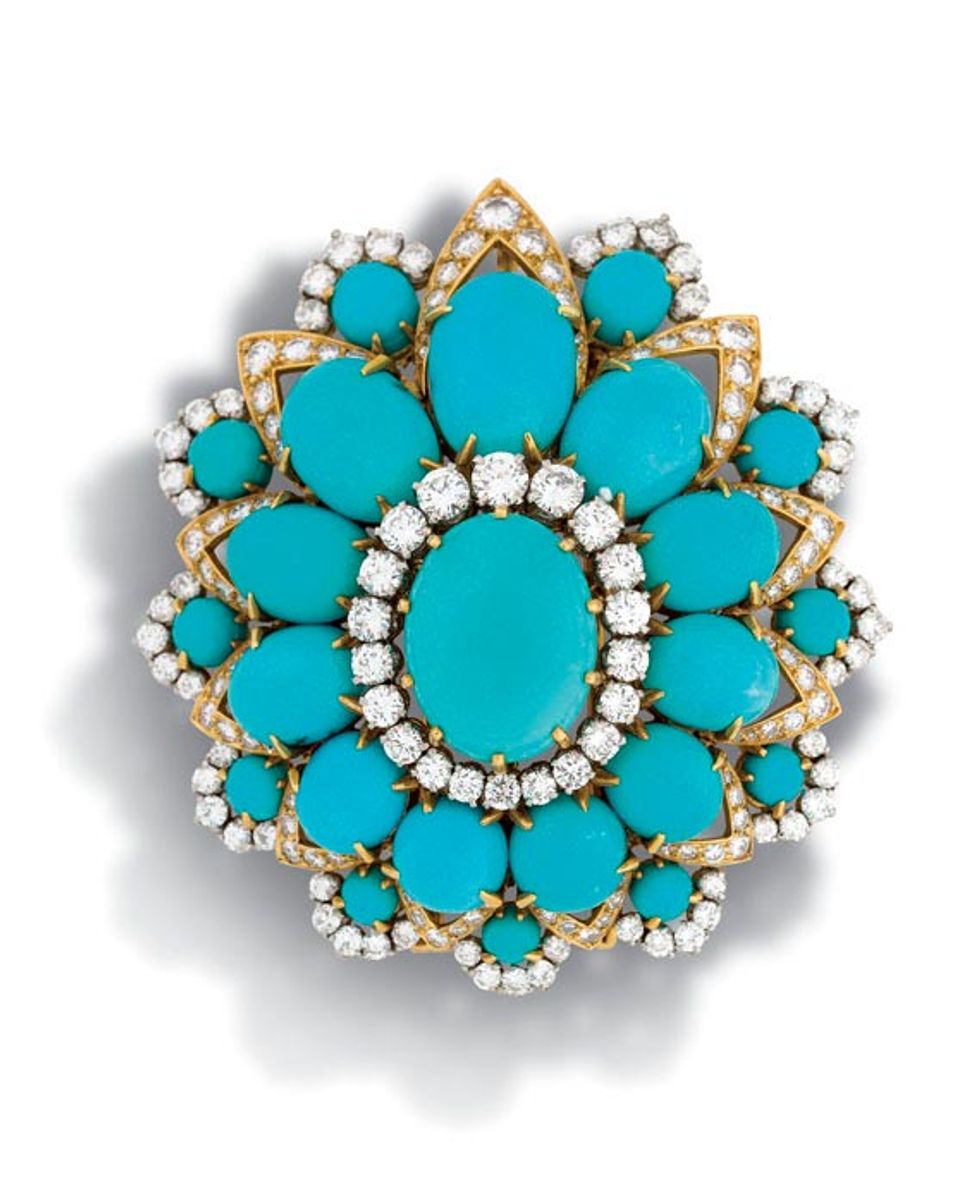 Brooch of platinum with turquoise and diamonds, ca. 1969. Collection of Jennifer Tilly. Photo courtesy of Zale Richard Rubins
As women opted for blue jeans over ball gowns, ready-to-wear jewelry was in demand at both the fine and costume level. Women eschewed formal designs by stuffy French jewelry houses in favor of bold pieces they could wear in the evening and during the day. In response, 
Bulgari created modern works that mixed important gems with less valuable materials such as yellow gold, which, once reserved for daytime jewelry, became popular for even the most prestigious pieces, now to be worn informally. It was also during this time that coins became frequent centerpieces in Bulgari jewels, laying the foundation for what would later become the Monete collection. "These motifs harken back to the Italian Renaissance and achieve an identity with the brand's Roman roots," says Martin Chapman, curator of European decorative arts and sculpture at the Fine Arts Museums of San Francisco.
"The Art of Bulgari" leaves off in the 1980s, when Bulgari became an internationally celebrated label thanks to its bold neckpieces, embrace of color-on-color, and increased use of yellow gold—all of which perfectly matched the fashions of the decade. Created in 1982, 
Bulgari's Parentesi collection would become one of its most successful to date, characterized by an almost architectural motif reminiscent of parentheses. The line became an iconic status symbol during this period and continues to be one of the most copied jewelry designs of all time.
As for Tilly, she looks forward to seeing her pieces take their place in Bulgari's comprehensive history. Chapman says they surely will, and Tilly herself will become part of the legacy, which was born of the screen starlets who came before her and greatly fostered by Taylor herself. "Where Bulgari came from, the great moments it had, and the characters involved," he says, "that's when the story becomes more than just about jewelry. It gives the jewels a life and a moment in history."
This article was published in 7x7's September issue. Click here to subscribe.