Days-old, thirsty bread, soaks up its custard bath until sizzling butter sears it to browned perfection. Cut into the crisped crust, and your knife gives way to a soft, pudding-like interior. One bite, and savory egg meets a drizzle of sweet, rich maple syrup. French toast is just one of those dishes that is comforting and all-around satisfying. But, when runny poached eggs, creamy hollandaise, and tender braised meats dance around your brunch menu, it is very rarely ordered. French toast has become somewhat of an underdog in the brunch game. So to inspire some pain perdu loyalty and support, here is a roundup of eight fabulous renditions that will out-order even the runniest of yolks. 
---
Wise Son's Evan Bloom and Leo Beckerman take the cake on house-made Challah. Once soaked in custard, they sear it on all sides and finish it with tangy orange butter and maple syrup at their new brick-and-mortar on 24th. Keep your eyes peeled, because they're thinking of bringing back the popular chocolate Babka French toast with crème fraîche and nectarines, a relic from their pop-up days, on special occasions. 
The reason for an hour and a half wait at Brenda's could be their Banana's Foster French toast, a crowd pleaser that frequents their specials menu. A generous serving of cinnamon-battered brioche is pan-fried, smothered in chunks of caramelized bananas, and served swimming in a rum butter bath. 
Foreign Cinema's baguette French toast is a constant on their menu, but the compote changes frequently. One with tart huckleberry preserves and lemon syrup was perfectly bright and not overly sweet. Or another take, with fragrant raisins and fresh peaches, is floral and delicate. Crusty baguette gives an interesting texture with just enough chew. Even the runniest of egg dishes ordered alongside bowed to this pain perdu.
You might want to unbutton your pants for this one: the "big hip" at Sweet Maple is deep fried French toast. Browned and crisped to perfection, for being submerged in deep fat, it is surprisingly low on grease. You can get it smothered in yogurt and fresh berries, but why not go full-fried and top it with fried bananas and whipped maple butter.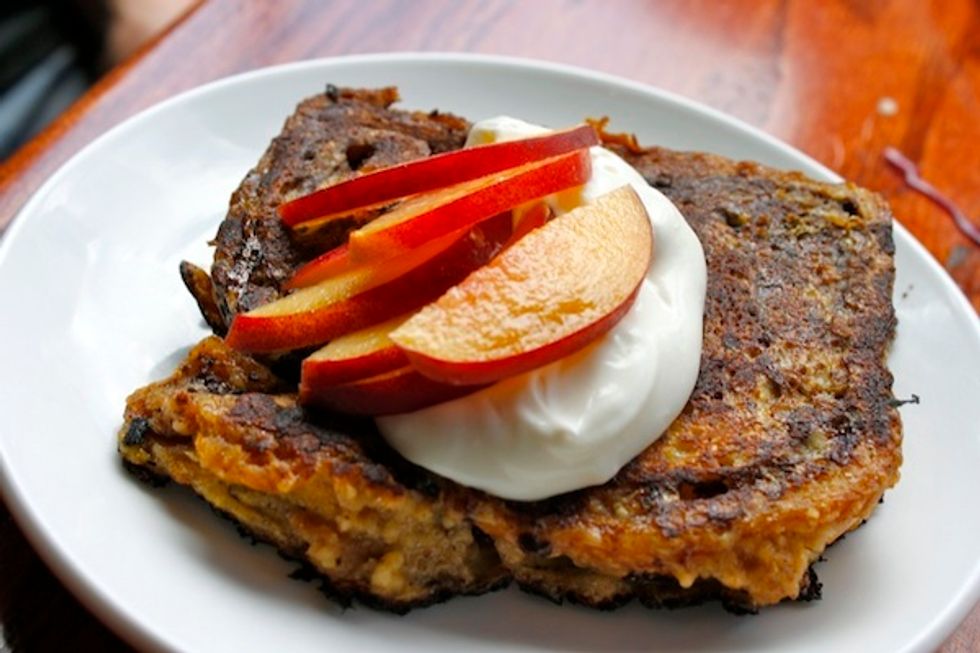 Babka French toast from Wise Son's 
Axis Cafe serves a mean almond brioche French toast. Once battered, they coat brioche in shaved almonds and pan-fry it into a spotted, flaky crust. It's then finished with tangy vanilla bean cream cheese, a bright citrus compote, and the requisite drizzle of Vermont syrup. 
Leave it up to Straw to turn your breakfast into a game, where French toast sticks are stacked like a giant Jenga tower. Who said we're too old to play with our food at the table? Each bite of this game at breakfast feels like winning. 
Two extra thick inches of buttery brioche toast is topped in an ever-changing compote (currently cherry-apple), with rich honey marscapone that melts into a bourbon syrup pool on your plate. 
Zazie's thick-cut challah is dunked in egg, seared, and stuffed with a oozing layer of caramelized banana and walnuts. Drizzled in maple syrup, it is as decadent as it sounds, but is the perfect sweet treat for the table to split. 
Who would you add to our French toast list?