There's a new face plastered around San Francisco, and it isn't Cindy Sherman's. In fact, it isn't anybody's (although if you guessed Scarlett Johansson, you're on the right track). Johannes Vermeer's "Girl with a Pearl Earring," contrary to Tracy Chevalier's Hollywood-adapted book by this title, which links the painting to a fictionalized chambermaid, is actually a tronie – an imagined, idealized portrait of every woman and no woman. It is stunning.
---
"Girl with a Pearl Earring" comes along with just over thirty other 16th-century Dutch works on loan from the Mauritshuis in The Hague. This marks another instance of the Fine Arts Museums of San Francisco harboring European masterpieces, while their home institutions undergo renovation. First we had the Impressionists from D'Orsay, then royal treasures from the Louvre (and more to come from there). Dutch Paintings from the Mauritshuis, a relatively small show, may pale in comparison to the Impressionist inundations that came before it, but nevertheless it brings a number of real gems to our shores, and that is nothing to snub.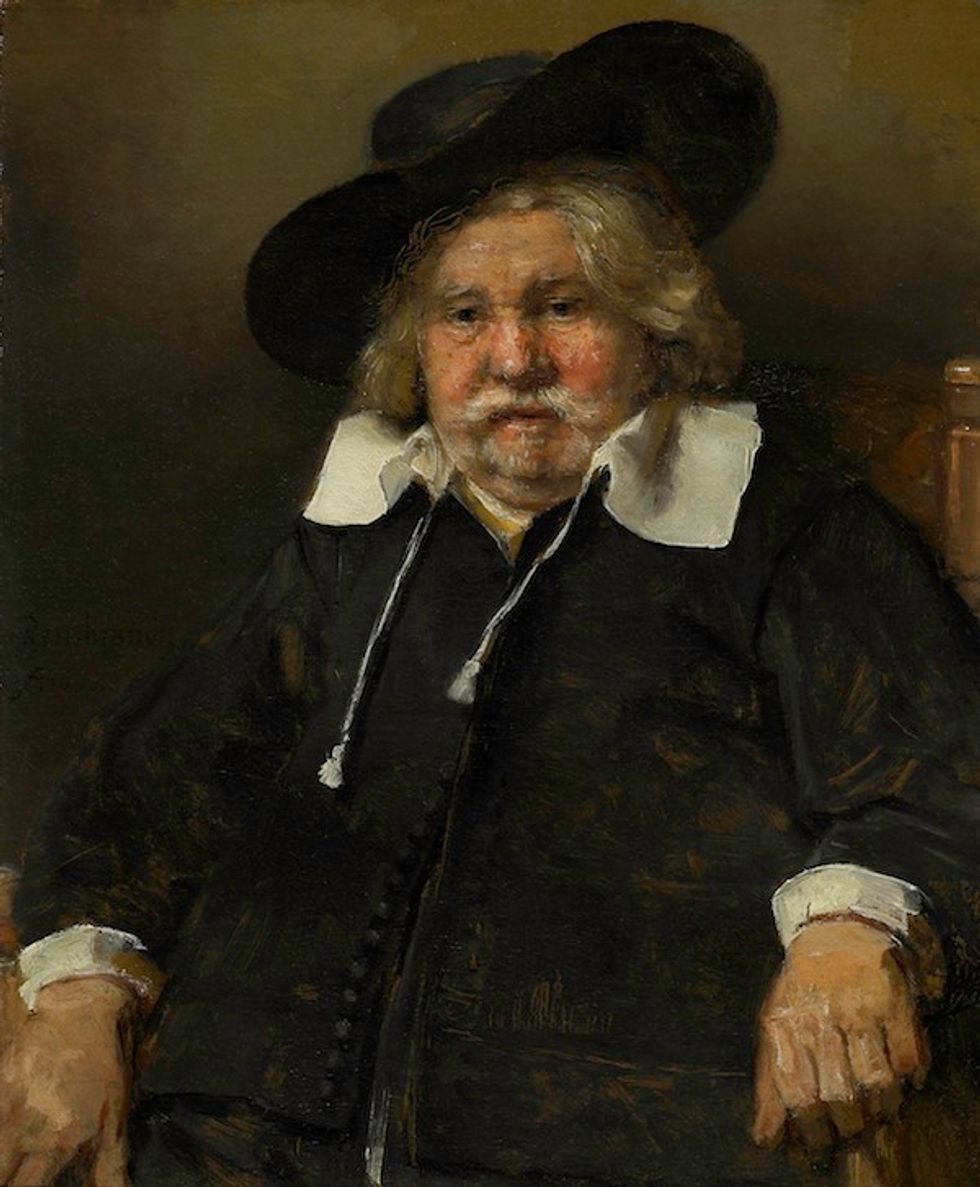 The exhibition is divided into four parts: 1) Landscapes, the best of which devote more than half of their canvas space to the Netherlands' striking grey skies – a source of sublime gloom that puts San Francisco's foggy cover to shame; 2) highly symbolic still-lifes that, in true Dutch fashion, indulge in sensory pleasures (usually floral bouquets) only to then guiltily obsess over morality and mortality (as conveyed through skulls, timepieces, bugs, wilted flowers and the like); 3) Portraiture, including a number of tronies and virtuosic self portraits by Rembrandt as a young and an old man; 4) Genre painting–bizarre, grotesque, pervasively moralizing depictions of "everyday" peasant scenes (sloppy drinking and music-making, for the most part), produced for the amusement of the patronizing class.
Then there is "Girl with a Pearl Earring", hung in a room all to itself. Make no mistake: The bus ads do not do her justice. Vermeer's eyebrow-less beauty, beyond being a masterful work of composition and color, manages to attain an aura that few other works can claim. Indeed, only the "Mona Lisa" comes to mind. With its striking figure turning to gaze back at the viewer, her lips slightly parted, the painting thrusts the viewer into a state of bristling communion with the girl. One is sure that she is on the cusp of speaking to you. 
To say that Chevalier drew an entire novel from this one look is to understate its intrigue. That is but a skim off the top of what those eyes have to offer.
Girl with a Pearl Earring: Dutch Paintings from the Mauritshuis runs through June 2 at the De Young Museum, 50 Hagiwara Tea Garden Drive