When a man invites you to share a couple samosas before revealing the details of a new top-secret retail concept, you oblige. After all, finding him and this place was no easy task. It took a circuitous path of contacts offering only vague descriptions of a gallery slash boutique slash workshop slash design incubator slash event space slash food truck lot. And so it was, over Indian food, that Bob Wilms finally began to shed light on the obscure amalgam that his team is calling The NWBLK (that is, "the new black," OBV).

The reality of the concept by interior designer and creative director Steven Miller—the effervescent son of an inventor—does indeed fit all the descriptions. Housed in a 6,000 square-foot warehouse with adjacent artist studios and a lot for food trucks (called Mission Dispatch), The NWBLK takes up a corner of Bryant Street on the same Mission turf where Heath Ceramics recently opened its new factory-cafe-showroom. "It means a great deal to me to be an innovator," says Miller, who counts several notable Bay Area projects, including Berkeley's Hotel Durant, in his growing oeuvre.

For their part in this burgeoning community, Miller and his partners—development director Wilms and production director David Fredrickson (the founder of Figureplant)—have cultivated a rare space dedicated to "applied arts" (an umbrella term for beautiful and useful products, from fashion to furniture). "I wanted to see if there was a more novel way of pulling [artists] together and give them a new home," Miller says.




---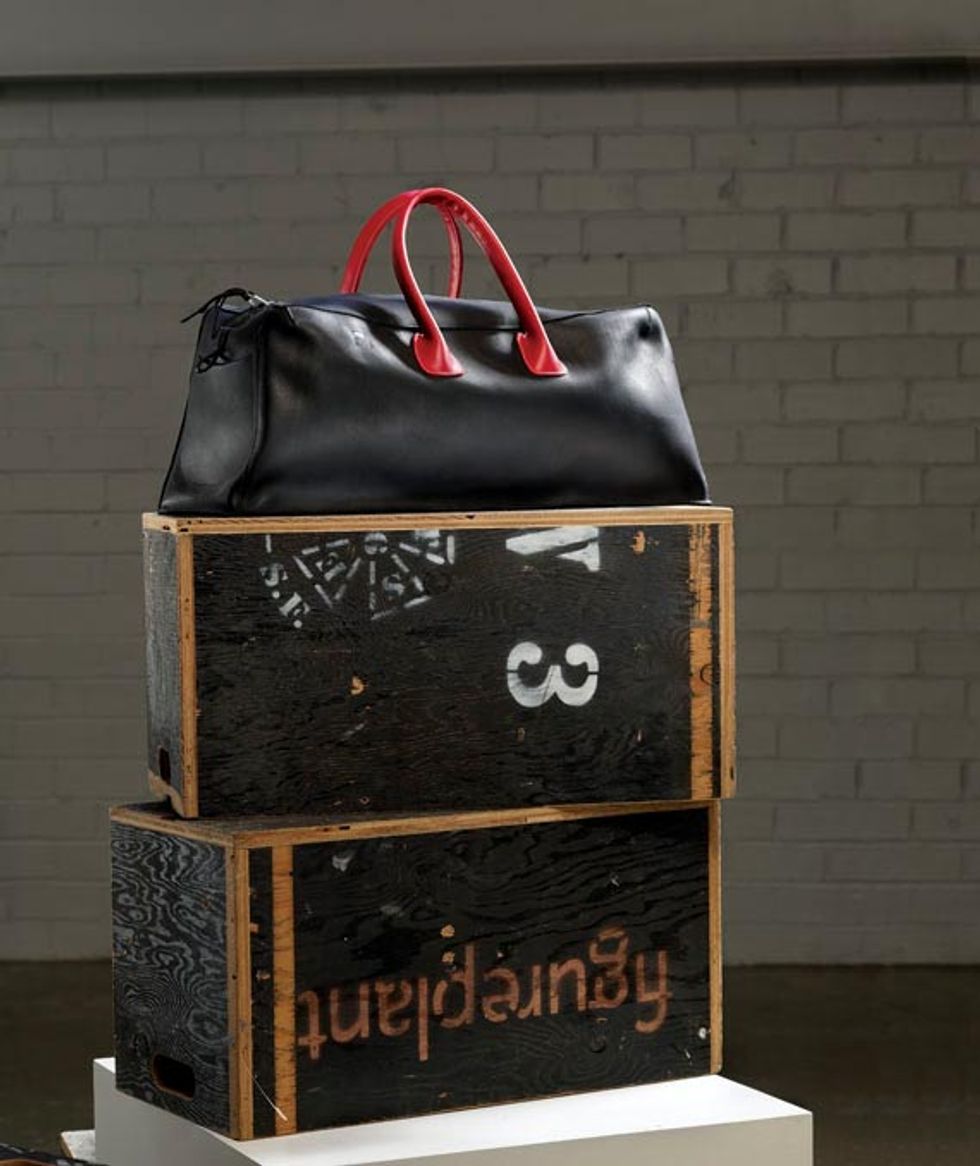 Emeryville-based designer Basil Racuk's line of bags for The NWBLK includes a tote designed for founder Steven Miller as well as The Weekender ($1,488, shown here) in a custom red-and-black color scheme.

To that end, the team partnered with local and international craftsmen whose pieces adhere to a certain level of quality, aesthetic innovation, and complexity of process; and they all have pretty great backstories. Take, for example, the Timber table conceived of by New York-based industrial designers Brad Ascalon and Frederick McSwain, who both grew up in wooded areas. Carved from a single aluminum slab with wooden legs poking through the top, the table represents once rural lands that were leveled to build strip malls. It's "as if nature is taking it back," says Ascalon.

The narrative is part of The NWBLK's credo to present products in the context of their creators. Ditto the emphasis on exclusivity: This is the only place on the West Coast where you can shop hand-sculpted lighting by Australian designer Christopher Boots, and it is the third retailer in the world to carry Emeryville-based Basil Racuk's exquisite leather goods ("I'm an artist, so I'm very picky about where I sell my bags," says Racuk). Additionally, Ascalon is working directly with Miller and Wilms (a former sales director at antique dealer Coup D'Etat) on The NWBLK's furniture collection, to be manufactured and sold in-house come spring.

With production and retail cohabiting here, The NWBLK has potential to usher in an era of small-batch, high-impact manufacturing in San Francisco. Under one roof, communal workspaces and talent-mentoring mean to aid independent craftsmen with every aspect of their business—from consulting to product development and marketing. There is even an on-site modeling agency primed for photo shoots. "It seems like a basic idea, and yet no one is doing it," says Miller.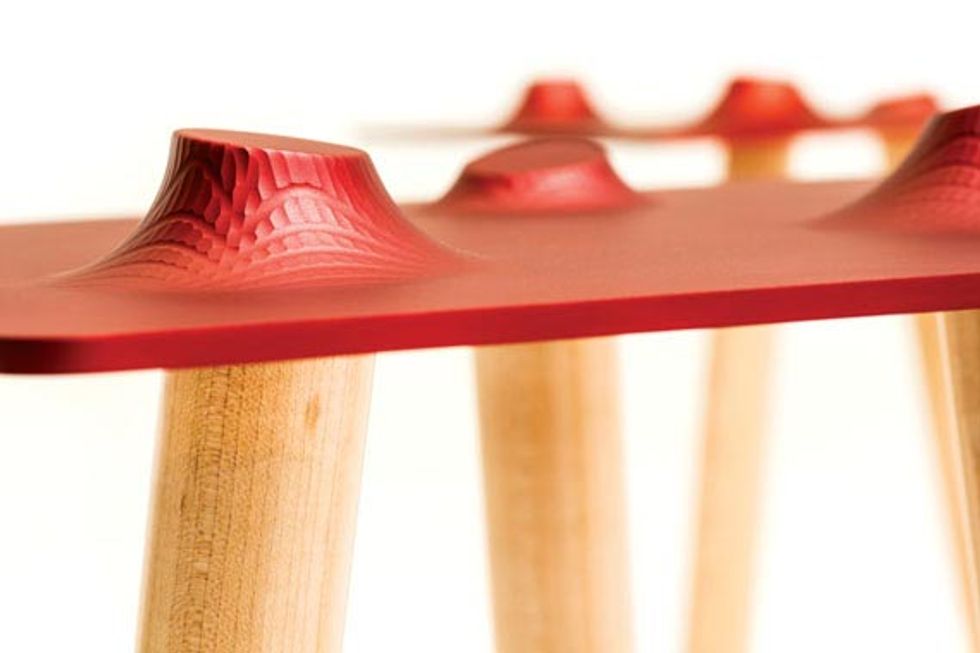 "Craft and technology go hand in hand," says Brad Ascalon, whose line of furnishings—in collaboration with Frederick McSwain—includes this Timber table ($2,100), made of anodized aluminum and wood.

Among The NWBLK's prominent collaborators are Mark Rogero of ConcreteWorks, the award-winning studio that fabricated the feat-of-physics benches at Bar Agricole (Rogero is also producing special-edition furniture for The NWBLK), and commercial photographer David Martinez (Levi's and Sony are clients). The result is a hub for makers who are inspired by and inclined to help each other toward common goals: "In a sense, they're reinventing collaboration. San Francisco needs this—there aren't many places to cross-pollinate for people truly making things," says Ian Hannula, designer and cofounder of N.I.C.E. Collective, an SF-based fashion label launched in 1997.

While N.I.C.E. Collective's System leather jacket is made elsewhere, its innovative display here is emblematic of The NWBLK's vision for its showroom floor. The jacket's production is delineated, from sketch to materialization, along a low table. On a pedestal just beyond, the bomber plays a part in a head-to-toe look whose individual pieces—scarf, shirt, pants, and boots—are also all for sale. "It's a long journey from idea to fruition. We're showing the actual process visualized," says Hannula. And so the retail floor becomes akin to museum gallery; its products elevated to collectibles. This perspective is echoed in every part of the business—even the parking lot.

With a conveniently large lot between the warehouse and studio spaces, the group saw an opportunity to host neighbors and creative conspirators for daily lunch. Depending on the day, crowds can be found sampling from Seoul on Wheels, Bacon Bacon, or Kasa Indian, staying to dine and converse at picnic tables. "The more you can bring community into the equation, the offering becomes more compelling," says Wilms. "It generates magnanimity and puts a stronger foot forward." Plus, if you can't afford that bomber jacket, you can at least get a mean samosa.






This article was published in 7x7's November issue. Click here to subscribe.