Yesterday, during an interview, a reporter asked me how many miles of streets there are in San Francisco.
---
"1088 miles," I answered.
(and of those 1,088 miles, a few hundred will be closed this weekend for the Nike Women's Marathon. See map for details):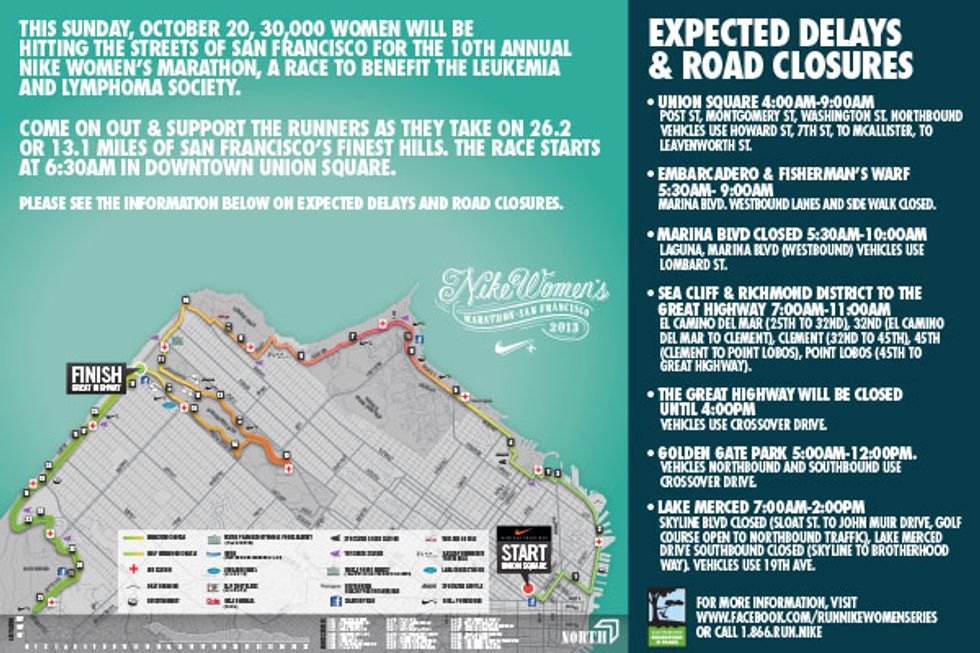 "What's the widest Street?"
"Junipero Serra Boulevard of course at 254 feet and the narrowest is De Forest Way at four and a half feet,"
It quickly turned into a rapid fire Jeopardy Q&A format.
"What's the oldest street?"
"What is Grant Ave? 1865."
"How long is the Golden Gate Bridge?"
"1.7 miles…and the length of the Bay Bridge is 8.4 miles, there are 8.8 miles of cable car track, 7.5 miles of waterfront, 65 miles of park streets, and 29.5 miles of shoreline."         
He seemed satisfied with my answers and the interview was over. But being the curious sort (and wanting to be prepared, just in case he called me with some follow up questions), I researched some facts about San Francisco that I didn't know, such as the official musical instrument of SF, and the precise formula for the paint on the Golden Gate Bridge. I now present you with that list of lesser-known interesting facts about San Francisco: 
Speed of cable cars                                                                       
9.5 mph
Total number of visitors to San Francisco Last Year
16.35 million
Number of foghorns around the San Francisco Bay               
32
Average number of vehicles crossing the Bay Bridge yearly          
43,281,525                                                                                                                                                                                           
Average number of vehicles crossing the Golden Gate Bridge yearly        
40,191,124
Number of years to construct the Golden Gate Bridge          
4 years
Color Formula for the Paint on the Golden Gate Bridge
CMYK colors are: C= Cyan: 0%, M =Magenta: 69%, Y =Yellow: 100%, K = Black: 6%.
Highest Point in SF:                                                                        
Mt. Davidson 938 feet
Tallest Structures              
Sutro Tower is the tallest structure at 981 feet
The Transamerica Pyramid is the tallest building at 853 feet
Oldest Structure
Mission Dolores  (Aug. 2, 1791)
Number of High Rises (eight stories and above)                    
505
Official Flower                                                                                             
Dahlia
Official Birds                                                                                    
The Mythical Phoenix Rising, California Quail, (and a case can be made for the Western Gull)
Number of Hills       
There are 43 hills within San Francisco, major ones are: Twin Peaks (910' and 903'), Nob (376'), Russian (294') and Telegraph (248')
Geology        
San Francisco, for the most part, rests on a foundation of sandstone, shale and volcanic rock. Large deposits of serpentine, official rock of California, are located in the Presidio.
Official Song
"San Francisco"                                  
Official Ballad
"I Left My Heart in San Francisco" 
Official Musical Instrument
The accordion
Official Motto                       
Oro en paz, Fierro en guerra (Gold in peace, Iron in War)
Feel free to add to the list in the comment! (official and unofficial facts accepted)!
David LaBua is the author of Finding the Sweet Spot, Founder of VoicePark, the world's first turn-by-turn voice-guided mobile  parking app, and a leader in the sustainable urban mobility movement.