While most San Franciscans have learned to love gloomy, fog-filled summers and Patagonia fleece year-round, when these rare summer days hit, we all call in sick and head for Dolores Park in droves. Yes it's crowded and you've been there done that, but the heat waves are short-lived; this is about roséing all day as efficiently as possible.
But next time the mercury spikes, you could be ready with a fresh plan: Here are some awesome alternatives to the usuals for sunny days in SF.
---
Instead of getting Bi-Rite ice cream at Dolores Park...
Try: Mitchell's Ice Cream on Bernal Hill
Finding an unoccupied patch of grass in Dolores Park on a hot day is quite the endeavor. By the time you find a spot, that Bi-Rite cone you waited an hour for is already completed melted—or eaten. Instead, grab a scoop of fresh purple yam or avocado ice cream at beloved SF establishment Mitchell's Ice Cream (688 San Jose Ave.) and make the trek up to Bernal Hill (Bernal Heights Blvd.) for unparalleled, 360 degree views of the city on a fog-free day, and significantly less of a crowd.
Instead of laying out at Crissy Field...
Try: Lands End & China Beach
When the sun comes out, a walk around the Crissy Field lagoon guarantees that you'll use more energy bike- and stroller-dodging than appreciating the view, and finding enough space to lay out your towel on the beach is far from easy. For arguably better views of the bridge, and (slightly) fewer people, go for a coastal hike at nearby Lands End. Begin at the Lands End Lookout, midway through the trail descend the stairs to the hidden Mile Rock Beach, and end at Eagles Point. Then, make the couple block trek through Sea Cliff to China Beach (340 Sea Cliff Ave.), and reward yourself with a dip in the Pacific and nap on the sand.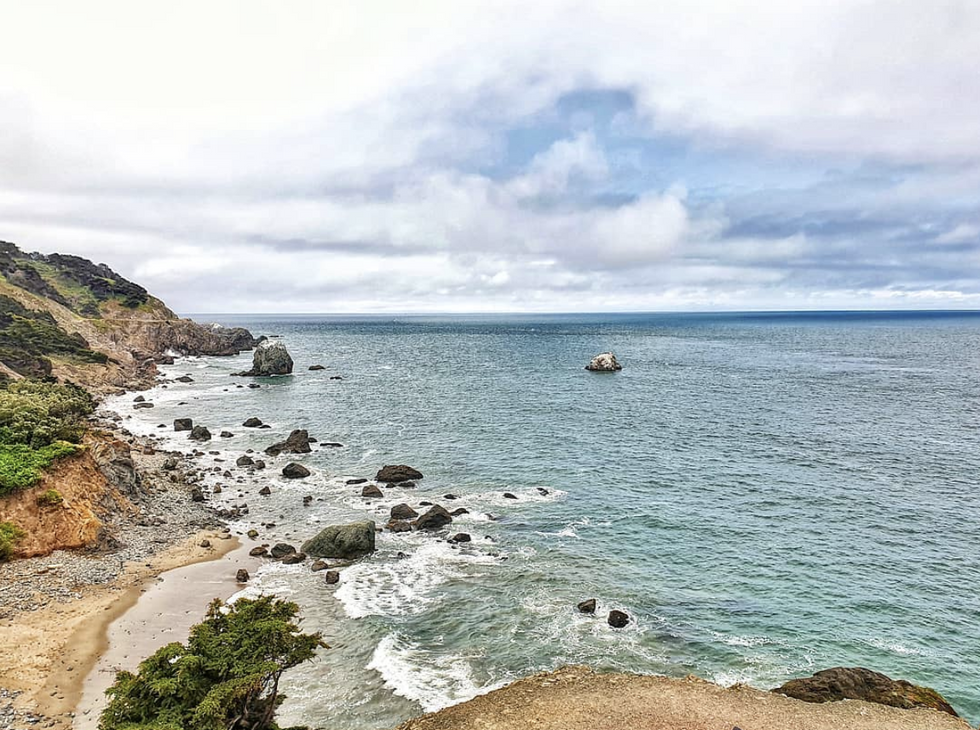 The view from Lands EndCourtesy of @_cherylbelle_
Instead of taking the ferry just to get out on the water...

Try: Boating on Stow Lake
Sure, you could be scrambling to get a seat on the viewing deck of the ferry with all the tourists—and more locals than you'd expect—or you could be board your own private boat at the Stow Lake Boathouse (50 Stow Lake Dr. E). Round up a couple friends and rent a pedal or row boat for a peaceful afternoon exploring Golden Gate Park's shady Stow Lake and Huntington Falls—you just might forget you're in the middle of the city. Pro tip: Bring ingredients for a summery spread and follow up your ride with low-key picnic in the park.
Instead of waiting for brunch on the patio...
Try: Taking your breakfast to a public parklet
Brunching outside on a hot day is ideal. The wait, not so much. Instead of spending your whole day waiting for a coveted patio table at Zazie or Outerlands, opt for a delectable breakfast on the go, paired with people watching. Head over to Arizmendi Bakery's (1268 Valencia St.) Mission outpost for reasonably priced, freshly baked scones, muffins, and veggie-topped pizza best enjoyed from a perch on the bustling parklet in front, or scarf down a homemade egg and applewood bacon stuffed buttermilk biscuit at the popular Devil's Teeth Baking Company's (3876 Noriega St.) parklet before spending the day at Ocean Beach.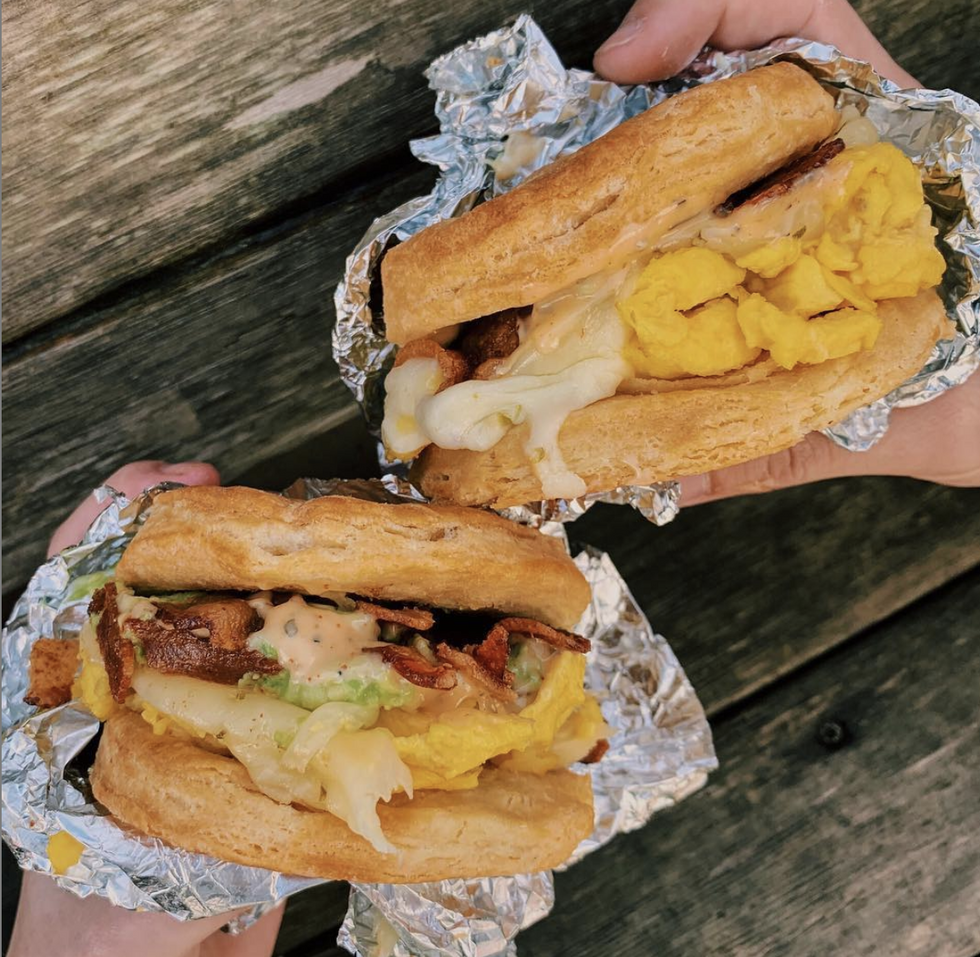 Devour a biscuit in the public parklet outside Devil's Teeth Baking CompanyCourtesy of @babubites
Instead of swimming upstream at the Ferry Building Marketplace...

Try: Shopping a neighborhood farmers market
There's nothing better than grazing at a market on a sunny day. Skip the crowds at the Ferry Building (go on a foggy day instead), and stop by one of SF's many outdoor farmers markets, offered five days a week in 'hoods throughout the city. Grab an assortment of summer fruit and veggies, nuts, fresh juice, pastries, and more, and head to one of SF's 153 public parks to enjoy your goodies and soak up the sun.
Instead of boozing it up at bars in the Marina or Mission...
Try: Rooftop Bars in SoMA
On a hot day, the many watering holes on Chestnut, Union, and Valencia will be even more packed than usual. While you're still sure to find crowds, give SoMa's assortment of bars with panoramic views a shot. Stop by Everdene (250 4th St.), the newly opened Virgin Hotel's hip, 12th story rooftop bar, or quench your thirst with a frozen, spicy passionfruit margarita at Rooftop 25 (25 Lusk St.), situated above 25 Lusk.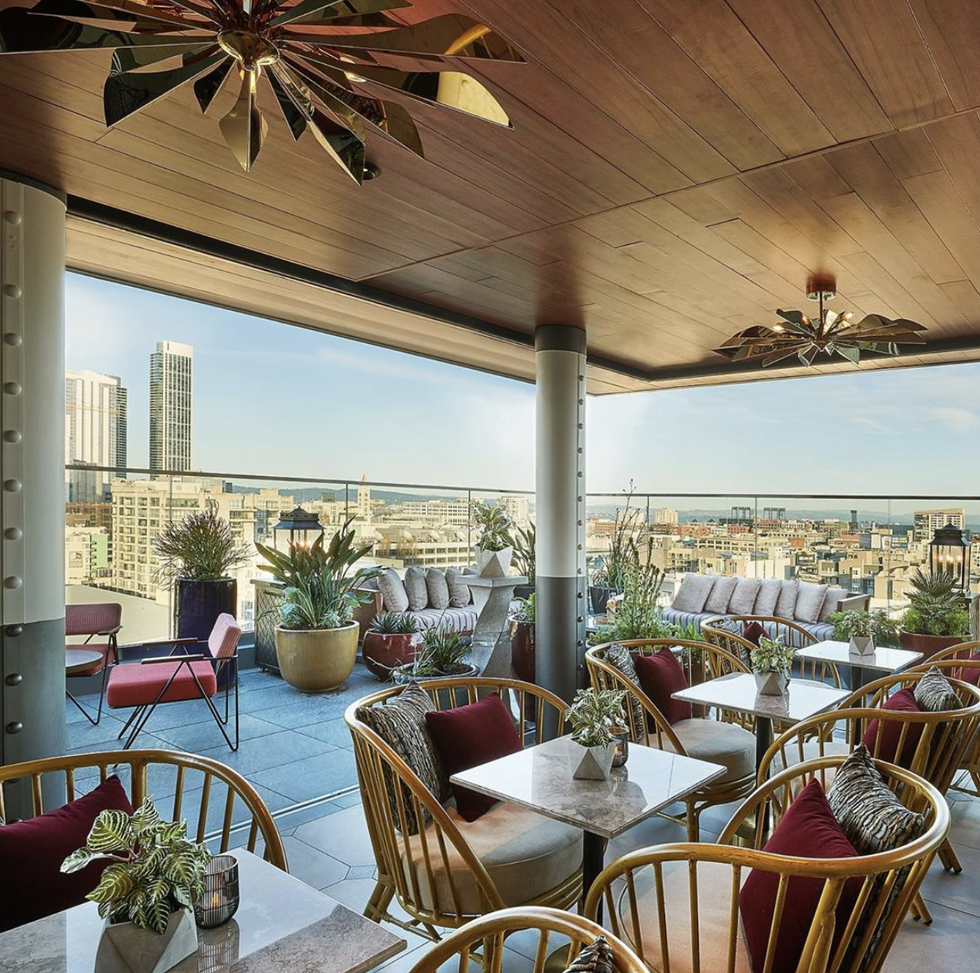 Newly opened Everdene offers views of the city and cocktailsCourtesy of @virginhotelssf
Instead of seeking the views from Twin Peaks...

Try: Views from Mount Sutro Forest
While enjoying the views from Twin Peaks sans fog is tempting, avoid the increase in tourists and locals hoping for a rare glimpse of the city and go for a walk in the nearby secluded Mount Sutro Forest instead. Despite the picturesque tree-framed views and shade, even on warm days the twisting trails rarely have more than a couple visitors. Start your walk behind UCSF, and enjoy the sounds and smell of nature in the city as you begin your trek up the hill.