Waikiki Beach may have its strengths—cerulean skies, crystal waters, white sand—but you don't get much world-traveler cred back in SF for it. That's too bad, because not only is it one of the most gorgeous destinations on the planet, but it's also been getting a facelift, resort by resort, over the past decade.
---

Case in Point: The Royal Hawaiian, the 83-year old "Pink Palace of the Pacific." Its salmon-hued exterior and sprawling Spanish-Moorish architecture is intact, but the grand, open-air lobby is new, and the guest rooms have been refurbished in a kind of glam colonial style. Pink umbrellas still line its beachfront and small, round pool, a perfect place to relax with a book and a cocktail. If you want a larger, more festive setting, head to the pool shared with the Royal's next-door neighbor, the Sheraton Waikiki. Although the Sheraton still looks like a beige high-rise from the outside, its recent midcentury makeover has rendered it practically groovy. Plan to toast the sunset at its beach-level bar, Rum Fire, where you can sip a mai tai while gazing at Diamond Head.


Many dinner options revolve around Oahu's abundant seafood. Azure, the Royal's new, airy, Hollywood Regency-themed restaurant, features whatever chef Jon Matsubara fetches from the Honolulu fish auction each morning. If they've got it, try the moi, a native fish so delicious, it was historically reserved for the Hawaiian royalty. For an equally tempting but much more casual experience, head downtown to Side Street Inn, where you can dip into Hawaiian comfort food like Korean-style short ribs, pan-fried pork chops, and Manila clams with Portuguese sausage and peppers, and wash it all back with cold beer. Sushi is a good choice in sea-centric Oahu. At low-lit lounge Doraku Sushi, they offer the works: A wide selection of sake, a long list of strong, cold cocktails, and a selection of toro, uni, and unagi—plus some Kobe—that leaves one feeling heady and happy.

Activity-wise, you could spend an entire week simply frolicking in Oahu's clear-to-the-bottom, 80-degree waters, and the cost would be worth it. Should you require more, your choices will out-number your hours. Surfing, snorkeling, diving, and kayaking outfits abound, but if you want to try the island's latest sport, enlist Hans Hedemann Surf School for stand-up paddleboard lessons in Kahuku on the North Shore, about an hour's drive from Waikiki. Easier than surfing but more difficult than snorkeling or diving, paddleboarding provides a nice workout and smooth pace (hint: bend your knees slightly, remember to breathe, and look ahead, not down).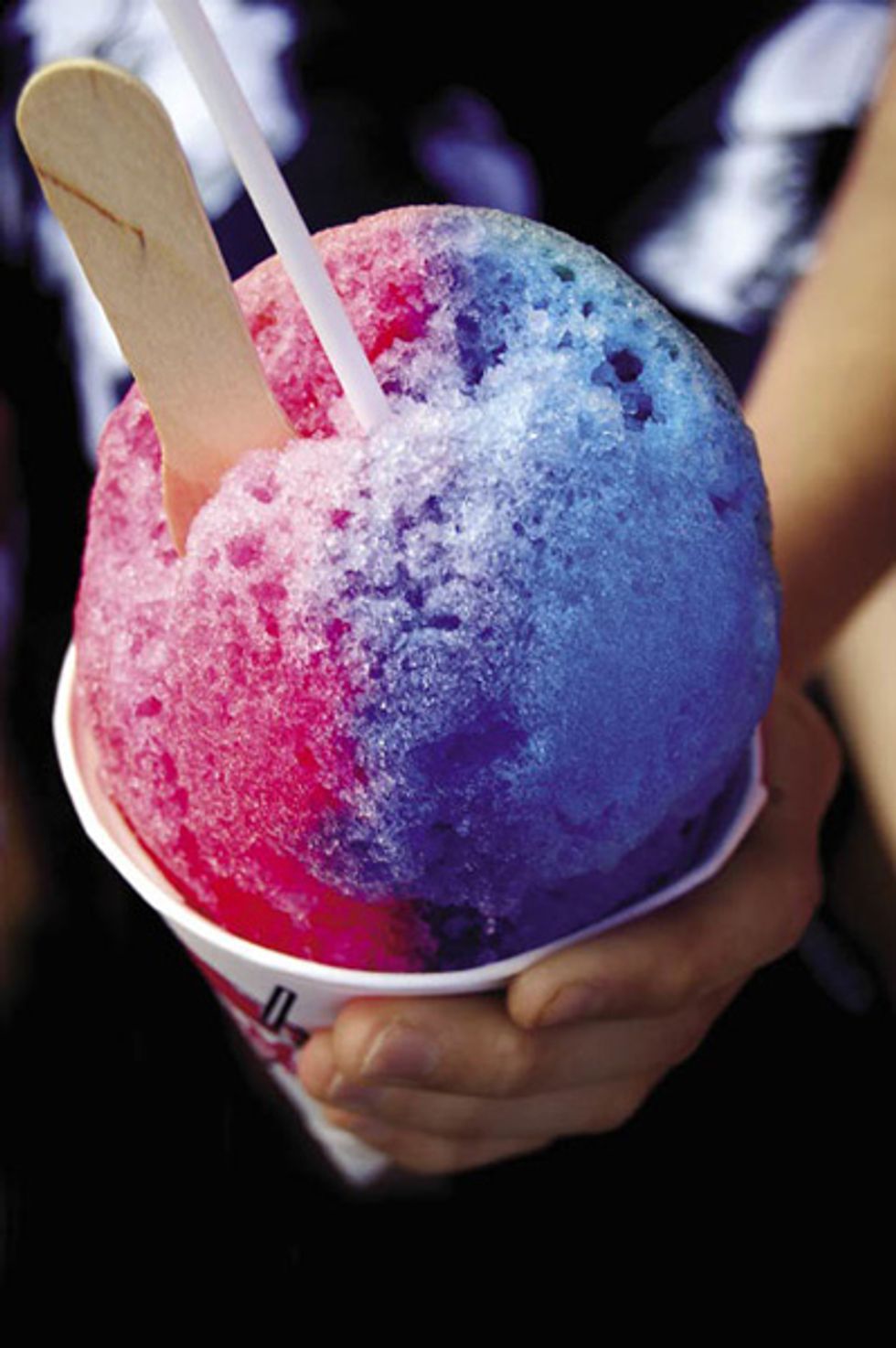 Afterward, refuel at Macky's Sweet Shrimp Truck, one of several shrimp trucks along the North Shore. Oahu caught on to the food-cart concept much earlier than us, and whether you order it doused in garlic butter or coconut-fried, prepare to have all past shrimp-eating memories erased. Finish off at Matsumoto, a rickety general store serving shaved ice in 20-plus tropical flavors. The lilikoi (passionfruit) is a local favorite. You'll leave with a huge paper cone of ice soaked in Crayola-colored syrup, thinking that some places become tourist magnets for good reason.
Additional photos from top to bottom: Alen Mozo; Bridget Koester